Purchasing your first truck camper is exhilarating—there's the anticipation of taking it on the road for the first time and the thought of spending long weekends in your new home away from home. It's an exciting time in your life; however, preparing for a truck camper can also get a little overwhelming because it's necessary to secure your truck camper before you can use it.
If you're a truck camper newbie, we want to make life a little simpler for you by sharing a few tricks of the trade and by highlighting some of our favorite products to answer your questions about how best to hold down a truck camper.
The Three T's: How to Successfully Secure Your Truck Camper
Those new to truck camping are often unclear about how to hold down a truck camper. Here, we list our "Three T's" for doing just that. Keep these in mind as you're preparing for your new addition.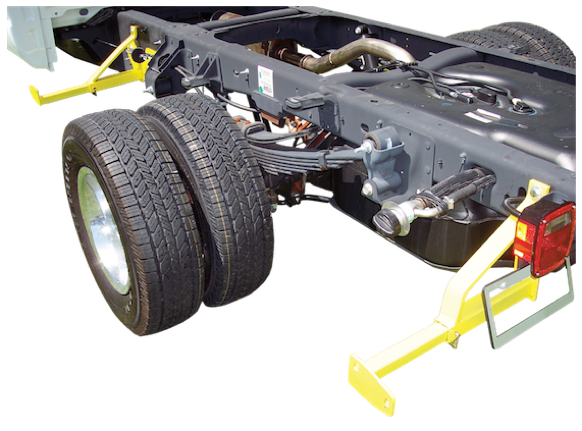 Frame-mounting tie downs shown in yellow for contrast#1) Tie Downs
One of the first accessories you'll need to purchase for your truck camper is truck camper tie downs. Tie downs are part of a system to secure the truck camper to its vehicle using either a frame-mounted or bed-mounted design. If you aren't sure which to use, Torklift International recommends using frame-mounted tie downs as opposed to bed-mounted tie downs.
The benefits of attaching the tie down system to the frame of your truck:
• Dramatic improvement with vehicle handling
• Provides safety, security and stability while on the road
• Avoid bed and bumper damage: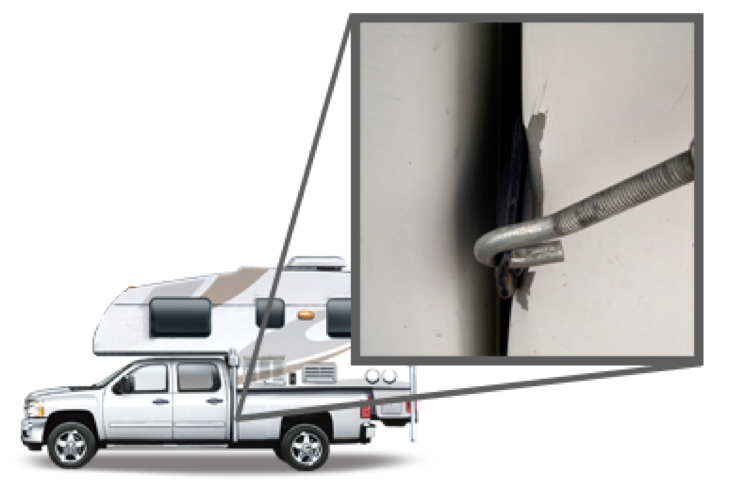 • Maintain the value of your truck and prevent rust and bed damage by avoiding drilling into your truck bed or bumper
The truck bed is not a secure point for a tie down to attach. Using this method may result in paint damage and truck bed flexing and cracking. Vehicle manufacturers recommend that truck campers should be directly attached to the vehicle frame structure and that no additional holes be drilled through the vehicle frame. See the details here.
#2) Turnbuckles
Truck camper tie downs are important, but tie downs alone won't secure your camper—you'll also need a set of turnbuckles to complete the system. Now, you might be scratching your head and thinking to yourself—what in the world are turnbuckles? Don't worry—it takes time to get used to the truck camping lingo. Turnbuckles, which can confusingly be referred to as tie downs as well, connect the truck camper to the truck and tie down system for maximum stability. There are many different designs of turnbuckles. Below we'll highlight a few of these—like the FastGun Quick-Disconnect turnbuckle and the SpringLoad XL—to help you decide which turnbuckle is right for you.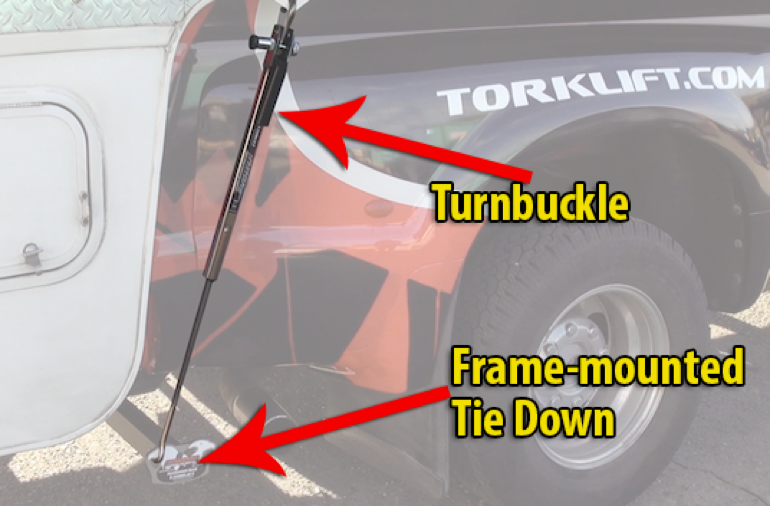 How to attach a truck camper to a truck
#3) Tension
Often, tension is a bad thing—if your spouse comes home from work and you ask how their day went and they answer, "Tense,"—you can almost guarantee that something unpleasant has happened and they may not be in a good mood. With truck camping, tension is actually a good thing—especially when it comes to turnbuckles. Camper manufacturers recommend that 300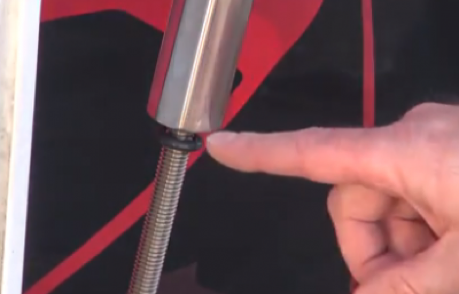 Torklift's spring tension indicator makes adjusting turnbuckles easypounds of tension be applied to the turnbuckle in order to properly secure the camper. When you're shopping for your new truck camping gear, don't settle for any old camper turnbuckles—make sure to purchase spring-loaded turnbuckles. The spring system will help absorb shock you encounter with bumps along the road. It will also help protect the anchor points on your truck camper and tie down system.
Click here to learn how the spring tension indicator on Torklift's truck camper turnbuckles make it extremely easy to achieve the perfect amount of tension every time.
Now that you know the Three T's, it's time to start looking for a solid turnbuckle.
The Famous FastGun: A Quick Disconnect, Spring-loaded Favorite
The Original FastGun turnbuckle is like the Olympic gold medalist of turnbuckles. It's the #1 selling quick-disconnect turnbuckle in the world. FastGun turnbuckles require no tools; instead, they're designed with a lever action handle that makes connecting or disconnecting a breeze. In fact, you can install a set of four in under four minutes. With the FastGun, installing turnbuckles or learning how to adjust turnbuckles couldn't be easier.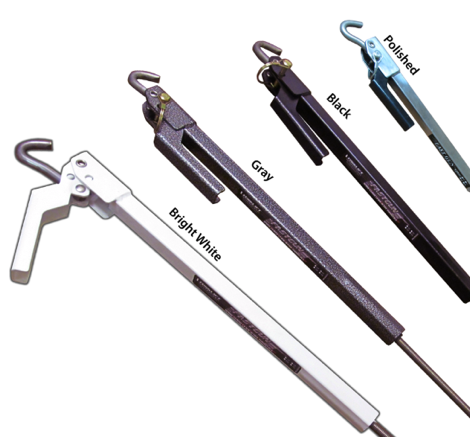 FastGuns come in several finishesAll FastGun turnbuckles are made from high impact powder-coated stainless steel, and are available in long and short sizes to be compatible with both frame-mounted tie downs and bed-mounted tie down applications. Each FastGun comes in a set of two, and you can choose from a selection of high impact powder coated bright white, grey, black or stainless steel polished finishes. FastGun turnbuckles are backed by Torklift International's legendary lifetime warranty and are proudly made in the USA.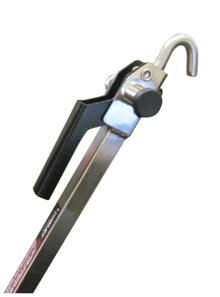 Finally, FastGun turnbuckles are spring-loaded, and they come with our patented spring tension indicator or "o-ring", which allows you to quickly determine whether or not you have applied the right amount of tension. They are also 100 percent lockable with the addition of FastGun locks. So go ahead and let the stress melt away—you can't go wrong with the FastGun spring-loaded turnbuckles.
Additional Turnbuckles for Truck Campers
If the FastGun turnbuckle takes the Gold, the SpringLoad XL turnbuckle takes the Silver. The SpringLoad XL is designed specifically for frame-mounted tie downs. It's made of aircraft grade aluminum and stainless steel and also comes in a set of two. Spring tension indicators ensure that tension has been properly applied. The SpringLoad XL is hand-tightened when installing or adjusting the turnbuckle, but it can be done in a matter of minutes.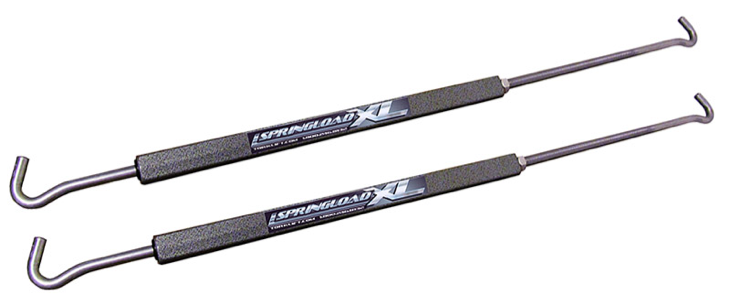 SpringLoad XL turnbuckle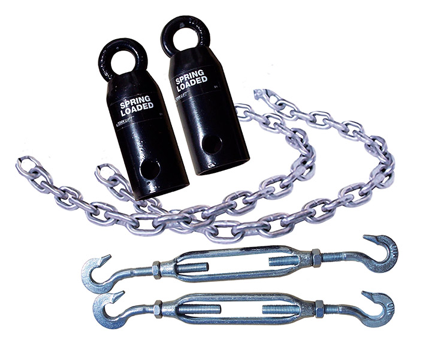 Basic SpringLoad KitThe Basic SpringLoad turnbuckle is a basic chain turnbuckle application. It comes with two quick links, two heavy-duty forged steel turnbuckles and 24" of marine grade chain. The Basic SpringLoad also protects both the vehicle and the camper anchor points from damage.
Both the SpringLoad XL and the Basic SpringLoad are proudly made in the USA and backed by Torklift International's legendary lifetime warranty.
Already have a set of camper turnbuckles? You can turn any set of camper turnbuckles—including the SpringLoad XL or Basic SpringLoad—into a quick-disconnect turnbuckle with the addition of a Derringer Handle.
Check out the video below to compare the various turnbuckle models:
Start the New Year Right with Torklift Turnbuckles
In the rush of the holidays, it's easy to put off buying equipment for your truck camper. But spring will be here before you know it and as the road beckons, you'll wish you hadn't waited. Why not prepare for your truck camper now?
Be sure to start the New Year with all the truck camping accessories you need. Click here for more information on the FastGun turnbuckle or find a dealer near you by searching our Where to Buy locater.
---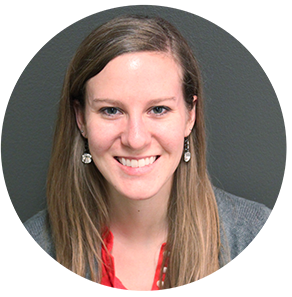 Written by Jenica Donahue:
Jenica holds a B.F.A. in Creative Writing from the University of North Carolina Wilmington. She is a freelance writer interested in blogging, copy writing and editing. She enjoys exploring new places and hiking in the Pacific Northwest.