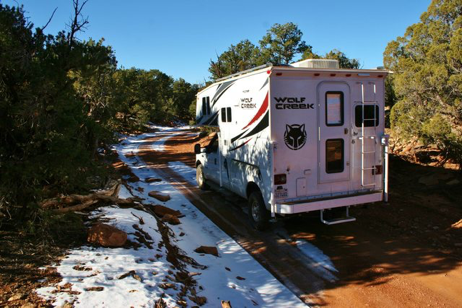 We love hearing about Nolan's epic road trips with his family!If you've ever asked yourself: what do I need for my truck camper, then look no further than the FastGun turnbuckle, the best selling truck camper turnbuckles in the world. In the latest review of these turnbuckles, forum user Anutami, aka Nolan, discusses the epic trip that he took through the West during the holidays as well as his Torklift tie down and FastGun system. You won't want to miss what he says below.
Ice Won't Stop Nolan or Torklift International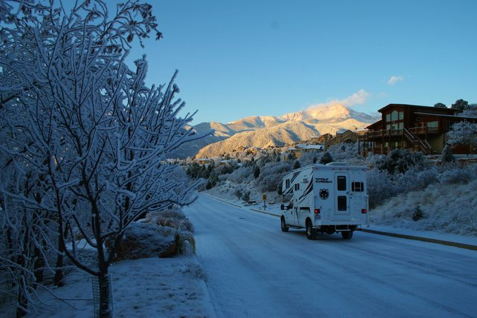 Nolan had to deal with both desert and winter conditions during this tripTraveling for weeks with his family, Nolan went from warm Southern California to the cold Colorado Springs. "Funny how I always wear flip flips, but this trip I never even thought about them." Getting to see beautiful scenery along the way, Nolan and his family went to the Mojave National Preserve, Las Vegas, Brian Head in Utah, Grand Junction and Manitou Springs in Colo.
During this entire trip, Nolan used the FastGun quick disconnect turnbuckles and Torklift frame mounted tie downs. Documented on Rv.net, Nolan states in his FastGun review that:
"I am really so glad I went with the Torklift system these last couple years, I always used the happijacs and wished I would have made the change sooner. It is so nice to be able to adjust the FastGuns on the fly, as the road conditions for us change frequently which require different tensions. Thanks Torklift!"


Look at how icy that FastGun is after
driving in winter conditions!


Nolan was able to use his official Torklift mallet
to remove the ice from his FastGuns
We are so happy to hear that Nolan is enjoying his Torklift turnbuckles and tie downs and hopefully he used the mallet that we sent him a year ago to get all the ice off of the FastGuns! Designed to connect and disconnect in seconds, the FastGun turnbuckle installation is a breeze in a blizzard and is easy to uninstall them, de-ice them when required and then reinstall them.
So, if you've ever asked yourself the question of how do I hold down my truck camper? Or how do I secure a truck camper? Take it from Nolan and check out these truck camper turnbuckles. Here are more features of the FastGun turnbuckles that might interest you:
•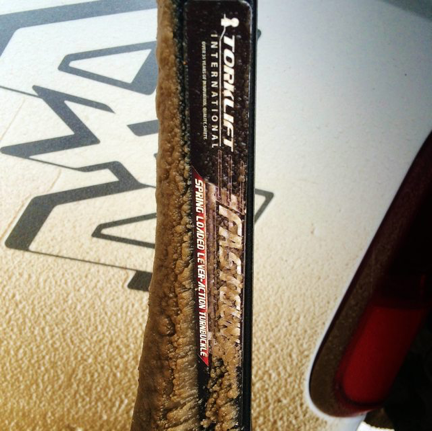 The FastGun withstood all the snow and ice that Nolan drove through in ColoradoNo. 1 selling patented quick disconnect turnbuckle in the world
• Connects and disconnects in seconds – Quick release handle allows for easy tool-free adjustment
• Spring-loaded design ensures a safe ride for your family and your truck camper
• Tension indicators determine perfect tension to hold down truck camper while in use
• Precision made from high impact powder-coated stainless steel
• Available for frame-mounted or bed-mounted tie downs
• Lockable to secure your truck camper (locks sold separately)
• Legendary Lifetime Warranty
• Proudly made in the USA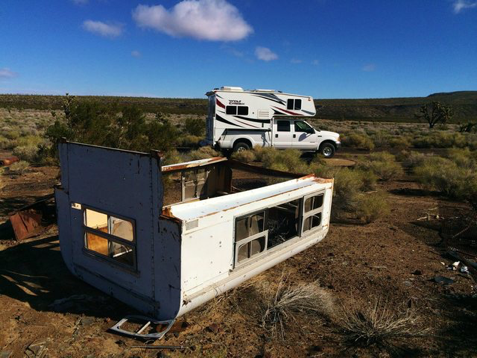 Don't let your camper end up like the one Nolan passed in the desertDon't let your camper end up like the one that Nolan passed on his way through the desert. If you would like to learn more on how to install turnbuckles or how to adjust turnbuckles, you can read our blog post on it here or give us a call at 1-800-246-8132 with your questions. You can also learn more about FastGun camper turnbuckles or purchase now by finding a dealer near you.
---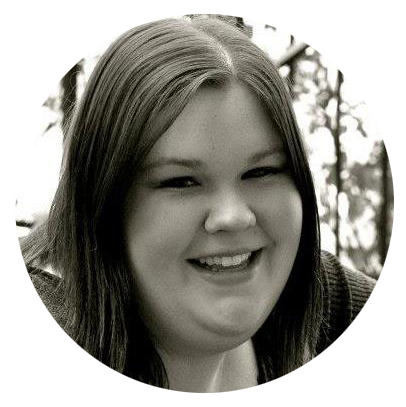 Written by Kerstin Stokes:
As a graduate from the College of Idaho with a B.A. in both History and Art, Kerstin has found her passion for writing and marketing. She enjoys looking up tasty recipes for baking and daydreaming about future travels.