Blog
Over 40 Years of Innovation, Quality, Safety
Don't skip these five steps when learning how to store a truck camper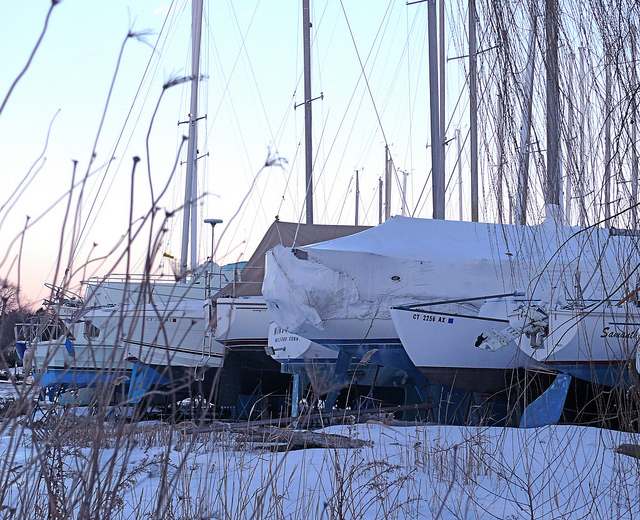 Winter storage - Photo CreditLabor day typically marks the end of camping season for most of us. We sadly prepare to pack up all of the fun things we've enjoyed over the spring and summer seasons; whether it's the boat, trailer or beloved truck camper that has voyaged us among many adventures. When it comes to preparing your truck camper for the winter months, it's important to protect the integrity and condition of your truck camper, so when the seasons shift again, you're ready to get back on the road and make more memories.
Here are five steps you shouldn't ignore when storing a truck camper over the winter months:
#1) Camper Packer: The ultimate stand for your camper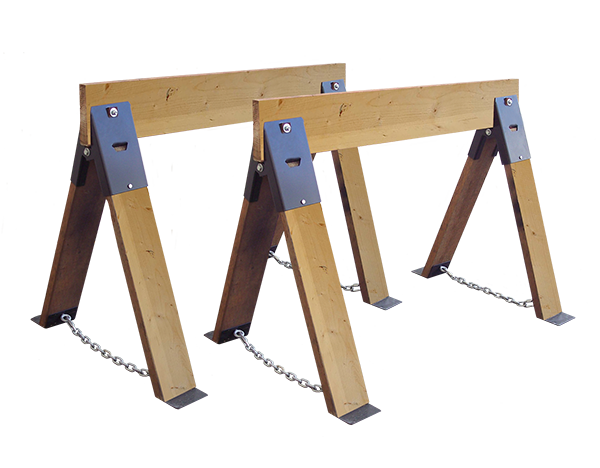 Truck camper storage standsThe first thing to consider when winterizing your truck camper is where you're going to store the unit. Whether storing a truck camper indoors or outdoors, provide the truck camper with sufficient support when offloaded from the truck. That's where the Torklift International Camper Packer becomes your storage solution.
Camper Packer supports a truck camper
Why support the camper with special support stands made for a truck camper? Storing a camper on its jacks for either a long or short period of time causes significant wear to the frame of the camper, especially at the four points where the jacks connect. Redistributing the stress off the four corners of the camper frame and onto the Camper Packer will extend the life of your camper jacks. Allowing the unit to sit solely on its jacks is not a sturdy foundation for the truck camper.
This is not your typical hardware store sawhorse system. Double the length of your typical sawhorse, the Camper Packer uses specially treated lumber and is rated up to 12 times the weight capacity than your traditional sawhorse at 6,000 lb. capacity per pair.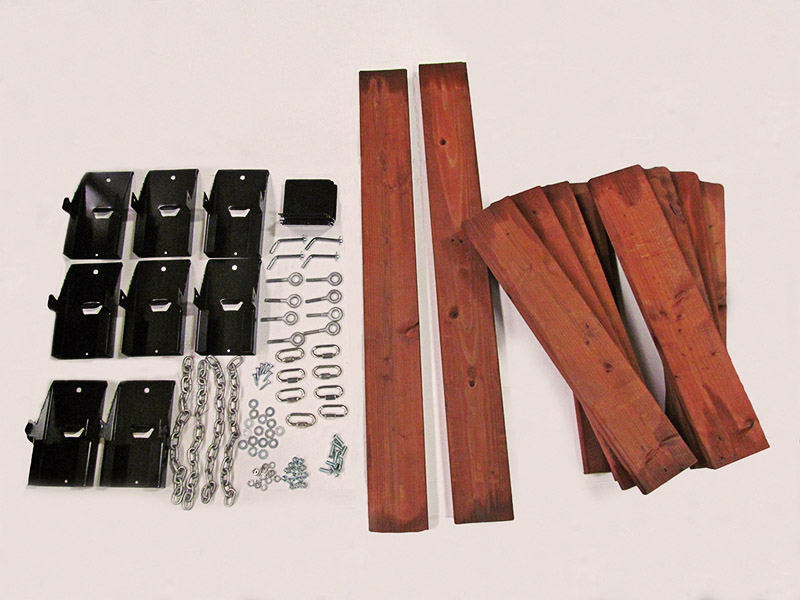 Camper Packer Kit with treated lumberCamper Packer storage stands:
• The only engineered structural support base for truck campers made from specially rated and treated lumber
• Provides structural support during storage while protecting the camper frame and jacks
• Safe short and long-term storage
• Measures 50" from side-to-side when completely assembled
• Specific high capacity engineering for truck camper applications
• 100% tool free operation, easy assembly
• Stands designed for easy breakdown compact storage when not in use
• 5 year warranty
• Proudly made in the USA
The Camper Packer isn't just a set of sawhorse stands with an unusually high weight rating capacity. Each component in the kit is of high quality and durability. The specially rated lumber comes pressure-treated and each bracket is finished with a high impact powder coat for long-lasting protection from the elements.
The lumber of the sawhorse camper stands can be trimmed to achieve your preferred height. With your truck camper set up on the Camper Packer storage stands, you've successfully achieved a solid foundation for storing your truck camper over the offseason.
Take advantage of a limited $10 factory rebate on the Torklift Camper Packer. Click here for details.
#2) Stop the Wobble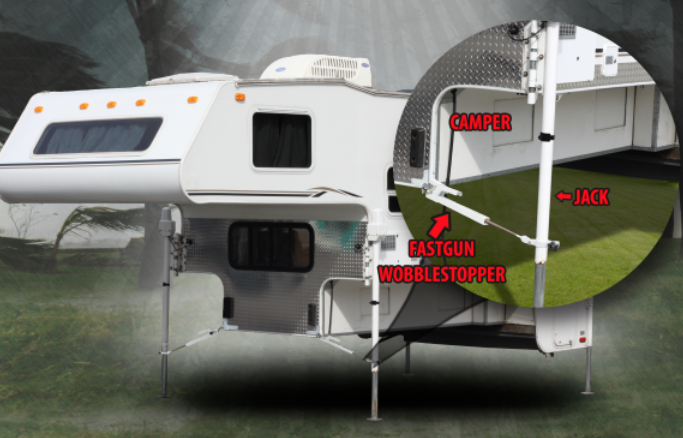 FastGun Wobble Stopper supports camper frame and jacklegs
To further support your camper jacks and stabilize your camper when it's offloaded for the winter, install the Torklift International FastGun Wobble Stopper.
By connecting the front camper jacklegs to the camper body, achieve these benefits:
• Supported connection from jacks and camper frame
• Prevention of potential jack failure and camper frame damage
• Avoid possibility of theft by blocking truck access with locking braces
The FastGun Wobble Stopper connects in seconds with a lever-action quick disconnect FastGun handle and stows directly to the camper jacks when not in use. Click here for more information on how the FastGun Wobble Stopper is a necessity for your truck camper when it's offloaded, both in and out of storage.

We'll shake things up by offering a $20 factory rebate on the FastGun Wobble Stopper for purchases made before December 11, 2015. See offer details here.
#3) Abandon ship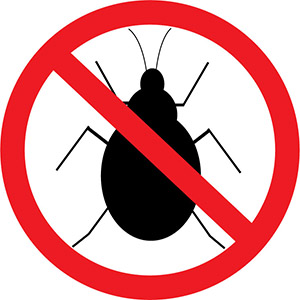 Don't worry – with the FastGun Wobble Stopper and Camper Packer camper storage stands, your camper isn't going anywhere. We've found that another great tip for storing a truck camper is complete evacuation. Clean out all food, linens, trash, etc. With varying temperatures, leftovers in campers attract critters and unwanted visitors. If storing the truck camper outside, look into getting a cover for the unit for additional protection.
#4) Flush it out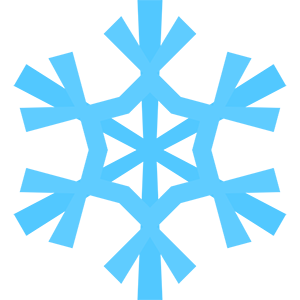 With the harsh cold of winter, it's common practice to empty all fluid tanks and flush any containers with an anti-freeze solution. Refer to the instructions of your RV manufacturer for the best method to store your truck camper over seasons with cold temperatures, as it may vary from camper to camper.
#5) Battery armor – stay powered
If you tow a trailer while hauling your truck camper, some powerful advice that'll save your expensive batteries during the offseason: the PowerArmor Solar battery box. It's no surprise that when batteries sit in storage, they loose their juice.
Take a look at this infographic to see what happens to batteries that sit unused over the offseason….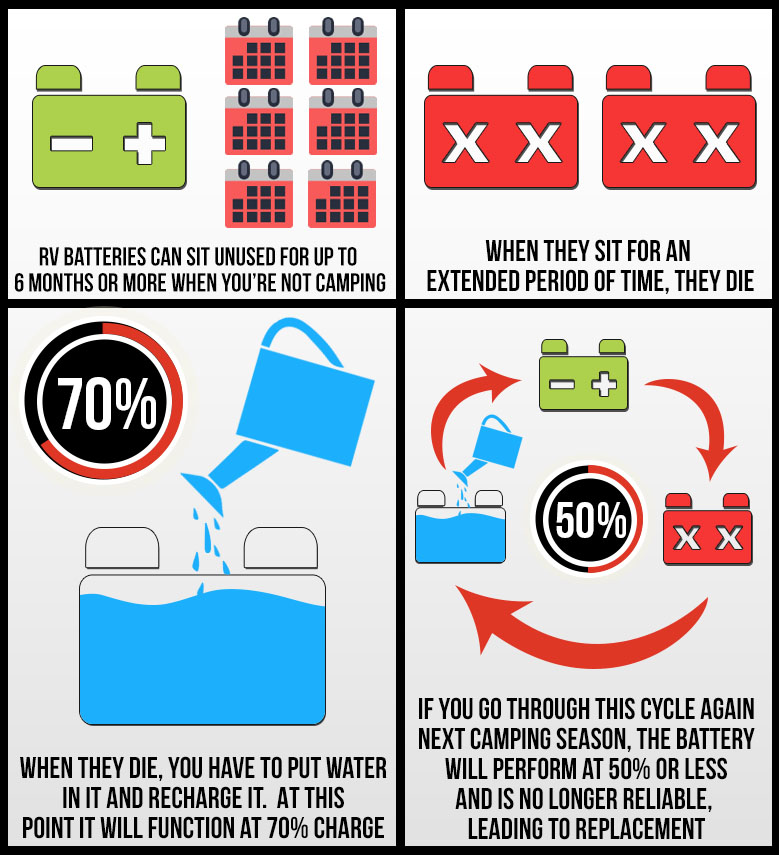 Storing batteries in a lockable container with solar panel attached to its lid will help trickle charge your batteries and keep them in top notch condition for next camping season. The locking capability of the battery box eliminates any potential for battery theft. Keep it a one-time investment of your batteries and avoid costly replacement with PowerArmor Solar.
Click here to see how the PowerArmor Solar works. With the holidays approaching, box up a $30 off factory rebate for select PowerArmor products. Read details and purchase now, but you'll have to provide your own big red bow.
Overall, as sad as it is to pack up for the winter season, if you take all of the proper measures to store your truck camper correctly, you'll prevent any damage or added costs when camping season comes back around.
Gear up now before the weather turns. For more information on these camper storage and security products, browse www.torklift.com or visit our Where to Buy section to find a dealer near you.
---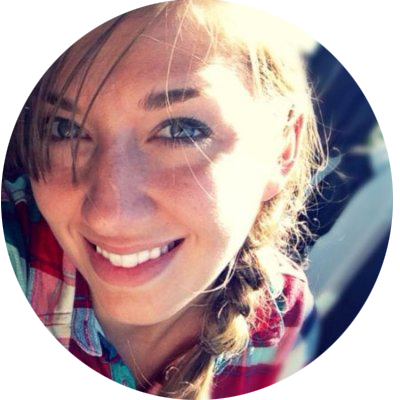 Written by Sheryl Bushaw:
As a graduate from Arizona State University with a B.A. in Journalism and emphasis in Public Relations, Sheryl is a passionate writing professional with focus in areas of copy writing, social media and creative design. She is a travel enthusiast and explorer-extraordinaire with a zest for life.
Stay Informed
When you subscribe to the blog, we will send you an e-mail when there are new updates on the site so you wouldn't miss them.