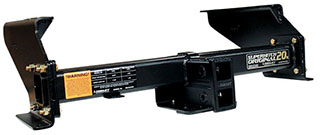 The SuperHitch™ Original 20K trailer hitch is rated at 2,000 lbs tongue weight, 20,000 lbs weight distributing and uses our patented dual receiver design (2" upper and 2" lower) to max out class five hitch capacities.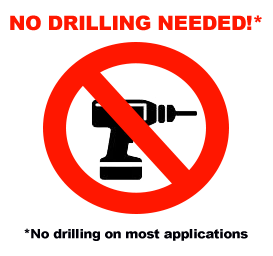 Many applications don't require drilling and are compatible with industry standard ball mounts. It comes with high penetration dual shield welding and hardened reinforced hitch pin locations. It is backed by our Legendary Lifetime Warranty and proudly made in the USA.

Connect your SuperHitch™ Original 20K with SuperHitch Outlaw Series pintle and ballmount accessories. With 20K and 30K weight carrying capacity, complete your towing configuration and achieve optimum safety and maximum durability on the road. Shop Now
Torklift International can help with your commercial towing needs! Contact us for fleet pricing.
Find Your Fit
Weight Distributing
Max Trailer Weight:
20,000 LBS
Max Tongue Weight:
2,000 LBS
Weight Carrying
Max Trailer Weight:
17,000 LBS
Max Tongue Weight:
1,700 LBS
Consult owners manual for specific vehicle capacity
Do not exceed your trucks GVWR or GVCWR
SuperHitch Original 20K Accessories
SuperHitch Original 20K In Action
SuperHitch Original 20k Videos

How to Install A Trailer Hitch

How to Set up Weight Distribution
SuperHitch Original 20k Features
SuperHitch frame mounted receiver rated up to 20,000 lbs. with weight distribution (17,000 weight carrying) in either the upper or lower receivers (When used without SuperTruss extension)
Extension towing capacity up to 12,000 lbs. with 48" SuperTruss receiver extension†
Hardened reinforced hitch pin locations
SuperTruss Extensions available in 8 different lengths from 21" to 60" (Sold Separately)
Both the SuperHitch frame mount receiver and the SuperTruss receiver extensions use Industry standard 2" x 2" ballmounts
Eliminates the need for two ballmounts ††
Specific Torklift tie down fits are available for the SuperHitch Outlaw Series
Legendary Lifetime Warranty
Proudly made in the USA
† 12,000 lb. pulling capacity, 1,200 tongue wt. achieved only when used with weight distribution type system. See Dealer for details, Weight carrying capacity on 48" extension, 6,000 lb. pull, 600 lb. tongue wt. Consult your vehicle owners manual for specific towing capacity. Your truck and trailer weight cannot exceed your vehicle manufacturers towing, cargo, or GCVWR.
†† (Camper on, camper off, height variance) obtained by using the ball mount in either upper or lower SuperHitch receiver.
The Torklift Advantage
Reese†

SuperHitch Advantages

No-Drill Applications Since 1999
Hitch Utilizes Industry Standard 2" X 2" Ballmounts Without Adapter

Uses 2.5" X 2.5" receiver
Hitch Utilizes Hardened / Reinforced Hitch Pin Holes

SuperTruss Extension Advantages

Hitch Capacity With 48" Extension And Weight Distribution
1,200 Lbs Tongue Weight
12,000 Lbs Pull Weight
6,000 Lbs Pull Weight
Hitch Capacity With 48" Extension Without Weight Distribution
600 Lbs Tongue Weight
6,000 Lbs Pull Weight
4,000 Lbs Pull Weight
Lateral Support Safety Chain System And Plug Bracket Included In Cost

Lateral Support Safety Chains Not Available, Plug Brackets Extra
†Reese Titan/ Tow Beast are registered trademarks of Cequent Towing
Product Reviews
"When I bought the truck, I put on a Reese TowBeast... I swapped it out for a TorkLift SuperHitch" » Read More