Blog
Over 40 Years of Innovation, Quality, Safety
The Fox Landing Bumper for Arctic Fox truck campers: Making life smoother one step at a time

Truck campers allow for towingWe all know truck campers are great. They combine the flexibility of a pick-up truck with the luxury of an RV, and you still have the option to tow almost anything. However, owners often struggle to find a truck camper entry step solution compatible with a hitch extension that allows a safe entry/exit of the truck camper while hooked up. Perhaps this is true for you as well. You find yourself either disconnecting the trailer entirely in order to use your rear truck camper entry steps or you use the hitch extension or trailer tongue as a step, which is an accident waiting to happen. If you have ever stayed up at night worrying that your mother-in-law is going to break an ankle trying to enter/exit the camper -- worry no more. Torklift International and Northwood Manufacturing have jointly developed a truck camper bumper that will finally let you rest at ease.
Last week, we gave a brief overview of some of our favorite aftermarket truck camper bumpers. Today, we want to highlight a product that is near and dear to our hearts—the Fox Landing bumper. This little beauty was engineered for safety and designed specifically for use with specific models of Arctic Fox truck campers.

The Fox Landing truck camper bumper for Arctic Fox
With its large entry platform and unique fold-away steps, the Fox Landing bumper is the perfect solution to a safe and convenient camper entry.
Not your average camper bumper
All truck camper bumpers were not created equal. Keeping in mind the safety concerns of our truck camper owners, engineers from Torklift International wanted the Fox Landing bumper to make entering and exiting the Arctic Fox truck camper quick and painless.
The Fox Landing camper bumper diverts your path around the trailer tongue and hitch extension with double steps off the side. The main platform has ample room, but it's not so large as to alter the center of gravity for towing, which is best achieved when using a SuperTruss Extension. When the truck camper entry steps are not in use, they simply fold away and the platform secures in its stowed position. The whole process takes a matter of seconds.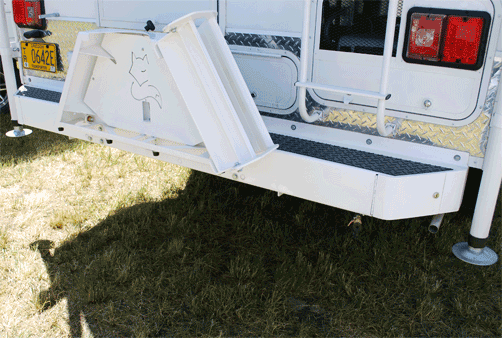 Truck camper steps fold down easily
You can't beat the quality either. The truck camper swing steps are made from aircraft grade aluminum and stainless steel featuring GlowStep treads for additional safety. Each step is also the same height, which makes it less likely for a misstep. Never again will you need to worry about your mother-in-law borrowing your truck camper—unless you're afraid she won't bring it back.
Innovative design meeting practical needs
Doug Karr at the Northwood Manufacturing plant speaks about the inspiration behind the design:
"The biggest issue I had with people when I talked to them about my truck campers was [that] they were tired of stepping on the tongue of their trailers when they were hauling their boat or, you know, utility trailers, snowmobiles—that sort of thing." – Doug Karr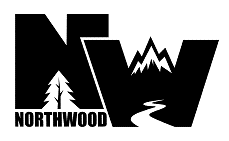 The Fox Landing bumper was truly made with the consumer in mind, and every factor has been taken into consideration:
• Swing steps store in seconds
• Simple design easily locks into place
• Even step height makes for entry easy
• GlowStep treads add traction
• Large platform aids in balance
The Fox Landing can also be purchased with some additional accessories, including a basement camper step, porch landing, hinge step and left and/or right side step entry.
Sealed with the Torklift promise
We know that you expect the best from Torklift International and this product is no different. The Fox Landing bumper is proudly made in the USA and comes backed with Torklift International's legendary lifetime warranty.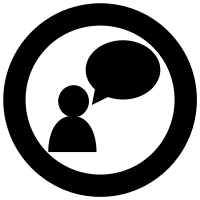 What's not to love?
We adore the Fox Landing bumper, but we're interested in hearing what you think. Is the Fox Landing the bumper of your dreams?
What are the specifications you value most? If you could have a custom-made camper bumper, what additional features would you like to see?
If you can't think of anything to improve, we don't blame you. To order a Fox Landing truck camper bumper please contact the Northwood Manufacturing parts department at 1-800-766-6274 or click here.
---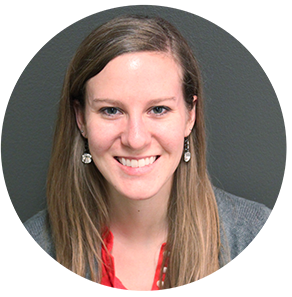 Written by Jenica Donahue:
Jenica holds a B.F.A. in Creative Writing from the University of North Carolina Wilmington. She is a freelance writer interested in blogging, copy writing and editing. She enjoys exploring new places and hiking in the Pacific Northwest.
Related Posts
Comments
1
Need ability to add one more step. Do like it otherwise.