Blog
Over 40 Years of Innovation, Quality, Safety
Three things you'll need for mounting a sled deck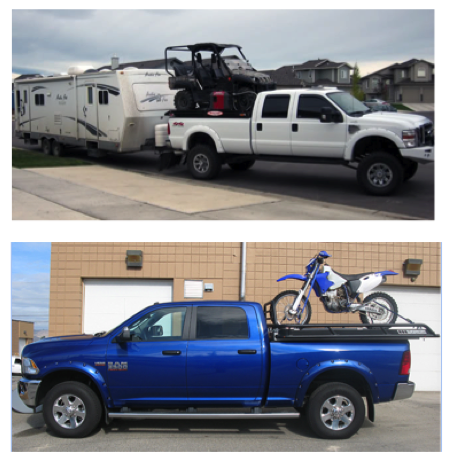 Sled decks for UTVs or MotorcyclesSled decks mounted on truck beds are convenient for hauling recreational equipment without having to set up a towing system and trailer. It's also a useful application if you tow a travel trailer, boat trailer, horse trailer etc. and want to bring along extra toys like snowmobiles, UTVs and more.
When mounting a sled deck to your truck, there are several truck deck design options available. What you select for your truck bed will depend on what you plan to haul. Types of sled decks include long sled decks, short sled decks, flat decks and angle sled decks.
Recreational truck decks haul:
- Snowmobiles
- Sleds
- Snow Bikes
- ATVs
- UTVs
- Motorcycles
- Reverse trike or trail converted sleds
- Water bikes
- Motorized snow scooters
- Jet Skis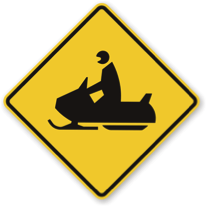 Using snowmobile hold-downs for hauling snowmobiles and other equipment listed above, mount the sled deck with a strong system that ensures safety when on the road. There are several ways people have mounted a truck deck for recreational cargo on their truck:
Frame mounted with external anchor points using a camper tie down system
Through the truck bed to a mounting plate under the box
Bed mounted with existing anchor points in the truck box
Three things you'll need for a successful sled deck hold-down system, mounting sled decks include:
#1) TURNBUCKLES
Every application for mounting a sled deck requires turnbuckles. Turnbuckles are useful for securing cargo you plan on hauling with the sled deck. Not only do the following Torklift turnbuckles have a locking feature, they are also tool-free and easy to adjust. Let's take a look at why Torklift turnbuckles are the best option when it comes to strength and convenience.
Option A: Original FastGun Turnbuckle
Torklift International FastGun turnbuckles are the fastest installing turnbuckle available and are used for a variety of applications. This turnbuckle has a quick-disconnect lever action handle that is available in two adjustable lengths to make securing a sled deck, cargo or any type of load exceptionally quick and convenient.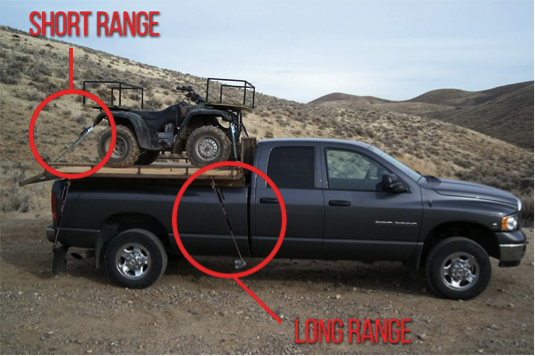 Short Range FastGuns secure cargo
Long Range FastGuns secure truck deck
The body of the turnbuckle is made from 100 percent stainless steel while its handle is made from aircraft grade aluminum. Due to the durability of these materials, each FastGun turnbuckle boasts a pull down rating of 2,500 pounds and has the ability to apply up to 450 pounds of spring-loaded pressure.
Click here to learn more about the FastGun and why it's the number one selling turnbuckle in the world for campers.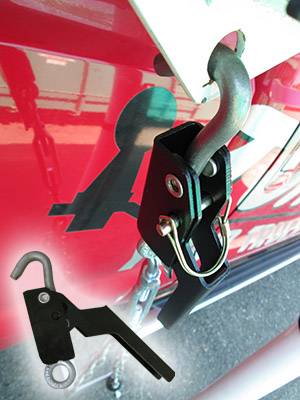 Derringer HandleOption B: Derringer Handle
Add a Derringer Handle to any basic hardware turnbuckle for a simpler way to tie down cargo to a truck bed hauler for ATVs, UTVs and more. The Torklift International Derringer Handle allows quick-disconnect capability and convenience of a FastGun turnbuckle. Deter and prevent theft by using FastGun Locks on the Derringer Handle.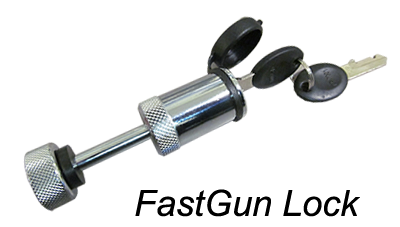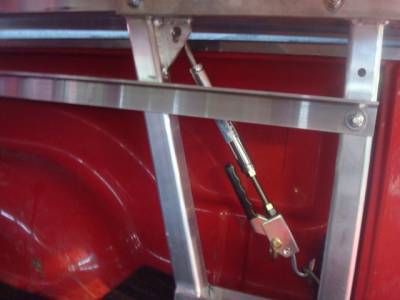 AnchorGuard Derringer turnbuckle
Option C: AnchorGuard Derringer
Depending on your specific sled deck application, the AnchorGuard Derringer mounts the sled deck inside the truck box. If you plan to use bed mounted camper anchor points for mounting the truck deck, use the AnchorGuard Derringer or Short Range FastGun.
All Torklift turnbuckles are made in the USA and covered by Torklift International's legendary lifetime warranty.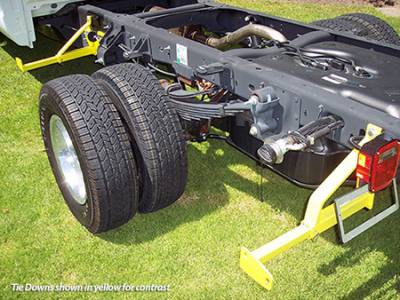 Tie Downs attach directly to truck frame#2) TIE DOWNS
Torklift International recommends mounting a sled deck to a truck bed by using a frame-mounted camper tie down system and FastGun turnbuckles. By attaching directly to the truck frame, achieve higher ratings and stability than a bed-mounted application can provide.
The frame-mounted design fits to specific vehicle makes/models allowing strongest possible attachment to the truck and eliminates any chance of bed and bumper damage.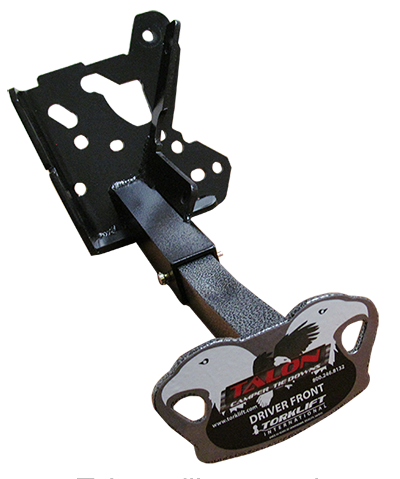 Talon military grade aluminum Tie DownTalon Aluminum Tie Downs

As an industry first, Torklift introduced the precision crafted aluminum Talon Tie Downs. They are made from 100% lightweight military grade aluminum alloy making them up to 50% lighter than steel applications. The Talons come with rust free corrosion protection for life.
Mounting a sled deck in addition to recreational equipment will add significant payload. Stay within the load capacity rating of your vehicle by using lightweight material such as the Talon aluminum Tie Downs.

#3) REAR SUSPENSION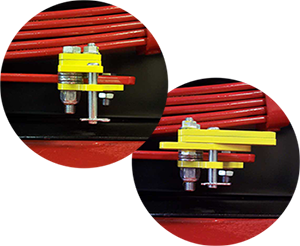 StableLoads engaged and disengagedAdding payload to your vehicle may result in poor handling, even if you're within the GVWR load capacity set by the manufacturer of the vehicle.To help remedy any severe side-to-side sway, porpoising and body roll, install the StableLoad suspension stabilizer to enhance your truck's suspension.
When StableLoads engage the stronger factory overload leaf springs, the stabilizing effects of the truck's suspension are activated sooner. By taking up the space within the leaf springs as pictured above, the strength within the springs provides a noticeable improvement in ride quality. With the ability to engage and disengage in seconds, enjoy the convenience of returning to a comfortable factory ride when you're not hauling with a sled deck.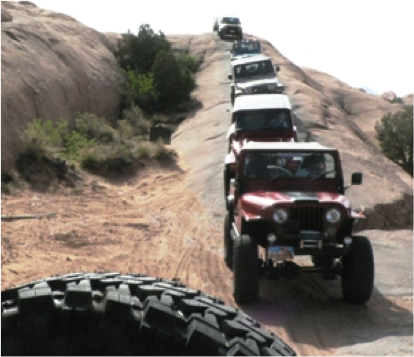 Jeep Safari event in Moab, UtahTorklift at Moab
Torklift International frame-mounted tie downs, FastGun turnbuckles as sled deck hold-downs and StableLoads provide a safe and stable mounting system for truck decks or sled decks. This year, two-time SEMA award-winning HPA Motorsports Inc. is attending the 2015 Jeep Safari in Moab, Utah. As a division of HPA Motorsports, Coty Built is pairing a Volkswagen TDI motor with Jeep's drivetrain from the flywheel back. Click here for more information on conversions.
People come from all over the world to attend the Moab Jeep Safari, a popular 9-day event that consists of a variety of desert trail rides that promote a recreational four wheeling experience. With food, music and a vendor expo, new 4x4 models are introduced by popular automakers.
Coty Built will haul the Jeep TDI conversion to the Moab event using a custom sled deck.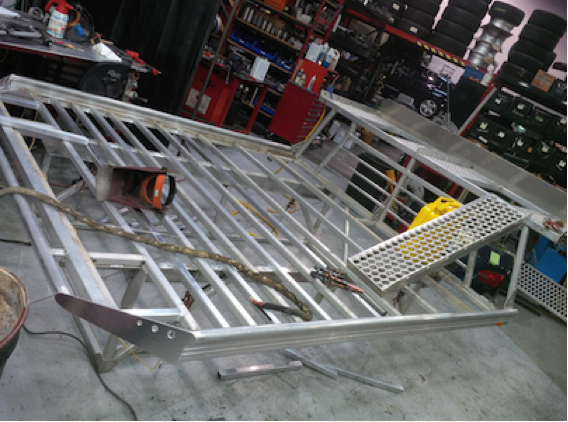 Custom sled deck for hauling a jeep
To mount the sled deck to the truck, Coty Built is using Talon frame-mounted Tie Downs, FastGun turnbuckles and StableLoad suspension stabilizer. Stay tuned as we follow the upcoming adventure to Moab Jeep Safari.

Coty Built hauls Jeep with custom truck deck while towing trailer
For more information on mounting sled decks with Torklift International tie downs and turnbuckles, feel free to call our Tech Support at 800-246-8003 or visit torklift.com.
Related Posts
Comments
No comments made yet. Be the first to submit a comment