Blog
Over 40 Years of Innovation, Quality, Safety
8 easy steps to determine correct tension on truck camper turnbuckles
After you've selected turnbuckles for your truck camper, it's crucial that the turnbuckles are installed and adjusted properly. A very important aspect of installing turnbuckles on a camper is applying the correct amount of tension. Proper tension on a turnbuckle is designed to correctly connect the truck camper tie downs to the camper anchor points.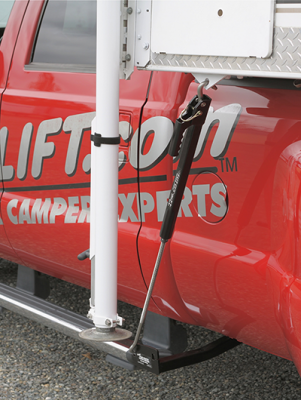 FastGun truck camper turnbuckle
How do you know how to find the proper tension on a truck camper turnbuckle?
Camper manufacturers suggest that 300 pounds of tension be applied to secure the camper properly. The easiest way to achieve this is with a turnbuckle that uses our patented spring tension indicator such as FastGun turnbuckles, SpringLoad XL turnbuckles and AnchorGuard Derringer turnbuckles.
If there is not enough tension you could potentially lose your camper or the camper could shift within the truck bed. If there is too much tension you may damage the anchor points on your camper. Torklift turnbuckles are spring-loaded to avoid any potential damage to tie downs or camper anchor points.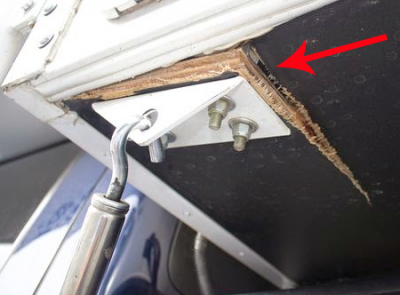 Example of damage to a camper anchor point
Avoid damage to your camper and truck by using spring-loaded turnbuckles with the proper amount of tension applied. Torklift's patented spring tension indicator is a round O-ring used as a gauge to set your spring tension.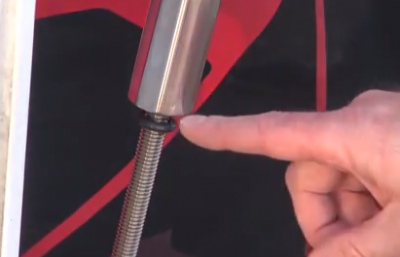 Spring tension indicator on FastGun turnbuckle


As an example, follow these 8 easy steps to determine the correct turnbuckle tension with a Torklift International FastGun turnbuckle:
1) Hang the FastGun truck camper turnbuckle upper hook from the camper anchor point
2) Adjust the threaded hook bolt so the bottom of it is approximately 1/2 inch above the tie down insert (The handle on the FastGun turnbuckle should be in closed position)
3) Open the handle on the FastGun turnbuckle
4) Hook the bottom hook bolt into the tie down anchor point
5) Pull the lever handle down until you begin to feel spring tension
Hint: The hole for the snapper pin should be nearly blocked half way


6) Adjust the round O-ring up against the bottom of the FastGun turnbuckle
7) Snap down the FastGun handle

8) Snapping the handle down should result in the round O-ring being spaced approximately 1/4 inch below the body of the FastGun turnbuckle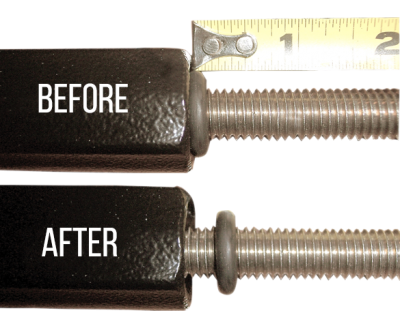 Spring tension indicator on FastGun turnbuckle
The quarter inch space visible between the O-ring and body of the turnbuckle indicates the internal spring within the turnbuckle is activated and compressed. You have now achieved the proper 300 pounds of tension.
Now that you've successfully secured the camper turnbuckles, avoid stolen turnbuckles by securing them with locks. Torklift International FastGuns have locking capability with FastGun Locks. With keyed-alike snap lock design, they come in a set of four and have weather caps to protect from debris.
To learn more about how to install truck camper turnbuckles, watch a full demonstration here:
Related Posts
Comments
1
Wow! now i can fix things on my own. :) Thanks dude