Blog
Over 40 Years of Innovation, Quality, Safety
StableLoad Challenge is back again: What's the point of 4-point suspension?
If you've seen our first go at the StableLoad Challenge, it's clear that those who tested the StableLoad suspension stabilizer are convinced on its ability to remedy handling issues of a loaded down truck. In hopes of echoing this approval, we took the StableLoad Challenge to Everett, Washington.
What's the StableLoad Challenge?
Two identical Ford F-150 trucks



2,800 pounds loaded in each Ford truck bed



One truck has StableLoads suspension stabilizer



One truck has just the factory suspension



Drivers took a test-drive with both Ford trucks



Could they tell the difference?
When we rolled on up to Everett from our manufacturing facility in Sumner, Wa., we were excited to introduce the StableLoad Challenge to Torklift dealers attending a dealer training session for Torklift products. Take a look at what these folks had to say about their experience:
How was the StableLoad suspension stabilizer so successful in solving side-to-side sway, body roll and other tedious handling characteristics caused by hauling heavy loads or towing trailers?
Let's take a look at how suspension works on your vehicle.
Originally, vehicles are designed and built with four-point suspension. Each of the two rear leaf springs has two points of suspension on each end of the leaf spring giving you four total points of control.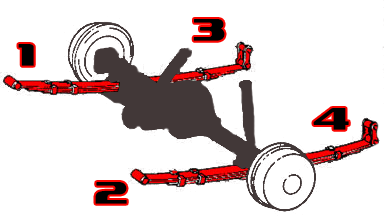 Vehicle manufacturers create a
4-point leaf spring suspension system
on the vehicle's rear axleYour vehicle's factory engineers invest millions of dollars to ensure a four-point suspension system because it provides a needed compromise between your ride quality while towing/hauling and also the ride quality while driving unloaded.
Other suspension products diminish the factory four-point suspension and reduce the control points to only two. For example, airbags take all of the weight that you are applying to the truck by lifting it above the leaf springs. By placing weight onto just two airbags, you may have successfully leveled your ride but unintentionally created issues with side-to-side sway and bounce.
Other aftermarket suspension products create the opposite effect of the control that 4-point suspension provides. Two-point suspension provides only minimum control. Just like two heads are better than one, four points are better than two. Simple concept, yet a mind blowing difference.
Teaming up with your factory suspension


StableLoads are the only suspension upgrade that works with your factory suspension and continues to use all four points of the suspension. By pre-engaging the vehicles already existing factory installed overload leaf springs, the vehicle is prepared in advance for the effects of heavy payload caused by towing and hauling. Using precision laser-crafted wedge plates, the lower StableLoad application eliminates the gap between spring pack and lower overload leaf springs.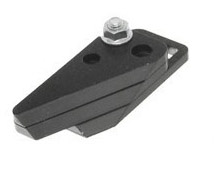 Wedge plates to fill gap in leaf springs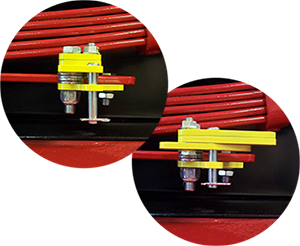 Lower StableLoads engaged and disengaged
Translation? The truck isn't required to drop several inches from the weight of the load in order to initiate the support needed from its overload leaf springs. By maintaining the four-points of contact, the suspension is being used with the maximum potential in which its factory engineers intended.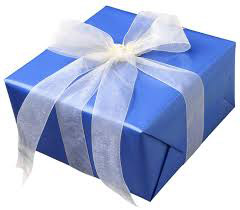 There are benefits to working with factory suspension
Teaming up comes with benefits
Trucks are expensive. You pay a lot to have comfortable ride quality and when you load your truck down, you'll say sayonara to that once enjoyable ride. If your expensive truck rides like a dream, would you want to modify it to ride like dad's old '76? Meh. We think not.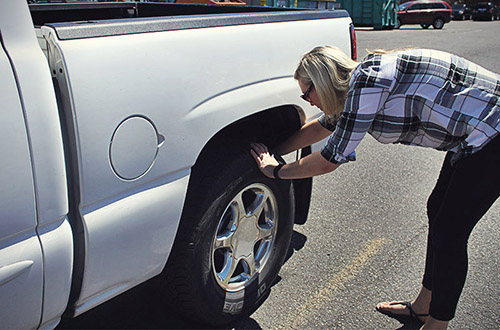 Turning the StableLoads on is simpleWith the lower StableLoads ability to be turned on and off, you can change the settings of your vehicle. When towing or hauling, simply turn on the StableLoads to engage the suspension sooner giving you a stable ride and dramatically reduced side-to-side sway, body roll and porpoising. StableLoads allow you to have the stiffer/towing ride when you need it, and the smooth factory ride when you don't.
Why choose StableLoads over Airbags?
As previously noted, airbags provide only two points of contact on your factory suspension as opposed to the original four points. Airbags take the weight of the towing or hauling load off of your suspension and essentially redistributes it onto two balloons. This causes a teeter-tottering effect. With airbags, the weight can shift back and forth causing your factory suspension to become disengaged. Click here to learn how airbags affect your suspension.
Backed by Science
We've heard thousands of success stories from those who've turned to StableLoads instead of other suspension products. Even with real-life feedback from those who took the StableLoad Challenge, we wanted to provide factual data based on actual side-by-side comparisons between Stableloads and other suspension products. By using precise motion measuring devices, we've discovered significant scientific information that strongly supports the glowing testimonials from our happy customers. Click here to see the science behind the StableLoads and you'll be shocked at what we revealed with our experiment.
The StableLoad suspension stabilizer is easy to install and applicable to any truck, van, SUV or small commercial vehicles with factory overload leaf springs. Find your application or click here to learn more about Torklift StableLoads.
---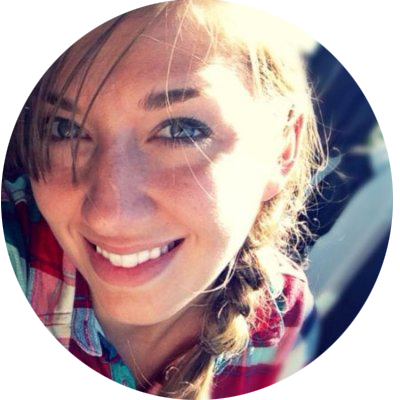 Written by Sheryl Bushaw:
As a graduate from Arizona State University with a B.A. in Journalism and emphasis in Public Relations, Sheryl is a passionate writing professional with focus in areas of copy writing, social media and creative design. She is a travel enthusiast and explorer-extraordinaire with a zest for life.
Related Posts
By accepting you will be accessing a service provided by a third-party external to https://www.torklift.com/