Blog
Over 40 Years of Innovation, Quality, Safety
Gain the power to broaden your travel horizons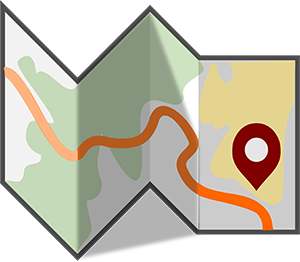 Keep batteries fully charged for every camping tripHow many times have we spent weeks looking forward to that camping vacation? Packing the RV, mapping our route and planning the day trips, before heading out on the highway only to find that when we arrive, our batteries are low, forcing us to find a place to re-charge. Let's face it, our time off is valuable and we want to make the most of every minute.
Torklift does it again
We've resolved those pesky power issues for you with the latest in Torklift International's line of power saving products. ExtendedPower and HiddenPower now make it easier than ever to carry additional batteries and keep to the road without ever having to stop to re-charge or worry about auxiliary power.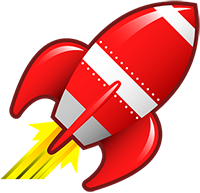 No Rocket science degrees required
ExtendedPower is equipped with a universal mount designed to clamp onto any receiver extension, attaching quickly and easily with a no-drill installation. Simply bolt onto your receiver extension to allow room for mounting additional batteries you'll need to enjoy those extra hours of vacation. Its quick release pin design allows easy disconnect for battery service and battery storage.
Leave the battery charger at home
So while you're looking for that place to pull off and set up camp, ExtendedPower battery system plugs right into your RV factory plug if you choose to hook up a wiring harness. Charge RV batteries automatically through your vehicle's alternator. You'll arrive at your destination with a full battery charge and be ready for the fun to begin.
ExtendedPower features: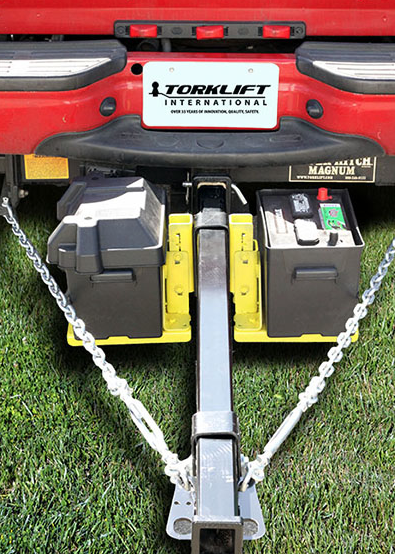 Height adjustable
Universal applications for all receiver extensions
Lockable
Works with group 24 batteries
Designed for all types of batteries: lead acid, AGM, sealed, gel cell, etc.
No-drill / easy install
Attaches and detaches quickly for battery service
Legendary Lifetime Warranty
Proudly made in the USA
Right image: Two ExtendedPower battery mounts shown in yellow for contrast.
But Wait, there's more…
Also in Torklift International's bag of new and clever devices is HiddenPower. As a supplementary, convenient, under-vehicle battery mount, the HiddenPower is engineered to tie into your truck's electrical system. This no-drill mount for extra batteries is easy-to-install, hidden from view and is used with quick disconnect electrical connectors for all types of Group 24, 27 and 31 twelve-volt batteries. Designed as an extension of your RV battery; this unique battery mount will recharge using your RV's solar panels, generator or converter while your RV is plugged into your truck, and all at the same rate your RV batteries are charged. Your batteries will remain charged and ready whenever the urge to hit the road comes along so you'll never lose those precious hours of your vacation again.
HiddenPower features: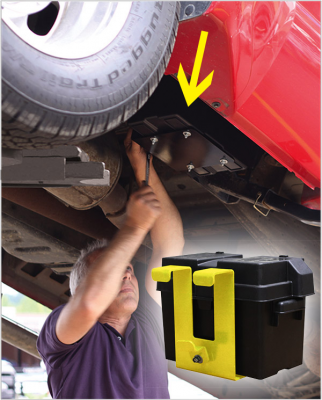 HiddenPower under vehicle battery mount
(shown in yellow for contrast)
Add additional batteries under your truck bed that are always charged up
No-drill frame mounted with quick disconnect feature for battery service
Kept constantly charged and RVing-ready by your RV and truck's charging system
Hidden when in use with no loss of ground clearance
Works with group 24 to 31 batteries
Designed for all types of batteries: lead acid, AGM, sealed, gel cell, etc.
Legendary Lifetime Warranty
Proudly made in the USA
When the HiddenPower is used with the wiring harness it enables your battery to become an extension of your RV battery. With constant power, it prevents your starting battery on your vehicle from being drained and allows you to camp off your battery power longer. The wiring harness is designed to complete your HiddenPower installation and has a universal design featuring sealed wiring to protect against dirt and moisture. The wiring harness detaches quickly via quick disconnect plug for battery service.
What We Like Best!
Of course there is so much to say about convenience and ease whenever we are planning a vacation. At Torklift International, we are always striving to improve upon features that make it easy for you to use our products and get on with enjoying your life. We make a point to listen to your needs in order to build a better experience for all of our customers.
ExtendedPower and HiddenPower battery mounts both come with our Legendary Lifetime Warranty and as always, proudly made in the USA.
---

Written by Tamara Williams:
Currently Tamara Williams studies English at Arizona State University. She is a writing professional specializing in technical writing and SEO blogging for small businesses. Tamara also works with Project Pen, an innovative program for inmates at New Mexico and Arizona prison systems editing and providing feedback for their essays, poems, short and non-fiction stories.
Related Posts
Comments
No comments made yet. Be the first to submit a comment