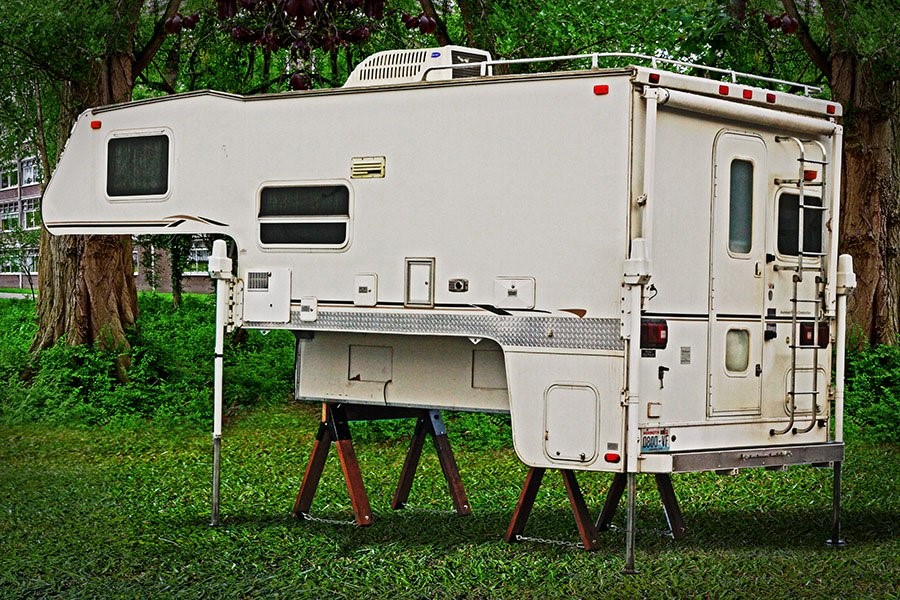 As the camping season comes to a close, it's time to think about storing your truck camper for winter. Three things to consider when preparing your truck camper for storage is: having proper long term storage for your truck camper, a spare battery that is stored safely and regular care and upkeep of your tie downs through the winter.
No. 1: What do I need to support my truck camper for long term storage?

Item No. 1 you need for winter storage is something to store your truck camper on. Torklift has designed a product called the Camper Packer. The Camper Packer is the industry's only structural truck camper support base and solution for maintaining camper structure during long term storage. It's 50 inches side-to-side, folds up for compact storage and is made of a special treated lumber to endure harsh weather. The Camper Packer is the best option for long term storage as it allows you to lower your truck camper and reduces stress on the camper jacks. It can bear 12 times the weight capacity of the typical sawhorse at 6,000 pounds per pair. Having stable support with the Camper Packer properly installed will allow you to prevent your truck camper jacks from twisting and causing damage to the camper frame. Distributing the weight throughout the camper minimizes sway and reduces the stress from the four corners and the frame. The Camper Packer is made in the USA and comes with a five-year warranty.
No. 2: How do I store batteries during the off season?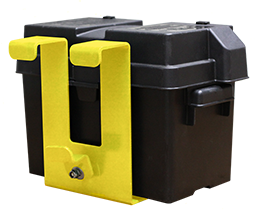 Another part of storage to consider is your extra batteries. Where will they go? Certainly, not in the garage for the entire winter – potentially damaging your flooring and increasing the chances your battery will suffer from the effects of sulfation. Torklift has an auxiliary battery mount box called the HiddenPower. The HiddenPower allows you to have extra battery power for your RV from your truck, significantly extending the time you can run on your 12-volt systems.
The HiddenPower battery mount installs underneath the vehicle bed and can be used for all types of group 24, 27, and 31 twelve-volt batteries, ranging from lead acid, AGM, sealed, or gel cell. This mount is no-drill and installs quickly. Keeping your spare battery mounted underneath your truck will keep the battery charged and ready for next season with little to no maintenance. An added bonus? The HiddenPower is designed to maintain its charge by being wired into the truck battery, essentially becoming an extension of your RV's battery power when it's plugged into your truck. It will keep your vehicle's battery charged and healthy too!
Features of the HiddenPower include:
•
Add additional batteries under your truck bed that are always charged up
•
Avoid wasting fuel and leaving your truck engine running while using electrical accessories such as lights, stereos,
computer, etc.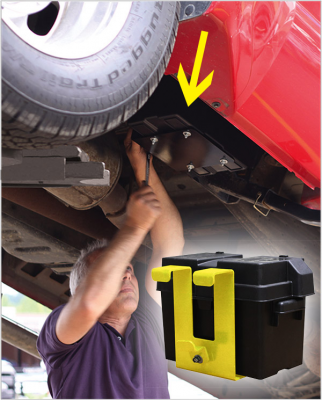 •
Power your accessories without turning your truck engine on by having them directly wired into the extra battery
•
No-drill frame mounted with quick disconnect feature for battery service
•
Kept constantly charged and RVing-ready by your RV and truck's charging system
•
Hidden when in use with no loss of ground clearance
•
Works with group 24 to 31 batteries
•
Designed for all types of batteries: lead acid, AGM, sealed, gel cell, etc.
•
Legendary Lifetime Warranty
•
Proudly made in the USA
Kit Includes:
•
Frame mount bracket
•
Group 24 to 31 battery box
•
Installation hardware
No. 3: How can I protect my tie downs and other towing products?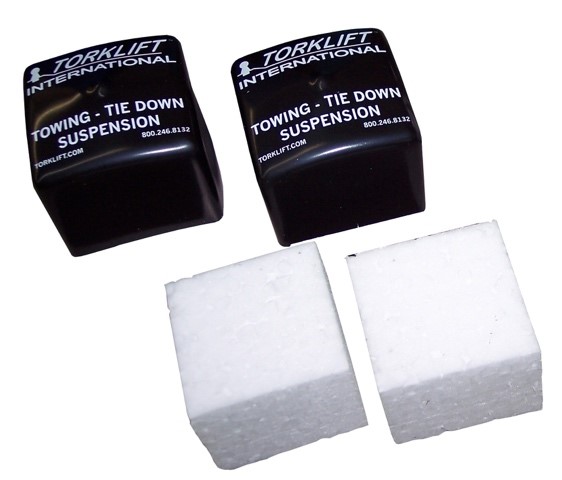 In order to keep tie downs and towing products in the best shape they require some maintenance and upkeep – especially during the off season. One great way to protect your investment is by using our Tie Down Finishing Kit – which inserts into the frame-mounted portion of your tie down to prevent water, salt and chemicals from getting inside the tubing.
Many states use corrosive salts and chemicals on the road to treat for ice and snow, which can affect the finish on your tie downs since they are the parts closest to the ground. On a regular basis, you will want to hose down equipment to avoid corrosion. If you do notice signs of rust or corrosion, the best way to take preventative measures is to remove the rust with sandpaper or wire brush, and spray Rust-Oleum on the effected parts.
For more information on any of these products contact us at 800.246.8132 or visit our website here. To purchase one of the products mentioned above, such as the truck camper storage stands or an under battery vehicle mount, click here to locate one of our Certified Dealers near you.
Written by Shyann Guerra:
Being in an environment in which I can problem solve is where I flourish. Every answer to a problem leads me to a new concept to understand or a lesson to learn. Whem I'm not solving problems I enjoy camping and going to festivals with my family - from the local city center festivals to the mountains of Wenatchee at the Winter Grass, blue grass music festival. Experiencing culture is where my heart is content.