Blog
Over 40 Years of Innovation, Quality, Safety
Torklift and Grand Design RV partner on GlowStep Revolution Entry System
When the GlowStep Revolution step system for towables was born, we knew it would revolutionize the RV industry. This never-before-seen technology has caught the eye of luxury extended-stay towable manufacturer Grand Design RV. So much so, that Grand Design RV has selected the GlowStep Revolution as one of their newest features for the Grand Design Solitude fifth wheels.

"Grand Design RV and Torklift's partnership is an incredible opportunity. As a company, they are laser focused on building long term value. We couldn't agree more with their mission."
- Torklift General Manager Jay Taylor
Making its debut at Grand Design dealerships across North America this Spring, the award-winning Solitude fifth wheels will come with the all-new game changing GlowStep Revolution step system. Located near the manufacturing mecca of the all things RV industry, Grand Design RV in Middlebury, Indiana is known for manufacturing towable fifth wheels, toy haulers and travel trailers of superior quality. Their units come with all the bells and whistles, impeccable design and remarkable value. If you take a look at the Solitude fifth wheel, it's easy to understand why.
Not only is the Grand Design Solitude an award-winning unit, it provides a slew of features any customer would swoon over. Just to name a few:
• Stainless steel appliances


• Taller ceilings
• Taller, deeper cabinets
• Large, scenic windows
• 6'8" Tall slide-out
• 101-inch wide body construction
And finally…
• GlowStep Revolution ultimate entry system
What really makes the Solitude stand out is that the design emulates the qualities found in a residential style home. The premium quality of Torklift's GlowStep Revolution is the perfect complement to this "extended stay" style RV. Just like a staircase found in your home, the GlowStep Revolution entry step is extraordinarily sturdy. The steps adjust perfectly to plant firmly on any type of terrain. Like something you'd find in a well-constructed permanent home fixture, the level of stability is simply unmatched. Imagine feeling that security everywhere your Solitude fifth wheel takes you. It's like planting roots each time you deploy the steps, knowing your family can safely enter the unit day or night, rain or shine and worry-free.
Connection of the Grand Design Solitude unit directly to ground level, the GlowStep Revolution's 7 inches of precision elevation adjustment provides a secure and stable step configuration, regardless of terrain. As the safest steps available for towables, the GlowStep Revolution provides each Grand Design Solitude owner with these added benefits: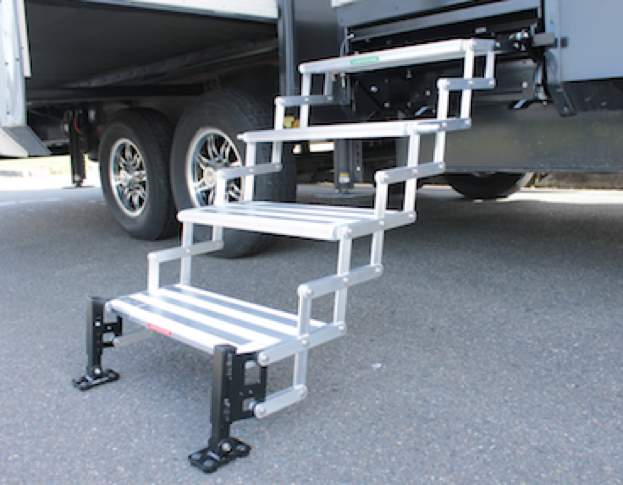 GlowStep Revolution on Grand Design Solitude Fifth Wheel
• Unparalleled stability eliminating the unsafe diving board effect
• All Terrain Landing Gear quickly adjusts to level on uneven terrain
• Made from 100% lightweight aircraft grade aluminum and stainless steel (rust free)
• Bushing bearing bolted for maximum stability and longevity – also provides smooth operation when deploying or retracting steps to prevent binding and grinding
• Locking mechanism secures steps for safe travel while improving ground clearance
• SureGrip™ step tread provides no-slip surface
• Self illuminating steps glow in the dark for up to 10 hours with only 5 minutes of light exposure - no batteries
• Safely enter and exit the fifth wheel after dark
• Option to add step system accessories: Handrail, pet safety barriers and shoe cleaning attachment
• Legendary Lifetime Warranty
• 100% Made in the USA
Grand Design Solitude fifth wheels will come standard with a four-step GlowStep Revolution. Click here to see all of the features and floor plans of the Grand Design Solitude.
The patent pending GlowStep Revolution on Grand Design's Solitude fifth wheel marks a significant partnership with Torklift and Grand Design RV
Learn more about the Grand Design Solitude fifth wheels at www.granddesignrv.com. Click here to discover all of the features and benefits of the GlowStep Revolution entry system.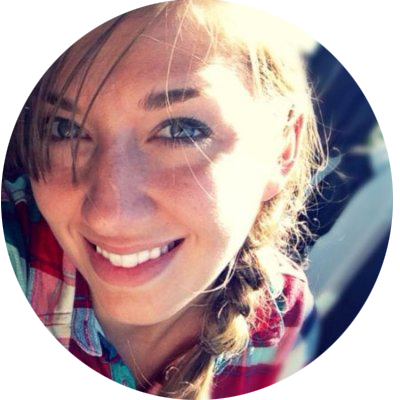 Written by Sheryl Bushaw:
As a graduate from Arizona State University with a B.A. in Journalism and emphasis in Public Relations, Sheryl is a passionate writing professional with focus in areas of copy writing, social media and creative design. She is a travel enthusiast and explorer-extraordinaire with a zest for life.
Related Posts
By accepting you will be accessing a service provided by a third-party external to https://www.torklift.com/