Blog
Over 40 Years of Innovation, Quality, Safety
Top 3 reasons to winterize your truck camper with Torklift's Camper Packer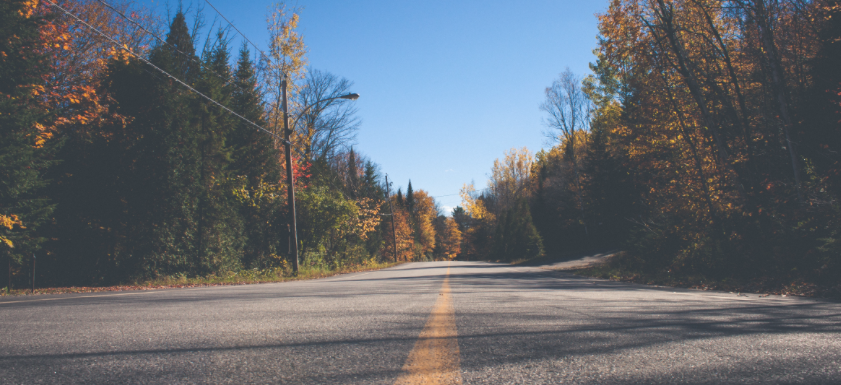 Fall has arrived, it's time to winterize
The sun is setting on camping season and it's time to winterize the truck camper. How do you store a truck camper over the off-season? Do you store it under a shelter or inside the garage? Does it sit in your driveway, alongside your house or at an offsite storage facility? Regardless of where your truck camper finds its home over the winter season, there is only one important detail we urge you to remember. Whether a short term or long term time period, don't let the truck camper sit on its camper jacks without additional support.
That's where Torklift International Camper Packer storage stands become crucial in winterizing your truck camper.

Here are the top three reasons the Camper Packer isn't your average hardware store sawhorse stands: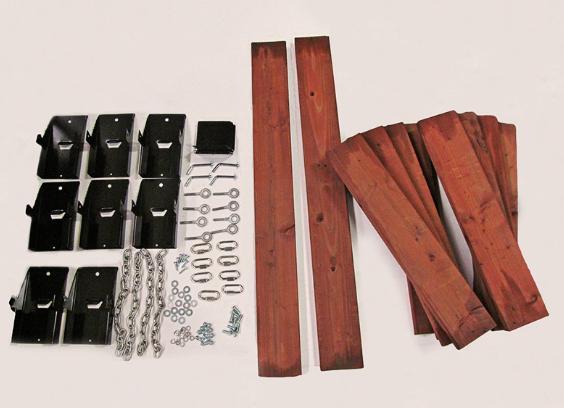 Camper Packer Kit for storing a truck camper
#1) Easy assembly
Not only does the Camper Packer truck camper storage stands assemble quickly and easily, it simply requires a standard drill to get the job done. The camper support storage stands measure 50 inches side-to-side and are double the length of a typical sawhorse. There are no tools required to operate the storage stands.
Ed Krech from Brentwood, Tennessee uses the Camper Packer to store his 2011 Northern Lite 811 truck camper when he isn't on the road.
"Using the tools recommended [by the instructions] and following the instructions, I had both "sawhorses" together in one and half hours," said Krech.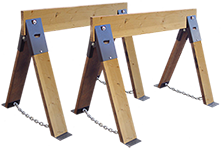 Support the truck camper with
Camper Packer stands


Because the camper storage stands are collapsible and fold away when not in use, they are specially designed for easy storage when you're ready to load the truck camper onto your truck again.



"Compared to what I had been using to support my camper, these are the right height, extremely stable, will tolerate any weather conditions, and are very easy to store when not in use."
– Ed Krech
#2) Give your truck camper the structural support it needs
Acting as a structural support base for the truck camper, using the Camper Packer camper stands dramatically reduces jack and camper frame stress. It prevents any potential of camper frame damage during storage by redistributing the stress off the four corners of the camper frame and onto the truck camper storage stands.
The Camper Packer sawhorse stands are rated up to 12 times the weight capacity than your traditional sawhorse at 6,000 pounds capacity per pair. The lumber of the camper storage stands can be trimmed to achieve the preferred height. If you're looking for a sturdy and solid foundation for storing your truck camper over the offseason, look no further than the Torklift Camper Packer.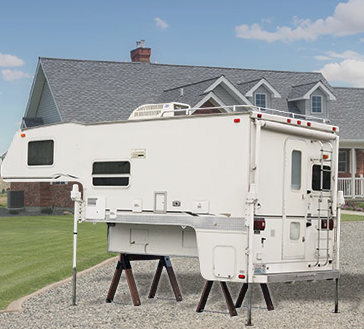 Winterize your truck camper
#3) Durability
The special treated lumber shields against the elements and is double-coated on the ends to further protect from exposure to rocks and dirt.
"Another plus is that the metal parts are either painted or made of stainless steel...no rust!" said Krech.
The steel components of the Camper Packer Kit are protected with a high impact powder coat. This allows protection against the negative effects of corrosion and rust. Most hardware in the kit is stainless steel. Torklift International Camper Packer comes with a 5-year warranty and is proudly made in the USA.
Save on storage!
Torklift is here to make winterizing a truck camper or RV as easy as possible. What's a better way to save on all the products you need to protect your things and provide maximum convenience over the offseason? To see all special offers and active factory rebates click here.

That's not all – Stand up and take the first step in maintaining the structural integrity of your truck camper while in storage by taking $10 off the Torklift Camper Packer.
Camper Packer $10 Factory Rebate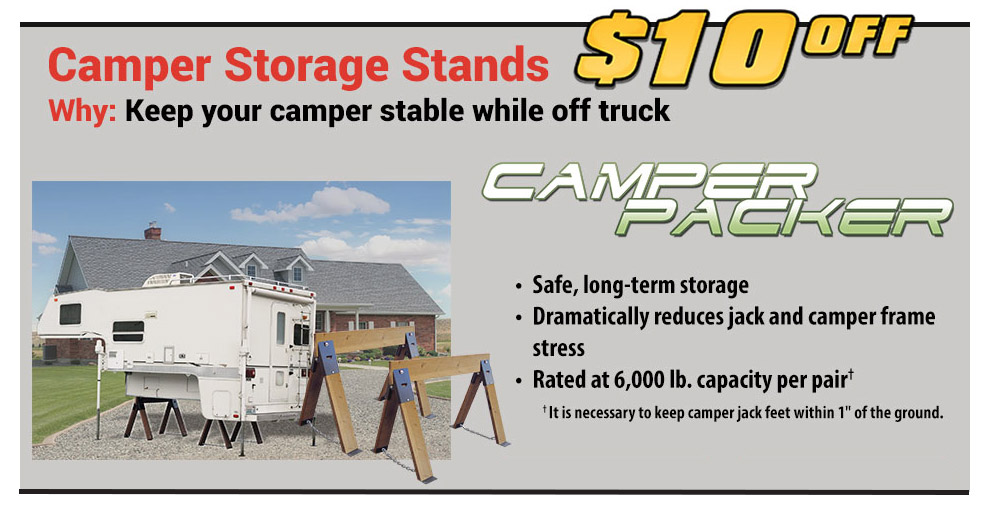 Click here for more information on the Camper Packer storage stands or find a dealer near you by searching the Where To Buy section on our website.
---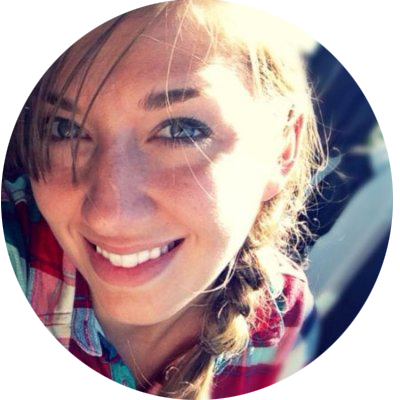 Written by Sheryl Bushaw:
As a graduate from Arizona State University with a B.A. in Journalism and emphasis in Public Relations, Sheryl is a passionate writing professional with focus in areas of copy writing, social media and creative design. She is a travel enthusiast and explorer-extraordinaire with a zest for life.