Blog
Over 40 Years of Innovation, Quality, Safety
When the camper is rockin' don't come a knockin'!
Does your camper wobble from a sneeze? Many of us that travel with truck campers understand the irritating and nerve-racking camper sway when the camper is off loaded. When a truck camper is free standing, the sway and wobble can make for an uncomfortable experience, also a very telling one for your audience outside... if you know what we're saying.
So what's happening to your truck camper with all of that swaying and wobbling from excessive rocking motion? When the camper is free standing with all four points on the jack system the constant rocking and swaying puts a tremendous amount of stress and wear on the camper jacks. It also puts a significant amount of unnecessary pressure on the camper frame. This amount of stress leads to jack failure, camper damage, and leaves you a very unhappy camper.
What can I do to protect my truck camper?
This stabilizer is so good, folks will have to use the hat on the door tactic to ensure privacy! No one will ever know what's going on in your truck camper. Torklift has designed the FastGun Wobble Stopper to dramatically reduce camper jack and frame stress. This product acts as a supportive connection between the front camper jack legs and the camper body. Not only does it reduce the stress, it also reduces the swaying that causes people to become motion sick in their campers.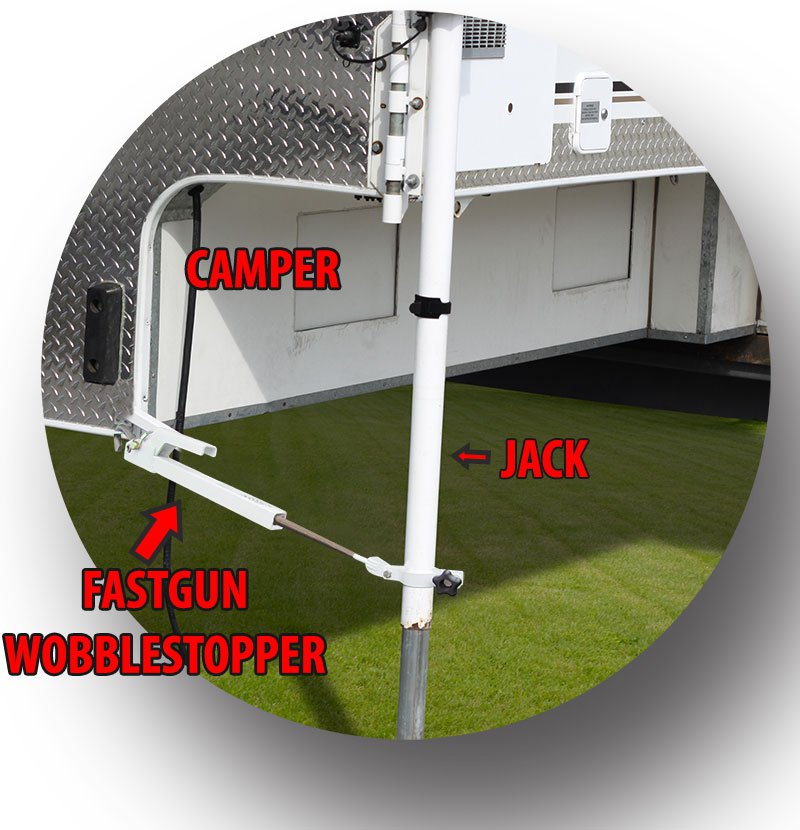 How does it work?
Only taking seconds to install and remove with the quick disconnect lever, it is so easy anyone can do it. Both a square and round jack applications are available.

• The ability to self stow
• Release the lever-action handle
• Connect to the truck camper frame
• Pull the lever back to lock
With keyed alike locks, this lockable feature helps hinder and prevent any possibility of theft. The brace blocks off access making it so a vehicle can't back up and take off with your camper. Constructed out of high impact powder coated stainless steel and aircraft grade aluminum, this FastGun Wobble Stopper is proudly USA made and comes with Torklift International's Legendary Lifetime Warranty. For more information on this product, contact us at 800.246.8132 or visit our website Torklift.com.
Related Posts
Comments
No comments made yet. Be the first to submit a comment