After hearing of numerous customers' challenges regarding battery theft from their RVs and trailers, Torklift employee Darrel Hagglund was inspired to begin developing a design that would not only prevent battery theft, but would also extend the life of the battery through the use of solar energy.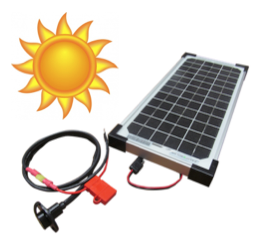 Solar panel keeps RV batteries healthy
We make it easy to be energy efficient
While the use of solar panels on RVs isn't new, saving energy by combining security and improving the effectiveness of battery life is a fresh take on efficiency. Not only will you sleep better knowing that your battery is safe from thieves but when the mercury climbs, the new PowerArmor Solar provides a 400% increased battery life on RV batteries, allowing you to turn up the heater to stay warm and comfortable all night without the worry of running out of juice.
Keeping it simple
Multiple PowerArmor Solar sizes are available to accommodate up to five spare batteries. Each PowerArmor Solar battery box uses a Zamp Solar 10-Watt solar panel to trickle charge the batteries. The locking battery box is made with heavy gauge diamond plate aluminum and bolts easily to your RV, truck, van or camper bumper with a unique slide top for easy storage access. Designed to securely store batteries, trailer hitch parts and camping gear, PowerArmor Solar is easy to clean and available in bright tread diamond plate with black high impact powder-coated trim. The larger-sized box, PowerArmor MAX, comes with adjustable dividers to customize your storage needs.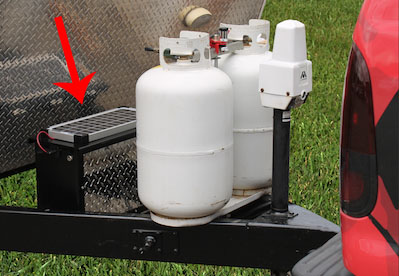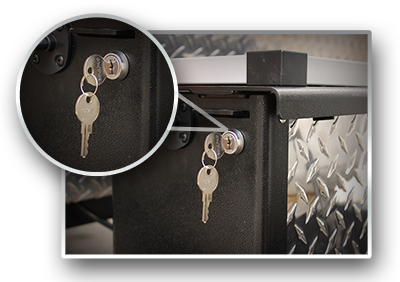 Power Armor Solar protects and extends the life of your batteries
Ask and you shall receive
While many outdoor enthusiasts might consider RV camping downright sacrilegious, there are still a lot of us who want to enjoy the great outdoors with some of the comforts of home in an RV. With some of these latest and innovative gadgets to hit the market in the RV world this year, not only can they make the experience more enjoyable; now you can extend your stays, save money and keep your belongings safe and secure.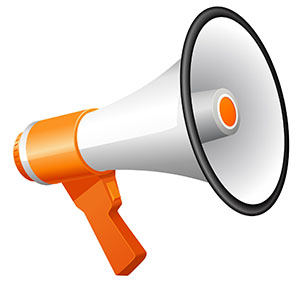 At Torklift International, a family-owned company since 1976, we take customer suggestions and needs into great consideration. PowerArmor Solar is one example of how, by listening to the needs of our customers, Torklift can make camping easier and more fun for the entire family. The PowerArmor Solar comes with Torklift's Legendary Lifetime Warranty and is proudly made in the USA.
Click here to learn more about the PowerArmor Solar battery box.
---

Written by Tamara Williams:
Currently Tamara Williams studies English at Arizona State University. She is a writing professional specializing in technical writing and SEO blogging for small businesses. Tamara also works with Project Pen, an innovative program for inmates at New Mexico and Arizona prison systems editing and providing feedback for their essays, poems, short and non-fiction stories.