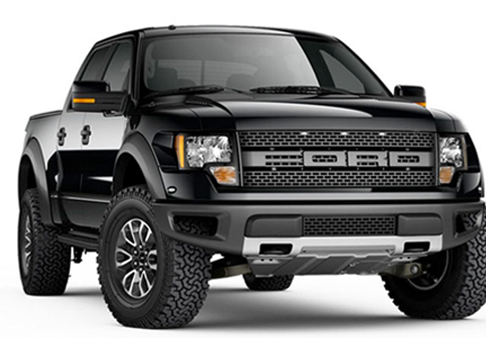 Ford F-150 truckJust like truck manufacturers, Torklift International understands the importance of brand loyalty. Whether you're a Ford, Chevy or Dodge RAM kind of person, Torklift has the hitch to fit your truck.
The Ford F-150 is the #1 selling truck in the business and at Torklift International we pay attention to those trends. If quality trucks are "Built Ford Tough" then Torklift has the toughest receiver hitches in the industry to match those same standards you'd expect from Ford.
Using high tech computer, physical lab and rigorous field test engineering, our high capacity SuperHitch Outlaw Series includes the beefiest receiver hitches, hitch receiver extensions and a monster weight distribution system. We also offer top notch wiring harnesses, pintle hook and ballmount adapters and accessories that satisfy your towing needs.
More than just a truck

Maybe you use your Ford truck to tow or haul for recreational activities. Truck camper for camping? Speedboat for the family? To some folks a truck is just a set of wheels to get from point A to point B. Perhaps you use your truck for work, constantly hauling and towing equipment.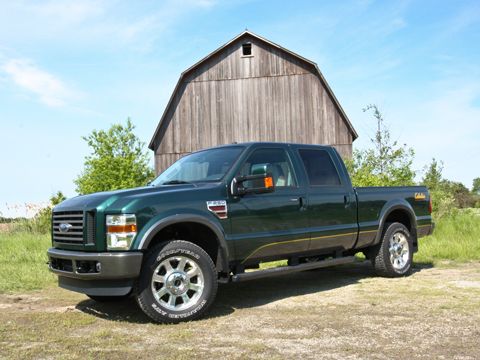 Hitches for Ford trucksFor most Ford truck owners it's much more personal than that. It's not just any old truck. It's a lifestyle. It's both memories and nostalgia and the possibility of future adventures. That's why we engineer our hitches with both our customers and their trucks in mind. Whether you are passionate about your Ford truck or not so much, we build Ford truck hitches that support you for a lifetime.
Quality comes in all sizes
Newer Ford trucks have more towing capacity than ever before. That's why we know you're going to require the high quality and heavy-duty capabilities of the SuperHitch for all your towing needs.
Torklift International manufacturers several hitches for Ford trucks: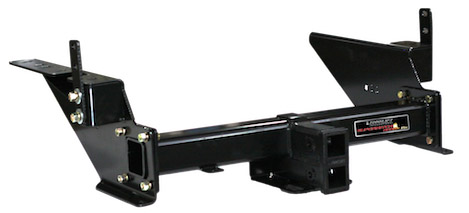 Ford F-150 truck = SuperHitch Hero 15K 





Built for half-ton trucks, The SuperHitch Hero 15K is rated at 1,500 pounds tongue weight and 15,000 pounds of towing capacity when used with a weight distribution system. The Hero is the first Torklift International SuperHitch created for half-ton trucks including Ford. Click here to see why we call this hitch the "Hero".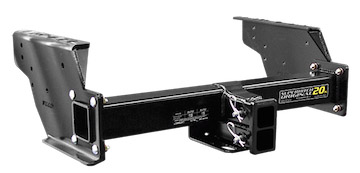 Ford F-250 truck
Ford F-350 truck
Ford F-450 truck = SuperHitch Original 20K
Ford F-550 truck
Ford Excursion


SuperHitch Original 20K frame-mounted receiver hitch is rated up to 20,000 pounds towing and 2,000 pounds tongue weight with weight distribution in either the upper or lower receivers. That's right, the dual channel receivers on each SuperHitch give you the freedom to expand your towing possibilities. Use the upper receiver for accessories while towing from the lower receiver.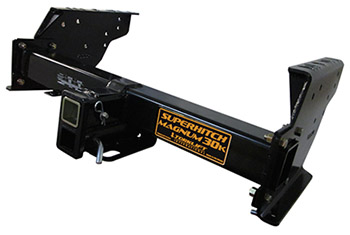 Ford F-250 truck
Ford F-350 truck
Ford F-450 truck = SuperHitch Magnum 30K
Ford F-550 truck



As the head honcho of Torklift's Outlaw Towing Series, the SuperHitch Magnum 30K tows what? Cue jaw drop…. An incredible 30,000 pounds!* A hitch on steroids, this big boy can also handle a tongue weight of 3,000 pounds.* Those that tow regularly know the importance of tongue weight. Put those worries to rest with the Magnum 30K hitch receiver on Ford trucks.
If you plan to use a towing extension, the SuperHitch SuperTruss is a dual-trussed extension that fits perfectly into the SuperHitch. It's a match made in heaven, really. With a reputation for strength, using any other hitch extension configuration would be disappointing to any Ford truck owner.
* When used with weight distribution system.
For specific details on Ford truck hitch applications, click here.
You know we're all about that base
Torklift knows life is complicated enough and more often than not, simplicity is the base of all solutions. Our engineers keep you in mind with every improvement, every new product and every installation. Our hitch designs are truck specific to make each application a perfect fit and most installations bolt onto the frame with no drilling necessary.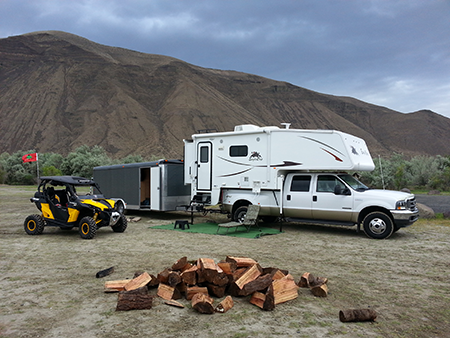 Haul a camper while towing with a Ford truckWe stick to the basics and emphasize strength when it comes to building a good hitch. Here's what you can expect from your Ford truck's SuperHitch:
Patented dual receiver design (2" upper and 2" lower) to max out class-five hitch capacities
SuperHitch Outlaw Series has the only hitches in the industry with reinforced hitch pin locations to prevent elongated "egging," saving you time and money in the long run
Most applications are bolt-on frame-mounted and don't require drilling
Compatible with industry standard ball mounts
Backed by the Torklift International Legendary Lifetime Warranty
Proudly Made in the USA
It's easy to see why the receiver hitches in the SuperHitch Outlaw Series are built to last.
Just like your Ford.
To learn more about the Outlaw Series that includes hitches for Ford trucks, click here.
---

Written by Tamara Williams:
Currently Tamara Williams studies English at Arizona State University. She is a writing professional specializing in technical writing and SEO blogging for small businesses. Tamara also works with Project Pen, an innovative program for inmates at New Mexico and Arizona prison systems editing and providing feedback for their essays, poems, short and non-fiction stories.