Blog
Over 40 Years of Innovation, Quality, Safety
Top 7 towing myths debunked
The online community is a great tool to find useful information, especially when it comes to gaining knowledge on a topic that is new to you. With so much information on the rules and best practices of towing, it's important to learn the truth of towing from a reputable source.
At Torklift International, we turned to our hitch and tow experts to put some of these towing 'myths' to rest.
1) I can increase my payload capacity by adding aftermarket suspension products.
False. No suspension upgrade designed for towing or hauling can increase your truck's maximum vehicle manufacturer assigned capacity ratings, however there is a suspension solution that can help handle heavy payload more effectively.
By pre-activating the stabilizing effects of the truck's factory leaf springs, Torklift International StableLoad suspension stabilizer dramatically improves the handling of your vehicle while towing. Enjoy a safer towing experience by reducing poor handling, eliminating side-to-side sway and leveling your truck while loaded.
2) There is no difference between GAWR and GVWR.
False. In order to tow safely, it is important to learn the meaning of towing acronyms. Here is a quick guide:
GCWR: Gross Combination Weight Rating is the maximum weight of the trailer and tow vehicle combined should never be exceeded.

GVWR: Gross Vehicle Weight Rating is the maximum weight limit for your specific vehicle or trailer including passengers and payload, set by manufacturer and should never be exceeded.

GAWR: Gross Axle Weight Rating is the specific maximum weight that can be placed on an individual axle. This is set by the vehicle manufacturer should never be exceeded.

GTW: Gross Trailer Weight is how much the trailer weighs when fully loaded.

GVW: Gross Vehicle Weight is the actual weight of the fully loaded vehicle including cargo, passengers and equipment.
GAW: Gross Axle Weight is the actual amount of weight each axle is carrying.

A way to calculate your GTW is by subtracting your GVW from its GVWR.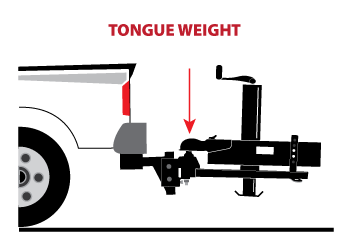 Curb Weight: The actual weight of a vehicle or trailer including standard equipment, full fuel tanks, fresh water tanks, propane bottles and all other fluids.
Tongue Weight: The downward force or weight that the tongue of the trailer applies to the hitch of the tow vehicle.
Note that tongue weight is considered part of the vehicle's GVW, however the entire weight of the trailer is not.
By towing safely and staying within your weight capacities, you'll prevent:
- Overall handling issues such as lack of response in vehicle's steering capability
- Weakening of brake system due to weight being overloaded
- Tire wear and potential for tire blow out situation
- Trailer hitch failure
- Loss of control due to rear suspension stress
3) I can increase my truck's towing capacity by upgrading my trailer hitch.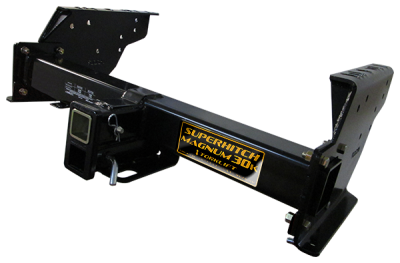 False. The towing capacity of your trailer hitch does not override your maximumvehicle manufacturer assigned capacity ratings. However, upgrading your trailer hitch maximizes the towing capabilities of your vehicle and avoids any limitation set by your factory hitch ratings. For example if your vehicle is rated to row 20,000 pounds but your hitch is rated at 15,000 pounds, you are limited to tow no more than what your hitch is rated at: 15,000 pounds.
By installing a Torklift International SuperHitch, you can tow to your truck's greatest capacity. As the highest rated hitch in the industry, the SuperHitch class five hitches utilize the following components for added strength:
- Patented dual receiver design
- Hardened, reinforced hitch pin locations to prevent elongation known as "egging"
- Attaches directly to the frame of the truck
In no circumstance should the manufacturer assigned vehicle capacity rating be exceeded. Browse the SuperHitch Towing Series to locate the receiver hitch with the appropriate capacities that meet your heavy towing needs. Torklift International's SuperHitch Magnum 30k is the highest rated hitch in the industry with a capacity 30,000 pounds when used with a weight distribution system.
4) It is safe to estimate tongue weight.
False. The number one cause of hitch failure is due to exceeding your tongue weight.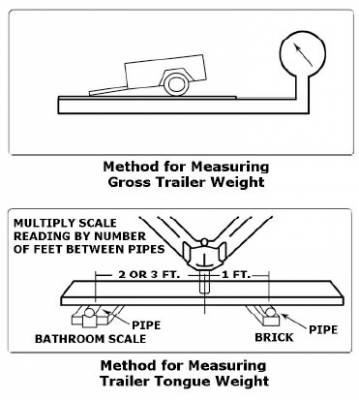 Other than simply lifting the tongue of the trailer and guessing its weight, how can you determine how much the trailer's tongue truly weighs? Click here for a step-by-step guide on how to measure tongue weight of your trailer.
To prevent exceeded tongue weight and ensure the weight of your load is evenly distributed across all axels, you may need to install a weight distribution system.
The SuperHitch Everest weight distribution system is the highest rated weight distribution system available at a capacity of 30,000 pounds and 3,000 pounds tongue weight. The weight distribution system redistributes 1/3 of the tongue weight onto the trailer axels, 1/3 of the tongue weight onto the tow vehicle's rear axel, and 1/3 of the tongue weight onto the tow vehicle's front axel. With all of the weight being redistributed, now you know why it's called a weight distribution system.
Check out this video to see how weight distribution works.
5) Tongue weight is always 10 percent of the weight I am towing.
False. A safe amount of tongue weight varies between 10 to 15 percent of the weight of the trailer due to many variables. The position of the trailer axels and how the load is distributed on the trailer will greatly affect the tongue weight.
People often times place the bulk of their load at the front of the trailer toward the hitch. This equates to too much weight on the tongue.
If a heavy tongue weight is a concern for your application, installing the correct capacity and rated weight distribution system is very important. For extremely high tongue weights, the SuperHitch Magnum 30K receiver hitch with weight distribution allows a tongue weight capacity of 3,000 pounds and 2,500 pounds tongue weight carrying. It is important to never exceed your vehicle manufacturer's recommended towing capacity.
If you do not have enough tongue weight, the trailer will sway heavily from about 40 mph and higher. Speed related trailer sway can usually be eliminated by adjusting the payload on your trailer forward (toward the trailer tongue) to increase the tongue weight. On trailers where moving the payload is not possible, sway control accessories can be added to your trailer hitch to help address this issue.
6) Trailer bearings do not need maintenance.
False. Trailer bearings need to be cleaned, inspected, and repacked with fresh grease annually due to sitting outside in the elements, which leads to rust. Trailer wheel bearing failure is the number one cause of roadside trailer break down, ruining vacations and leading to costly repair.
The bearings are located within the trailer's wheel assembly and need proper maintenance. As an important component to keeping your trailer riding smoothly when towing, well lubricated and well cared for trailer bearings will help prevent friction and unnecessary wear on your trailer parts.
7) I have a truck camper and need a hitch extension to tow my trailer. Any type of towing extension will do?
False. You need to determine if the receiver extension has the proper tongue weight capacity. A shorter extension has less stress and can handle weight easier. A long extension has less weight capacity. Torklift International's SuperHitch SuperTruss receiver extension has the highest capacity in the industry to ensure that you are towing safely.
Available in eight lengths from 21 to 60 inches, the SuperTruss receiver extension works exclusively with the SuperHitch or SuperHitch Magnum and features lateral support safety chains.
Look up our measurement guide to find the proper size receiver extension for your application.
As hitch and tow experts for nearly 40 years, feel free to give our Tech Support a call at 800-246-8132 with any questions regarding your towing needs. If you aren't sure you are towing or hauling safely, have your vehicle professionally inspected to verify that weight ratings falls within your vehicle manufacturer's tow ratings.
Stay Informed
When you subscribe to the blog, we will send you an e-mail when there are new updates on the site so you wouldn't miss them.