Blog
Over 40 Years of Innovation, Quality, Safety
See what this RV.net forum user has to say about Lock and Load SideKick
Recently a Torklift customer shared their experience using our Lock and Load SideKick generator tray.
See what Buzzcut1 had to say on RV.net here: LINK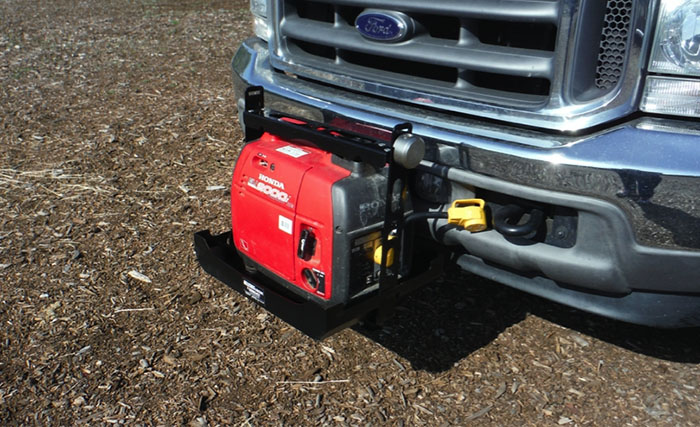 The Lock and Load SideKick generator tray
can be installed in a front or rear hitch
The Lock and Load SideKick is designed to keep generators secured under lock and key when in use and generating that coveted AC power we all know and love while at the campsite or while in long-term storage. It's the latest innovation in generator security at our factory. It's designed to secure the most common small-scale generators that people typically take to the campsite such as Yamaha EF2400iSHC, Yamaha EF2000iS and Honda Eu2000ia generators.
The tray dimensions are 21.25" x 16.125" and it adjusts to fit all front or rear 2" x 2" mounted trailer hitches.
On Rv.net, forum user Buzzcutt1 decided to mount his generator tray to the front receiver. By doing so he was able to put the generator in a non-obtrusive area and freed up a great deal of space in his truck camper. Campers are often looking for alternatives to internal truck camper storage. Not to mention, potential leakage messes and fumes caused by generators will now stay outside.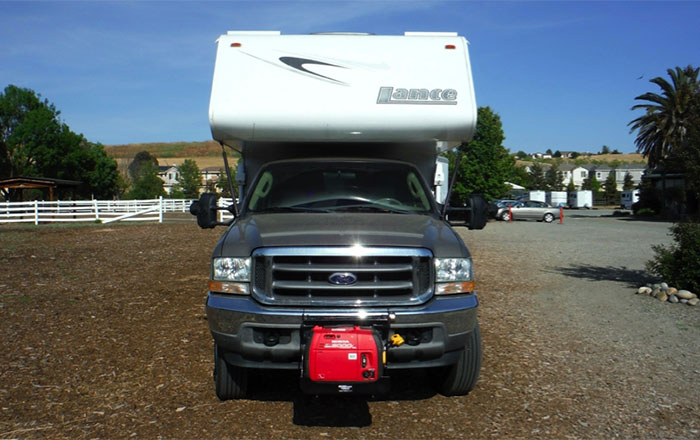 The Lock and Load SideKick generator security tray
is installed in a front receiver hitch shown above
The Lock and Load SideKick is durable, made from high strength steel and aircraft grade aluminum and sealed with high impact powder coat. With generator theft becoming a concern, it even comes with a heavy-duty tamper proof puck lock. No one wants to wake up to a stolen generator since these types of thefts often occur while away from our campsite or while we are sleeping.
Buzzcutt1 found that installation was a snap; he assembled it himself and installed it to the truck's front hitch receiver.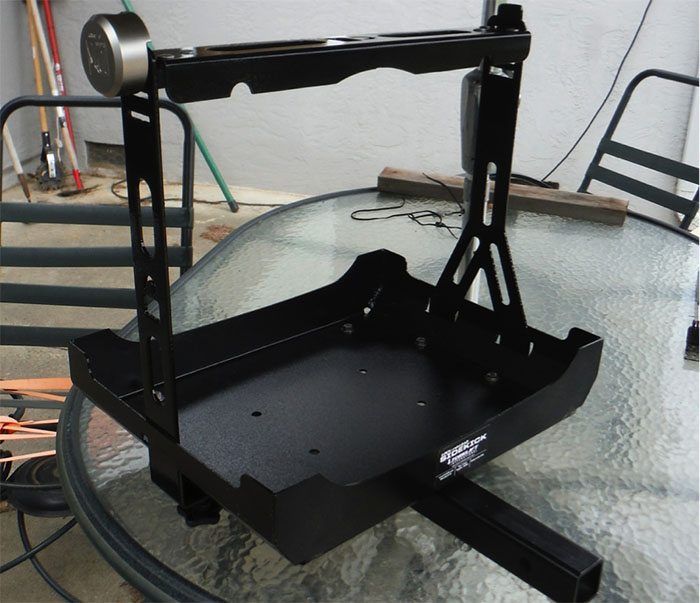 Forum user Buzzcut1 assembled the
Lock and Load SideKick on his own
Based on our customer feedback, we even made a change to this product referenced in this forum thread. We decided to replace the standard hex bolts with two tamper resistant snake eyebolts.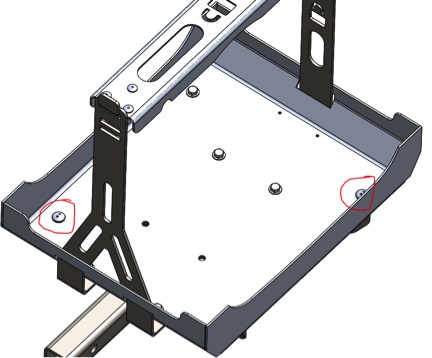 Technical drawing showing the replaced bolts
Torklift is a company who listens to their customers and values their feedback tremendously. In fact, one of our first products we ever developed was the FastGun turnbuckle and that was based on a customer who had a need. Particularly this customer had arthritis in her hands and was devastated that she was no longer going to be able to truck camp. At the time the only turnbuckles available on the market was the standard hook turnbuckles requiring customers to turn them with their hands. Many years ago, Torklift International founder Jon Kay learned about this woman and decided he needed to do something about it. He developed the quick-disconnect handle FastGun turnbuckle specifically for this woman so she could continue to truck camp.
It is that devotion to customer service and input that leads to new and improved products at Torklift International.
Thank you to Buzzcut1 for sharing this experience about our Lock and Load SideKick generator tray.
Click here to learn more about the Lock and Load SideKick generator tray.
Stay Informed
When you subscribe to the blog, we will send you an e-mail when there are new updates on the site so you wouldn't miss them.