Blog
Over 40 Years of Innovation, Quality, Safety
3 reasons why Talon Tie Downs are the best way to tie down a truck camper
As an industry first, Torklift recently unveiled the precision crafted aluminum Talon Tie Downs. As the only tie downs made with this unique design and material, there are three reasons that make the Talon Tie Downs stand out as the best system to tie down a truck camper.
1. They are frame-mounted
The patented design incorporates four independent tie down points that bolt directly to the truck frame to dramatically improve stability and handling. They are engineered to fit tight and secure to your truck frame with no loss of ground clearance. Frame-mounted tie downs are guaranteed to eliminate bed and bumper damage and all aluminum applications do not require drilling for installation.
2. Made from military grade aluminum
The Talon Tie Downs are precision crafted from lightweight military grade aluminum alloy making them up to 50% lighter than steel applications. Specifically developed for maximum strength, the high impact powder coated tie downs are designed to meet and exceed the toughest demands from avid sportsmen and adventurers.
With payload and weight capacities a sensitive factor when it comes to truck camping, a lighter tie down system helps to alleviate unnecessary weight. Jim Weber recently installed Talon Tie Downs on his 2001 Ford F-350 truck.
"I was shocked how sturdy they looked but still felt like [it was only] 5 pounds," wrote Jim Weber on RV.Net.
Daniel Timm hauls a Lance camper with his 2015 Chevy 3500 truck.
"The Talons are much lighter than the steel design," explains Daniel Timm. "With all the weight of the truck camper carried by the truck, every pound not used for Tie Downs can be used for camping gear."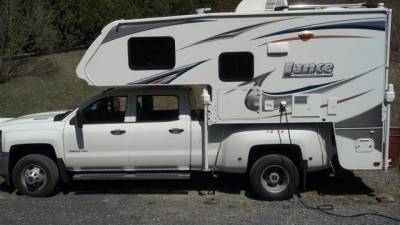 Talon Tie Down system with Lance Camper
3. Rust free corrosion protection
Our engineers developed the ultra high performance Talon Tie Downs to handle even the toughest climates and terrain. Whether you explore coastal beaches or mountainous terrain with snow and ice where harsh chemical treatments are prevalent, nothing outperforms the Talon Tie downs.
Daniel Timm travels in areas that use salt on bad roads. It was important for him to install a tie down system that was free from the effects of rust and corrosion.
"Having the tie downs corrosion free is very nice," said Daniel. "They are easier to use and look like they will last longer than the truck!"
To further ensure that the Tie Downs remain in good condition, each set of Talon Tie Downs comes with a Tie Down Finishing Kit. When your camper isn't loaded, the Tie Down Finishing Kit helps to prevent road grime from entering your tie down inserts.
Protect your investment by removing the tie down insert and replacing it with our special protective foam, and capping it off with our finishing kit. This cost effective measure allows you to minimize the harsh effects of the environment.
Tie Downs by Torklift International have a lifetime warranty. When Torklift Tie Downs are used with our spring-loaded turnbuckles, the lifetime warranty extends to the truck frame and camper anchor points for the extent of its manufacturer warranty. Give us a call at 800.246.8132 for more details.
Stay Informed
When you subscribe to the blog, we will send you an e-mail when there are new updates on the site so you wouldn't miss them.