TRUE Frame-Mounted Camper Tie Downs are the best choice for securing your truck camper. The patented design incorporates four independent camper tie down points that bolt directly to the truck frame to dramatically improve stability and handling. These truck camper tie downs are engineered to fit tight and secure to your truck frame with no loss of ground clearance. Most applications are no-drill. These pickup camper tie downs are guaranteed to eliminate bed and bumper damage and come with our Legendary Lifetime Warranty.
Torklift frame-mounted tie downs are designed to fit specific vehicle makes and models and consists of two parts. The two parts include: a tie down bracket that attaches to your vehicle and a removable insert that slips into the receiver or bracket. The tie down insert is held in place with a pin and clip so that it can be installed and removed easily. That means with Torklift tie downs, you don't compromise any ground clearance and they are hidden when not in use. Simply remove the insert when not hauling your camper. When the insert is removed, the receiver or bracket stays tucked away and out of sight underneath your truck.
Find Your Fit
» Already have your Torklift part number? Login to the
Dealer Portal
to access the
Distributor Part Number Finder
and see what your Torklift part number fits.
» Login to the
Dealer Portal
to convert your Torklift tie down part number to a distributor part number with the
Distributor Part Number Finder
.
Details
When used with any of our fully springloaded turnbuckles, we warranty the truck frame and camper anchor points for the extent of the manufacturer warranty. TRUE Frame-Mounted Tie Downs come in sets of two and are proudly made in the USA.
TRUE Frame-Mounted

Tie Down Features - Steel
Dramatic improvement with vehicle handling and stability and is the safest way to haul a truck camper (Prevents vehicle sway and camper movement in all directions)

Haul your truck camper confidently by attaching your tie downs to the strongest part of the truck: the frame

Avoid bed and bumper damage that is common with other tie down systems

Maintain the value of your truck and prevent rust and bed damage by avoiding drilling into your truck bed or bumper

Provides safety, security and stability while on the road

Custom fit to specific truck makes and models to allow for the ultimate safety and confidence

The only truck camper tie down that mounts using independent tie down points that bolt directly to the truck frame

Fast, no-drill installations securing your truck camper to your truck (100% no-drill for all trucks after 2001- Check your application here)

No loss of ground clearance perfect for off-road truck camping

Hidden design when not in use to return your truck to its original look

Vehicle manufacturer recommends that all full-height slide-in camper bodies be directly attached to the vehicle frame structure

It is required that no addition holes be drilled through the vehicle frame side rail horizontal flanges

It is suggested that outrigger-type "L" brackets be attached to the frame's vertical web to which the camper body can be conveniently attached

Lockable with Tie Down Locks

Only truck camper tie down system with a Legendary Lifetime Warranty

Proudly made in the USA
*Call factory at 800-246-8132 for details
Resources
Accessories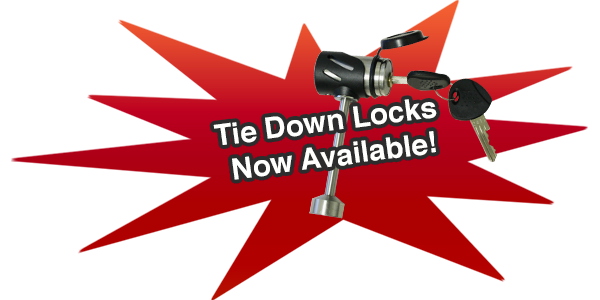 Accessories
Specs
The Torklift Advantage
††(Tie down must be springloaded. Warrantied for term of Camper Manufacturer warranty.)
†Happijac is a Registered Trademark of Lippert Components
| For More information regarding one of the points below, please click on 'More info' | | Happijac† | Brand X Frame Mount |
| --- | --- | --- | --- |
| 1. Manufacturer's warranty » More info | LIFETIME | 1 Year Parts | 1 Year Parts |
| 2. Tie down warranty covers truck frame and camper anchors** » More info | YES | NO | NO |
| 3. No-drill on Ford, Dodge, and Chevrolet applications » More info | YES | NO | NO |
| 4. Improved truck/camper handling and road control while controlling camper movement, by tying the camper to the truck's "foundation", the main frame » More info | YES | NO | NO |
| 5. Tie down system virtually undetectable when not in use » More info | YES | NO | NO |
| 6. Utilizes hardened bolts that run though truck's main frame » More info | YES | NO | NO |
| 7. Number of bolts attaching to the main frame UP TO 12 » More info | UP TO 12 | NONE | NONE |
| 8. Interference with stabilizer bar tears rubber bumpers damaging the camper » More info | NO | YES | NO |
| 9. Installation of tie down equipment damages truck bed and bumper » More info | NO | YES | NO |
| 10. Uses J-Bolts / U-Bolts which stretch and loosen (in most popular applications) » More info | NO | - | YES |
| 11. Tie down insert is adjustable, providing optimal turnbuckle tie down angle » More info | YES | - | NO |
| 12. Tie down system requires tools for normal use » More info | NO | YES | YES |
| 13. Applications for trucks with full length bed running boards » More info | YES | YES | NO |
Videos
TRUE Frame-Mounted Tie Down Videos

What Does Lance Manufacturing Think Of Torklift?

How to install Torklift Frame Mounted Camper Tie Downs

How-To Tie Down Your Northern Lite Truck Camper
Reviews
Thomas Yanak
January, 29th 2021
5.0
I've been fortunate living and working near Kent WA. I have been familiar with Torklift Central since their opening in 1976. I have had them perform maintenance on more than one overhead camper and had two trucks outfitted with camper tiedowns, front receivers, camper plugs in pickup bed. Every bit of work performed was flawless. I , will continue to use Torklift Central for all my truck and camper needs.
---
"I've had my Lance...for 2 years now. First year was Happijac..." » Read More