At Torklift, we call our Truck camper tie downs TRUE Frame-Mounted Camper Tie Downs. This is because they are the only truck camper tie downs available that attach to the strongest part of your truck, which is the truck frame. All other tie downs, commonly referred to as homemade truck camper tie downs or bed-mounted tie downs generally attach to the bed or stake pocket. You might be wondering why that is an issue, we can help explain.
Bed-mounted tie downs bolt through the side of the truck bed leading to flexing and cracking of the bed as well as eventual exterior rust that is very noticeable that often leads to further body cracking and paint cracking. Truck beds are made of thin sheet metal which increases the risk of damage because that is the main attachment point for bed-mounted tie downs and stake pocket tie downs. By mounting truck camper tie downs to the truck frame, you are ensured to have your truck camper attached to the safest and strongest location of your truck. Whether you are hauling a small camper or a larger camper – we are still dealing with thousands of pounds that has potential to shift in the truck bed and alter the center of gravity of your vehicle which makes it even more critical to attach your truck camper tie down to your truck frame.
We believe the Torklift truck camper tie downs are the best tie downs for truck campers but don't take our word for it. Check out this review written by Truck Camper Adventure here.
Use our fit finder below to locate the perfect application designed just for your truck and check out more information on why this truck camper tie down system is right for you.
Find Your Fit
» Already have your Torklift part number? Login to the
Dealer Portal
to access the
Distributor Part Number Finder
and see what your Torklift part number fits.
» Login to the
Dealer Portal
to convert your Torklift tie down part number to a distributor part number with the
Distributor Part Number Finder
.
Details
Torklift Truck Camper Tie Downs – TRUE Frame Mounted Features
Only truck camper tie down system that attaches to the strongest part of the truck – the frame
Torklift tie downs dramatically improve vehicle handling and stability resulting in the safest way to secure a truck camper
Prevents vehicle sway and camper movement in all directions due to TRUE Frame Mounted Tie Down system attachment points
Recommended by Lance Campers, Northern Lite, Northstar Campers, Lance Owners of America, Arctic Fox, Northwood Manufacturing, BigFoot Campers, Travel Lite and more
Vehicle manufacturers recommend that all full-height slide-in camper bodies be directly attached to the vehicle frame structure
Avoid bed damage, bumper damage and body rust that is common with other truck camper tie down systems
NEVER drill into your truck bed to install these truck camper tie downs
Custom fit to your specific truck make and model to allow for the perfect fitment specific to you
The only truck camper tie down that mounts using independent tie down points that bolt directly to the truck frame
Fast, 100% no-drill installations securing your truck camper to your truck for fitments since 2001. Some modification can be required for fitments older than 2001 Check your application here)

No loss of ground clearance, perfect for off-road truck camping

Hidden design allows for removal of inserts when not in use to return your truck to its original look
Truck camper tie down brackets remain bolted to the truck frame or can be removed for storage
Designed for light weight to heavy truck campers
It is required that no additional holes be drilled through the vehicle frame side rail horizontal flanges
It is suggested that outrigger-type "L" brackets be attached to the frame's vertical web to which the camper body can be conveniently attached
Protect your truck camper tie downs from theft by locking up your investment with Tie Down Locks
All truck camper tie downs require a truck camper turnbuckle, see the world's all-time best selling FastGun Turnbuckle here
Only truck camper tie down system with a Legendary Lifetime Warranty

Proudly made in the USA
*Call factory at 800-246-8132 for details
The reason we call our truck camper tie downs TRUE Frame Mounted Tie Downs is because they are the only truck bed camper tie downs that bolt directly to the frame which is the strongest and safest position on your truck. Afterall, everything else that is critical to your truck is also attached to the frame.
These truck camper tie downs are for Ford, Chevy, Dodge and Ram, Nissan, Jeep and Toyota and have been specifically designed just for your truck with its own individual fitment. If you are wondering how to tie down a slide in truck camper you will need truck camper tie downs and truck camper turnbuckles.
Our truck camper tie downs are designed to be an easy DIY installation for a novice at-home wrench enthusiast – anyone can do it! An installation generally involves bolting the truck camper tie down brackets to the truck frame using pre-drilled holes. All hardware is included. The included tie down inserts then fit into the receiver opening of the bracket that was installed. After that, all that is needed is to select a turnbuckle which serves as the connection point between the truck camper anchor point and the truck camper tie down insert. We offer a variety of turnbuckles but our all-time best-selling one can be found here.
The TRUE Frame Mounted Tie Down features a patented design that incorporates four independent camper tie down points that bolt directly to the truck frame to dramatically improve stability and handling.
These truck camper tie downs are engineered to fit tight and secure to your truck frame with no loss of ground clearance. Our pickup camper tie downs are guaranteed to eliminate bed and bumper damage and are backed by our Legendary Lifetime Warranty.
What's in a warranty? Well, ours actually works for you – you'll like this. Rather than a typical one-year parts-only warranty where you have to fill out loads of paperwork and share your mother's maiden name as well as the city you were born in so that you can hopefully speak with a real live person about a problem you are experiencing… we actually take care of you. We appreciate and recognize that the only reason we are here today is because of our customers. We will do our level best to make sure that you are taken care of in the way we would want to be taken care of. We will work hard to make sure you make it to your camping trip, help you install your products and have fun doing it. Give us a shot at taking care of you.
Resources
Accessories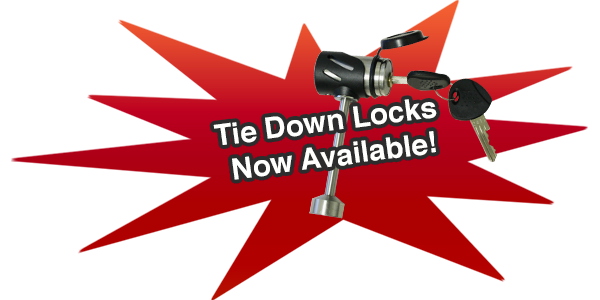 Accessories
Specs
The Torklift Advantage
††(Tie down must be springloaded. Warrantied for term of Camper Manufacturer warranty.)
†Happijac is a Registered Trademark of Lippert Components
| For More information regarding one of the points below, please click on 'More info' | | Happijac† | Brand X Frame Mount |
| --- | --- | --- | --- |
| 1. Manufacturer's warranty » More info | LIFETIME | 1 Year Parts | 1 Year Parts |
| 2. Tie down warranty covers truck frame and camper anchors** » More info | YES | NO | NO |
| 3. No-drill on Ford, Dodge, and Chevrolet applications » More info | YES | NO | NO |
| 4. Improved truck/camper handling and road control while controlling camper movement, by tying the camper to the truck's "foundation", the main frame » More info | YES | NO | NO |
| 5. Tie down system virtually undetectable when not in use » More info | YES | NO | NO |
| 6. Utilizes hardened bolts that run though truck's main frame » More info | YES | NO | NO |
| 7. Number of bolts attaching to the main frame UP TO 12 » More info | UP TO 12 | NONE | NONE |
| 8. Interference with stabilizer bar tears rubber bumpers damaging the camper » More info | NO | YES | NO |
| 9. Installation of tie down equipment damages truck bed and bumper » More info | NO | YES | NO |
| 10. Uses J-Bolts / U-Bolts which stretch and loosen (in most popular applications) » More info | NO | - | YES |
| 11. Tie down insert is adjustable, providing optimal turnbuckle tie down angle » More info | YES | - | NO |
| 12. Tie down system requires tools for normal use » More info | NO | YES | YES |
| 13. Applications for trucks with full length bed running boards » More info | YES | YES | NO |
Videos
TRUE Frame-Mounted Tie Down Videos

What Does Lance Manufacturing Think Of Torklift?

How to install Torklift Frame Mounted Camper Tie Downs

How-To Tie Down Your Northern Lite Truck Camper
Reviews
Thomas Yanak
January, 29th 2021
5.0
I've been fortunate living and working near Kent WA. I have been familiar with Torklift Central since their opening in 1976. I have had them perform maintenance on more than one overhead camper and had two trucks outfitted with camper tiedowns, front receivers, camper plugs in pickup bed. Every bit of work performed was flawless. I , will continue to use Torklift Central for all my truck and camper needs.
---
"I've had my Lance...for 2 years now. First year was Happijac..." » Read More