Blog
Over 40 Years of Innovation, Quality, Safety
21 Days, 10 Campgrounds and 4 States, Oh My!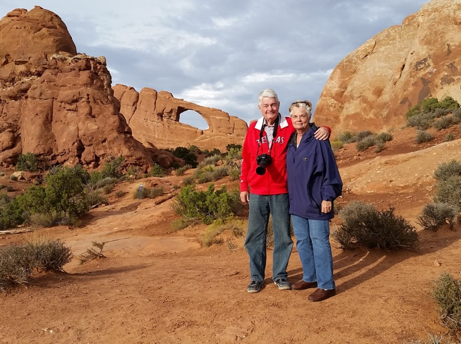 Ken and his wife on their epic adventure!In November, Rv.net forum user Ken Spears, aka BigBird65, shared his experience with the GlowStep Revolution RV step system after taking an epic road trip across 4 states and covering 3,433 miles of road.
"The steps got a real workout and performed 100%. It is a very well engineered product. My dear wife, with her back problems (two surgeries), is extremely pleased with the unit. It is much easier now for her to enter and exit the trailer." –Ken Spears
With this adjustable trailer step, Ken and his wife no longer need a trailer booster step in order to enter and exit his trailer safely. Ken later stated that the All Terrain Landing Gear "is one of the GlowStep Revolution's best features" which are adjustable leveling feet for RV steps.
Look at all the mods you can do!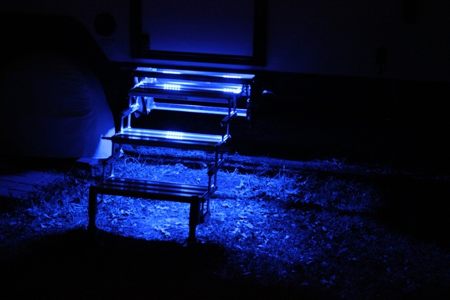 LED lights are a really cool looking modification Ken not only has the GlowStep Revolution but after his 21-day, 4-state camping trip he decided to add a couple of great features to his steps. He added the DirtDestroyer accessory to his steps which is a shoe cleaning attachment that prevents tracking in dirt and other materials from outside. He has also made some awesome LED light modifications to his step area to add even more light to his trailer steps.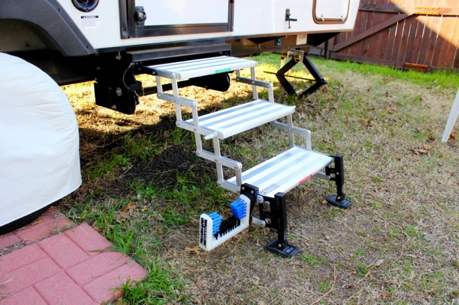 Check out the awesome DirtDestroyer accessoryThese are not the only modifications you can make though! Not only can you add LED lights and our Dirt Destroyer. We also have many other accessories that work with the GlowStep Revolution step system. The SafeStep is a protective step riser guard that creates a vertical barrier – closing the openings between the steps for pets. Another great accessory for the GlowStep Revolution is the GlowGuide. Our GlowStep Handrail dramatically enhances the safety of your RV by providing a place for you to hold onto when entering and exiting.
To sum up Ken's glowing review of these RV scissor steps: "The GlowStep Revolution has been simply GREAT. We like every thing about it. I am very happy since I no longer need to carry the the box that I used for the first step."
Why suffer with terrible steps?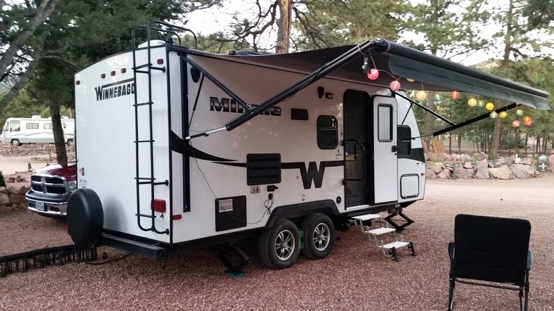 Your can have steps just like Ken'sYou too have a chance to have amazing GlowStep Revolution RV steps just like Ken's! We will have a drawing on May 25, 2016 which means you can send us your 'unsafe' or broken RV step photos and stories to be entered into a drawing by using #RVStepFail for a chance to win the GlowStep Revolution – the step that will fix all of your trailer step problems.
Instead of dealing with recalled steps, factory trailer steps, having RV steps too high and and RV booster steps why not try the most impressive leveling RV steps out there – the GlowStep Revolution.
Don't forget to submit your photo here or post on social media using hashtag "#RVStepFail" to be entered to win the GlowStep Revolution by Torklift International.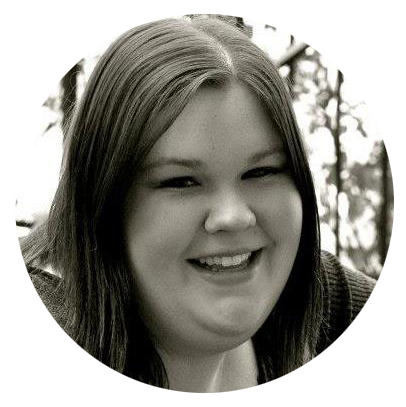 Written by Kerstin Stokes:
As a graduate from the College of Idaho with a B.A. in both History and Art, Kerstin has found her passion for writing and marketing. She enjoys looking up tasty recipes for baking and daydreaming about future travels.
Related Posts
Comments
No comments made yet. Be the first to submit a comment