Blog
Over 40 Years of Innovation, Quality, Safety
How the PowerArmor Solar works
The PowerArmor Solar is interesting battery attire. It is dressed in heavy gauge diamond plate, framed in black high impact powder coat and wears a smart energy efficient solar cap.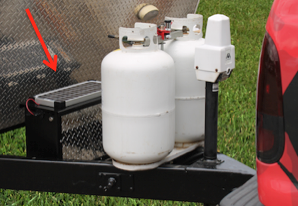 PowerArmor Solar installed on trailer tongue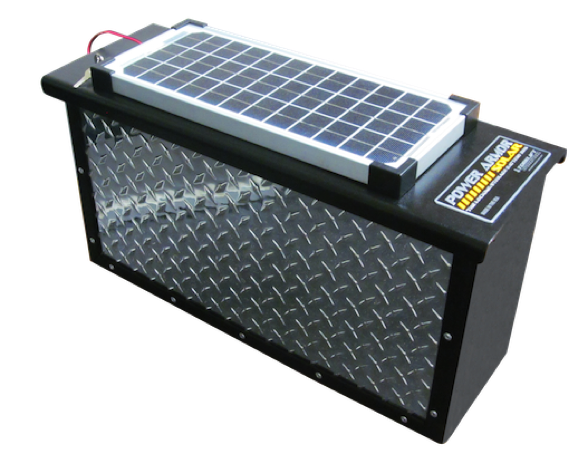 PowerArmor Solar battery box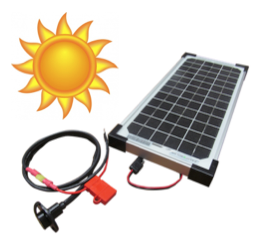 10-watt solar panel maintains battery charge
What's in 10 watts?
The solar panel on the PowerArmor Solar is 10 watts. That might not sound powerful to the average solar energy consumer but that's because we haven't explained all the benefits yet. For a PowerArmor Solar battery box that holds two batteries, a single 10-watt solar panel is successful in maintaining and increasing the longevity of your spare RV batteries.

Sticky fingers
We're not talking about the maple syrup from hot cakes at your quintessential campsite breakfast that sticks your utensil to the inside of your index finger. The sticky fingers we're talking about will cost you much more than the price of Mrs. Butterworth's concoction of sugary delight. Would you rather wake up to the delectable smell of eggs and sausage on the griddle, or to the despair of no power due to stolen batteries?
Campsite theft and stolen batteries have been reported more frequently on local newscasts, warning users to either lock up their expensive batteries or literally pay the consequences.

Click here to see a King 5 newscast that shows just how common this problem is becoming. In addition to stolen batteries, thieves and their sticky fingers are causing significant damage by snipping wiring, an even bigger hassle to get repair work on.
We think it's a better approach to "wash your hands" of these thieves (so to speak) and invest in a locking battery box you can depend on.
Live long and prosper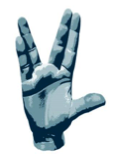 The 10-watt solar panel can increase battery life and longevity by up to 400 percent. Sometimes even the most avid traveler will find themselves with a slew of dead batteries. Camping season isn't year round for most folks so when the RV goes into storage, the batteries sit for months. While they are sitting in storage, the batteries begin to die, or they die completely. Two dead batteries cost more than $350 off the shelf.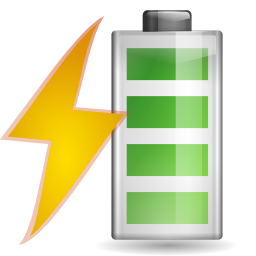 The 10-watt solar panel maintains your spare batteries to the level of charge they are currently at. If you have batteries that are charged at 100 percent, when used properly, the solar panel will maintain them at 80 percent charge while they sit in storage. If your batteries are 80 percent charged, the solar panel will maintain them at 50 percent charge and so on.

Convenience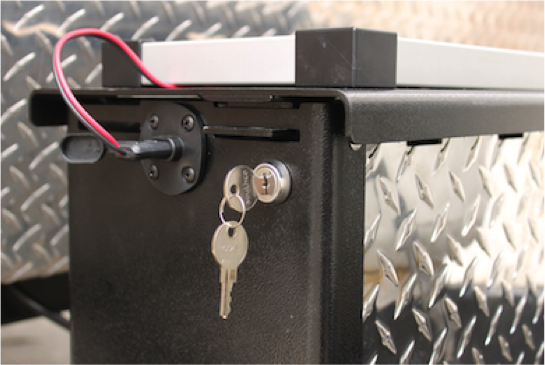 Secures and stores batteries under lock and key
Charged and well-maintained healthy RV batteries translate into freedom for you. No stress or worries struggling to get your batteries charged so you can get to your travel destination on time. The high quality battery box comes equipped with a lock and key. Not only are your batteries left in great shape, but also they are protected from theft and tampering.

Top quality solar energy
Torklift International is dedicated to producing quality equipment and supporting other manufacturers who do the same. That's why we have partnered with Zamp Solar. As industry leaders in solar panel energy, we trust their product to recommend it to our customers with confidence.

In conclusion, the Torklift International Power Armor solar battery box is a great way to take care of expensive batteries. Solar energy maintains them by keeping the batteries charged and healthy for longer use, and the carefully designed lockable box prevents them from being stolen whether at the campsite or while stored at home.

Torklift PowerArmor Solar comes in a variety of sizes. Click here for additional details on PowerArmor Solar.
Related Posts
Comments
No comments made yet. Be the first to submit a comment