Blog
Over 40 Years of Innovation, Quality, Safety
How to install your camper tie downs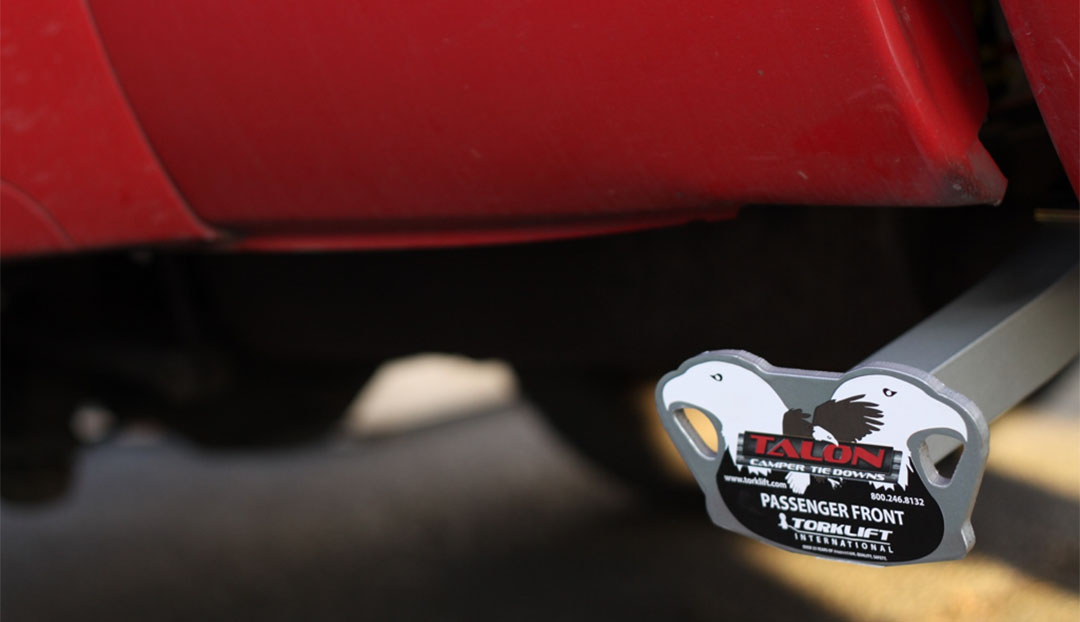 In the market for a truck camper but not sure what you are getting yourself into? Already purchased a truck camper and not sure what to do next? To ensure the utmost safety of your vehicle, camper, and passengers, you will want to make sure you have the appropriate equipment required for hauling your truck camper. Torklift TRUE Frame Mounted Tie Downs are the only truck camper tie downs that bolt to the strongest point of your truck: the frame. Here are the four most important steps to installing your frame-mounted truck camper tie downs:
1. Check your fitment
The first step in getting your TRUE Frame Mounted Camper Tie Downs installed on your truck is to be sure you have appropriate parts for your vehicle. Each Torklift camper tie down kit is custom designed to perfectly fit the frame of your truck. With that being said, each truck camper tie down kit is extremely specific to the vehicles year, make, model, etc. Be sure to use our Find Your Fit Guide to locate the correct part numbers or give our tech support team a call at 800-246-8132 to confirm the fitment.
Once you confirm your fitment, you may be wondering which style of camper tie down will best suit your truck – the original steel or the aluminum Talon tie downs. The Talon camper tie downs are crafted out of high impact powder coated, lightweight military grade aluminum alloy and stainless steel. The Talon tie downs are designed to handle in the toughest climates and terrain. We highly recommend upgrading to Talon camper tie downs if you live or travel in areas with high levels of salt on the roads or if you tow a boat and offload it into salty water. Aside from our Legendary Lifetime Warranty, Torklift Talon Tie Downs also come with rust-free corrosion protection for life.*
2. Bolt on your tie downs
Once you have your correct fitment and have selected the style that would best suit your needs, it is time to install your truck camper tie downs. Torklift tie down kits feature DIY designs that are 100% no-drill because our engineers utilize factory pre-drilled holes that are already in your truck frame for ease of installation. Some modification may be required for vehicles older than 2001. Each TRUE Frame Mounted Tie Down kit comes with all the hardware needed for installation and includes detailed instructions that include a parts inventory and step-by-step instructions to guide you through the installation. Once the receiver tubes are bolted on to the frame of your truck, the tie down inserts slide in and you're done!
3. Make sure you pair your TRUE Frame Mounted Tie Downs with spring-loaded turnbuckles
With Torklift TRUE Frame Mounted Tie Downs you will want to be sure to tie down your camper using spring-loaded turnbuckles. The use of a spring-loaded turnbuckle protects the truck camper anchor points and tie downs from damage as well as protects the cargo and passengers in the vehicle. We offer a variety of truck camper turnbuckles – check out our best selling Original FastGuns.
4. Keep your equipment safe
Once your Torklift camper tie downs and spring-loaded turnbuckles are installed, your truck camper is ready to go and you are ready to hit the road! The last thing you want to worry about on your off-grid adventures is the safety of your equipment. To deter thieves, makes sure to add Tie Down Locks and FastGun Locks to your truck camper set up.
If you have further questions about your Torklift tie down and turnbuckle set up or how to install, please contact us by phone at 800-246-8132 or by email at support@torklift.com. Our customer service team is available Monday – Friday from 8:30 am to 5 pm PST.
*For more details, call us at 800-246-8132.
Stay Informed
When you subscribe to the blog, we will send you an e-mail when there are new updates on the site so you wouldn't miss them.