Blog
Over 40 Years of Innovation, Quality, Safety
3 ways to protect turnbuckle finish and prevent corrosion
Torklift International turnbuckles are made from stainless steel. As a complex metal that has the strength of steel and the ability to reduce the rusting effects of iron, this is the strongest and best material for truck camper turnbuckles.


Basic turnbuckles and polished FastGun turnbuckles
Stainless steel is used where both the properties of steel and resistance to corrosion are required. It's well known for its ability to prevent corrosion and rust. Dirt, dust and grime, however, put stainless steel at risk. Luckily, stainless steel responds well to cleaning and never wears from excessive cleaning, as long as certain rules are followed.
Here are three simple cleansing techniques that we suggest for standard turnbuckle maintenance:
1. Water and a cloth
Routine cleaning can be accomplished with warm water and a cloth. This is the least risky option for cleansing stainless steel. Dry with a towel or cloth to prevent water spots and be sure to wipe in the direction of the polish lines.
2. Mild detergent, (dish washing liquid) and cloth


For cleaning that needs a bit more power, mild detergent and warm water is an effective solution to use without damaging the stainless steel. It's important to thoroughly rinse the surface to prevent staining and spotting. Drying with a towel can prevent water spots caused by minerals in water.
3. Stainless steel cleaner


If you've experienced stains or scratches, or need to polish your stainless steel, a stainless steel cleaner is a good option. Some of these cleaners and polishes can help minimize scratching and remove stains. They also can polish stainless steel surfaces nicely. Read the directions on the stainless steel cleaner and test in an inconspicuous spot. Be sure to rinse thoroughly and towel dry.
Stainless steel does not stain, corrode or rust as easily as carbon steel, but it is not stain proof and requires regular up keep. All "stainless" steels can corrode under the wrong conditions. It's best to avoid exposure to chlorides, as this has harsh effects on turnbuckles.
High quality finish makes a difference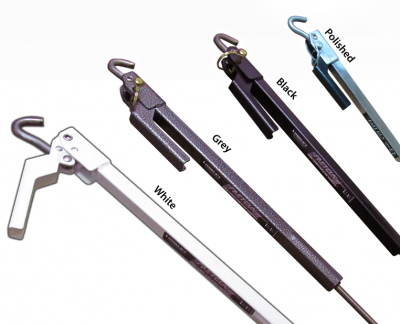 To further protect your turnbuckles, Torklift International offers stainless steel styles that are also finished with a high impact powder coat. The high impact powder coated turnbuckles require less maintenance as protection from rust and corrosion is greatly increased.
The FastGun turnbuckle is available in stainless steel polished, stainless steel high impact powder coated bright white, grey and black.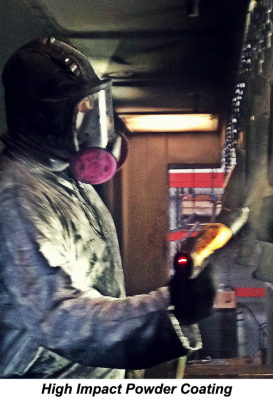 Torklift International completes its automated 5-stage powder coating process in our manufacturing facility from start to finish. From our sandblasting, cleanse and hand-sprayed powder coating that adheres through electro static, this extensive process ensures the greatest quality and protection a finish can provide.
Click here to see why the most popular and best-selling turnbuckle is the Torklift International FastGun with quick-disconnect lever action handle.
To learn more about different styles of turnbuckles, read our detailed editorial on what type of turnbuckle you need to secure your camper.
Regular care and proper turnbuckle maintenance ensures your turnbuckles withstand any effects of corrosion or rust. If you have any additional questions in regards to Torklift International turnbuckles, feel free to contact our Tech Support at support@torklift.com or by calling 800-246-8132.
Related Posts
Comments
No comments made yet. Be the first to submit a comment