Blog
Over 40 Years of Innovation, Quality, Safety
Ken and the newest member of his family: Part 1
We here at Torklift International love our customers and like to share their latest news and achievements. In this series we would like to highlight Ken Pastorius and his adventures through the manufacturing of his truck, the creation of the tie downs for his new truck and his experience with installing and using them. In Part 1 of 3, we will focus on the production of Ken's 2015 GMC Denali 3500 DRW.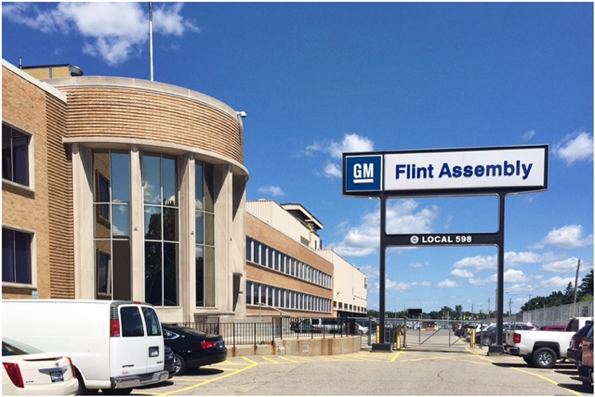 GMC Truck Assembly Factory in Flint, MI In Ken's own words, "the opportunity we were given to visit the GM Flint Truck Assembly Plant and watch our truck get built was a very unique and once in a lifetime experience." What started as an inquiry on RV.net asking about the compatibility between the Arctic Fox 1150 Truck Camper with the 2015 GMC Denali DRW turned into an invitation from General Motors to tour the plant where their truck was being assembled in Flint, Michigan.
Below are some of the photos that Ken took and shared with us while he and his wife were at the plant watching their 'baby' get assembled.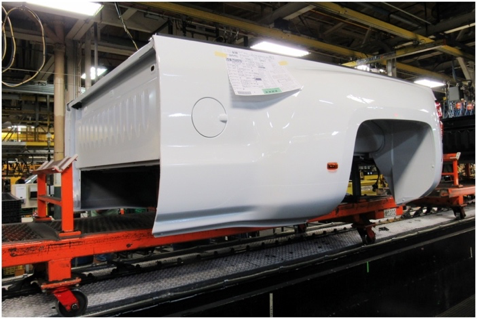 Box of the truck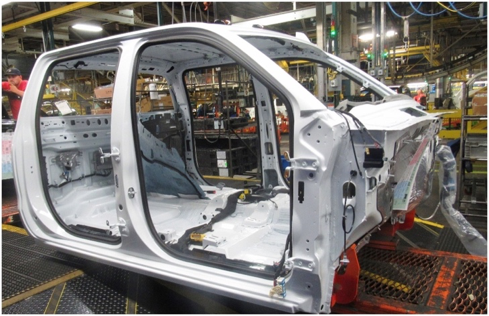 Cab of the truck
Over 40 years ago, Ken used to work on an assembly line in a different truck manufacturing plant and noticed a night and day difference between then and now. When talking about the quality of people working on the GM assembly line, Ken stated "there is no more prying or banging on something to fit. No more having to lift a heavy part into position. It was more like a precision partnership between man and technology."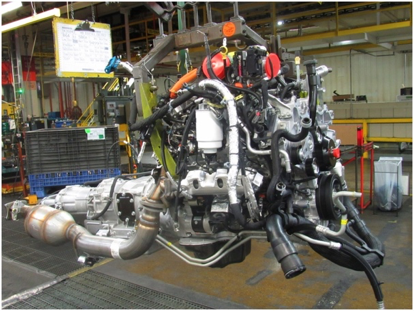 Engine and transmission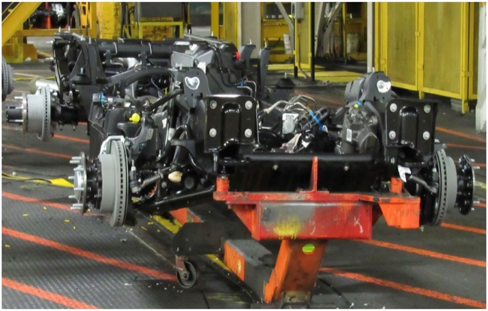 Assembled Frame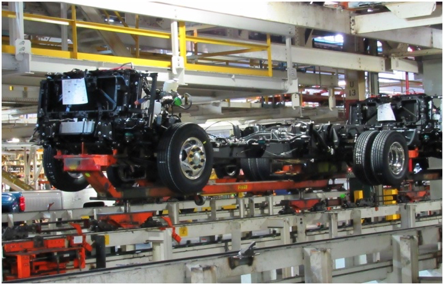 Engine and Frame Together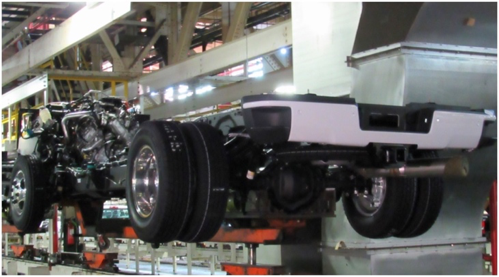 Rear bumper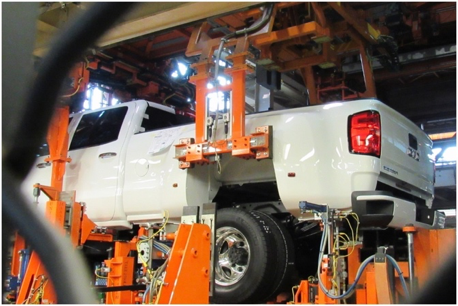 Engine and frame together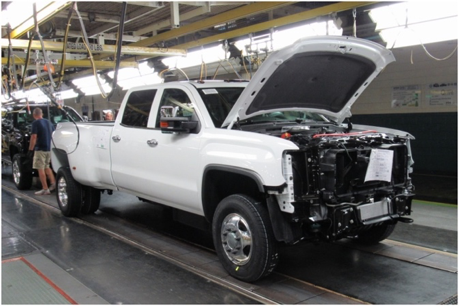 Hood being added to the car
"Tuesday, July 21st, we went someplace a little out of the ordinary to watch the birth of our new baby. The Flint Truck Assembly Plant in Flint, Michigan, where we watched our 2015 GMC Denali 3055 DRW come to life." - Ken Pastorius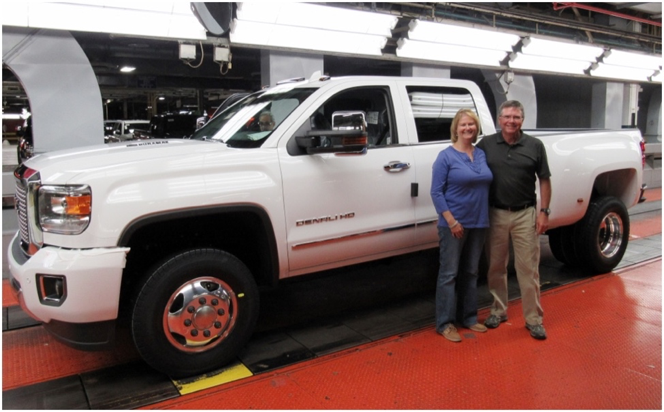 New truck for the Pastorius Family!
Ken is not kidding when he said, "she may purr like a kitten but don't be fooled, she is a beast with the heart of a lion." That isone beautiful truck that will be great for camping and adventuring! "Now, the only thing left to do, is to get her all accessorized in Torklift products and the two of them will be ready for their first adventure, together."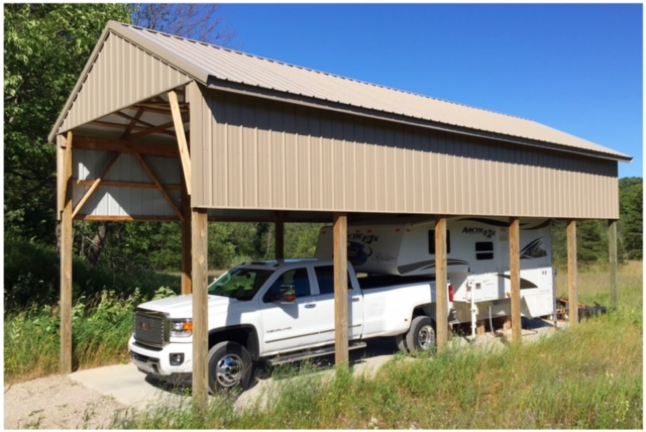 2015 Denali with Arctic Fox Two weeks later the new truck is safe at home and excitement is building! We are so thrilled to be working with Ken to outfit his new 2015 Denali with the first set of 2016 aluminum Talon Tie Downs and to see where Ken and his family will go on their latest adventures. Thank you so much Ken for sharing your story with all of us.
One of the things that is so awesome about Ken and his story is that he will be receiving the very first Talon Tie Downs made for a 2016 vehicle and the first product of our 40th anniversary. These tie downs are the first product of our anniversary year and we couldn't be any prouder of them. Below is some more information on the Talon Tie Downs:
• Rust free corrosion protection for life
• Finishing Kit included
• Available for best-selling applications
• Tie down receiver tube and tie down insert are each 100% military grade aluminum
• Ultra-light weight
• Fast, no-drill installations
• No loss of ground clearance
• Hidden when not in use
• Best ride quality in the industry
• Legendary Lifetime Warranty
• Proudly made in the USA
Make sure you stay tuned, parts two and three of his adventures will be out soon which include the production of his very special Talon Tie Downs. In the meantime, below is a video of Ken's trip to GM and the production of his new Denali.
Feel free to contact us if you have any questions about the Talon Tie Downs or questions about other Torklift International products.
---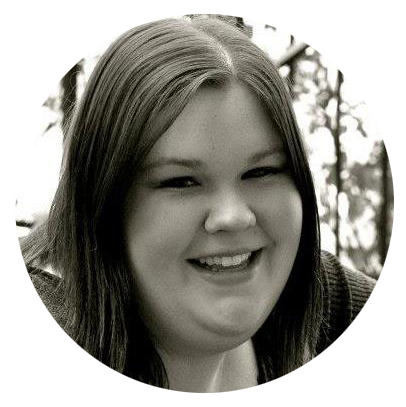 Written by Kerstin Stokes:
As a graduate from the College of Idaho with a B.A. in both History and Art, Kerstin has found her passion for writing and marketing. She enjoys looking up tasty recipes for baking and daydreaming about future travels.
Related Posts
Comments
No comments made yet. Be the first to submit a comment