Blog
Over 40 Years of Innovation, Quality, Safety
Equipment needed for towing or hauling a Lance Camper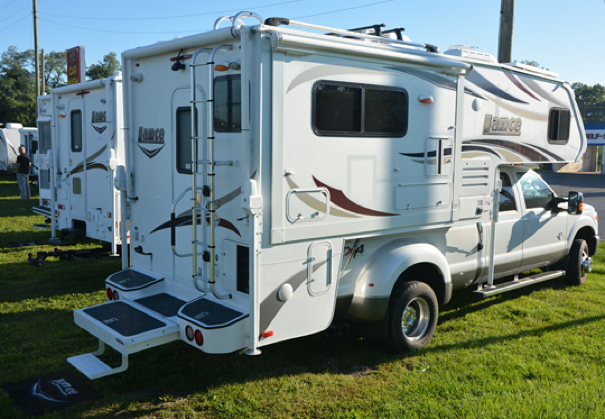 Lance truck camper with Ultra Deck Plus bumper by Torklift
(Photo courtesy of Truck Camper Magazine)Lance Campers are known for their exceptional quality of campers, ultra-light travel trailers and toy haulers. It's no surprise that their high level of standard is mirrored across to any accompanying equipment and gear that's used with their units. If you're wondering about truck camper and towing equipment that Lance would recommend, we designated this article solely to address that topic.
The SuperHitch and SuperTruss towing system are recommended to use with your Lance truck camper, travel trailer or toy hauler. For truck camping, Torklift also recommends completing your RVing and towing package with Torklift frame-mounted tie downs, quick-disconnect turnbuckles and StableLoad suspension stabilizer for your truck. Take Lance's word for it -- Their recommendations ensure you're maintaining the integrity and the safety required for an investment like your Lance unit.
SuperHitch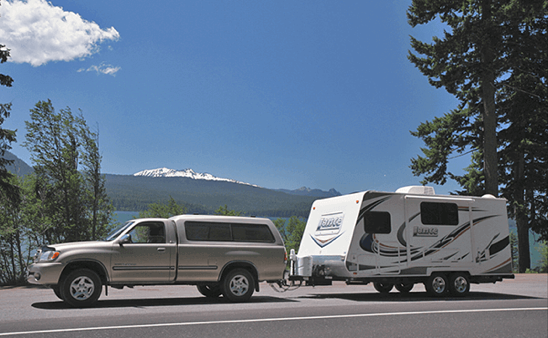 Photo Credit: LanceCamper.comOne of the recommended pieces of equipment for towing a trailer while hauling a Lance Camper or simply towing a Lance travel trailer is the Torklift SuperHitch towing system. Lance recommends the SuperHitch as the No. 1 receiver hitch system for Lance Campers. Torklift's Outlaw Series of receiver hitches are engineered with features that include dual receivers for added strength that evenly distributes weight and boasts the same capacity in either upper or lower receiver. The receiver hitches in Torklift International's SuperHitch Outlaw Series also include features such as:
• Engineered vehicle specific to ensure a proper fit to your truck, from ½ ton to 1 ½ ton trucks
• Most applications are no-drill
• Dual receiver allows the ability to insert accessories into the top receiver while towing from the bottom
• Only line of hitches with reinforced hitch pin locations preventing the hitch pin holes from wearing and elongation, commonly referred to as "egging"
• Made in USA and backed by Torklift's Legendary Lifetime Warranty
Don't be inhibited by factory installed hitches. With SuperHitch, maximize the towing capabilities of your truck with a strong hitch. It's important to note that Torklift recommends staying within the towing capacity set by your vehicle's manufacturer. With the highest weight ratings in the industry, the Outlaw Series includes the following receiver hitch and towing hitch accessories:
• SuperHitch Hero 15K receiver – 15,000 lbs pull, 1,500 lbs tongue*
• SuperHitch Original 20K receiver – 20,000 lbs pull, 2,000 lbs tongue*
• SuperHitch Magnum 30K receiver – 30,000 lbs pull, 3,000 lbs tongue*
• SuperHitch Pintle and Ballmount accessories – up to 30,000 lbs capacity
*When used with weight distribution.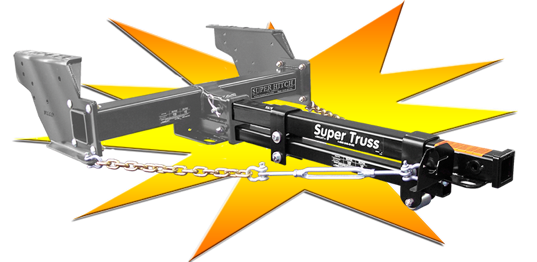 SuperHitch SuperTruss
The beauty about a truck camper is that it's versatile enough to fit in the truck bed, leaving your hitch open to tow a trailer. If you're towing with a Lance truck camper overhang, feel confident in the recommendation from Lance to use the Torklift SuperTruss extension to go along with your SuperHitch. This towing extension system allows you the ability of hauling a Lance truck camper with an overhang and still making use of the SuperHitch receiver hitch on the truck. Thanks to the SuperTruss hitch receiver extension, bring along anything you want such as a trailer, boat, sand buggy or even horses on your next family adventure.

Towing with a Lance truck camper
The SuperTruss hitch extension comes in multiple lengths ranging from 21 inches all the way to 60 inches. Refer to the chart for extension lengths and weight capacity ratings. Safely tow while enjoying the luxury of your Lance truck camper.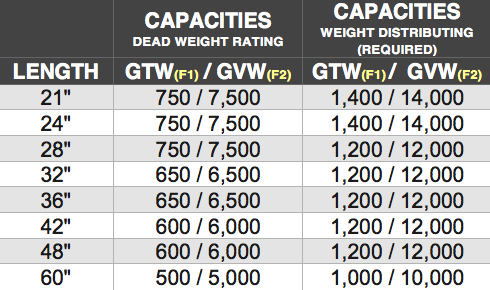 F1 - Trailers Gross Tongue Weight (GTW) when fully loaded
F2 - Trailers Gross Vehicle Weight (GVW) when fully loaded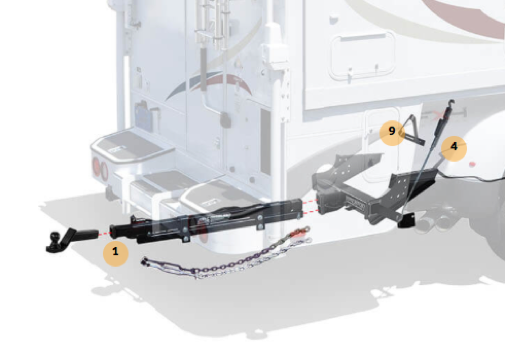 Lance recommended towing gear
#1) SuperHitch and SuperTruss
#9) Rear Mounting Centering Guides
#4) Turnbuckles Figure 1 of the illustration from LanceCamper.com shows the SuperHitch and SuperTruss equipment needed for Lance camper setups to get the most out of your camping experience.
Beyond the SuperHitch and SuperTruss systems, Torklift also recommends other truck camping equipment to use with your Lance that improves safety, stability and ease of use.
Other necessities for Lance truck campers:
Frame-Mounted Tie Downs
Torklift TRUE frame-mounted truck camper tie downs for Lance Camper have four independent points bolting directly to the truck frame, dramatically improving stability and handling while hauling the truck camper. By attaching to the foundation of the truck, prevent any possibility of bed and bumper damage, a problem often encountered with bed-mounted tie down systems. Providing a secure and snug tie down fit designed for your specific truck model, Torklift tie downs don't compromise any ground clearance and are hidden when not in use (just remove the insert). Click here to learn all of the benefits from frame-mounted tie downs.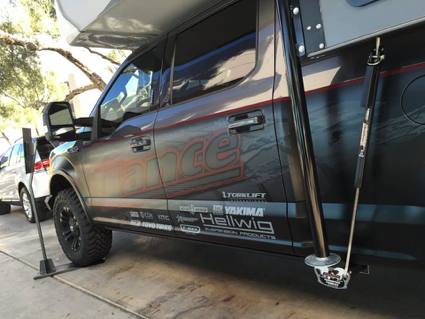 Lance debuts at SEMA - Torklift turnbuckles and Talon aluminum tie downs
Prevent bed damage caused by bed-mounted tie downs: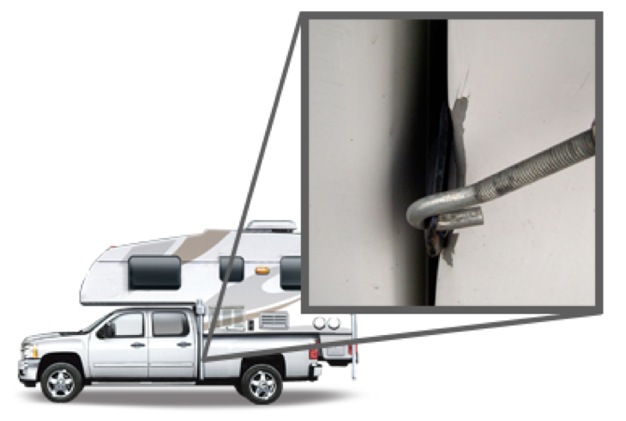 Don't let this happen to you
FastGun Turnbuckles
Torklift's quick-disconnect FastGun truck camper turnbuckles are the No. 1 selling turnbuckle and adjust to connect either bed or the frame-mounted tie downs to your Lance Camper. To protect the tie down system and Lance truck camper anchor points, the spring-loaded design ensures a safe ride for your family and camper. Tension indicators determine perfect tension to hold down truck camper while in use. The FastGuns provide easy tool-free adjustment and install within just four minutes – how long does it take you to secure your camper?
StableLoad Suspension Stabilizer
As one of the best suspension mods that stabilizes and improves truck suspension for hauling a Lance camper, StableLoads pre-activate your vehicle's factory overload springs. By pre-loading the overload leaf springs, the stabilizing effects built into the leaf springs by the original vehicle engineers kick into gear, the way it was initially designed. When activated, there's a drastic reduction in body roll, side-to-side sway and porpoising that's common when hauling a camper. The innovative design of StableLoads prevents these common vehicle handling effects, making it the best truck camper and towing suspension upgrade available.

We had folks at a Lance Camper rally take the StableLoad Challenge. All attendees either own a Lance truck camper or Lance travel trailer and are familiar with how their truck performs when they tow or haul.
Here's what happened when they tried the StableLoad suspension stabilizer:
For more information on Lance Campers visit www.lancecamper.com. Click here to explore the SuperHitch Outlaw Series including the SuperHitch and SuperTruss extension system.
---
Written by Danielle Winski: With a B.S. in Marketing Management from Western Governors University of Washington, Danielle is passionate about using different technical and creative outlets for designing marketing content. She is an avid reader, writer and nature photographer in her free time.
Related Posts
Comments
No comments made yet. Be the first to submit a comment