If you are new to truck camping and not sure where to start or what you need, keep reading to learn more about the products that you need to start your great truck camping experience.
To get started, you must think about the experience you are wanting. Are you looking to use your camper for multiple trips a year? Are you looking to tow behind your camper to bring your boat with you or horse trailer? There are many products available to make your travel experience more enjoyable.
TRUE Frame Mounted Camper Tie Downs
Torklift Camper Tie Downs attach to the frame of the truck at four points that are bolted directly to the truck frame. By attaching to the frame, you are attaching the truck camper to the strongest part of the truck which also prevents bed damage where alternative brands attach.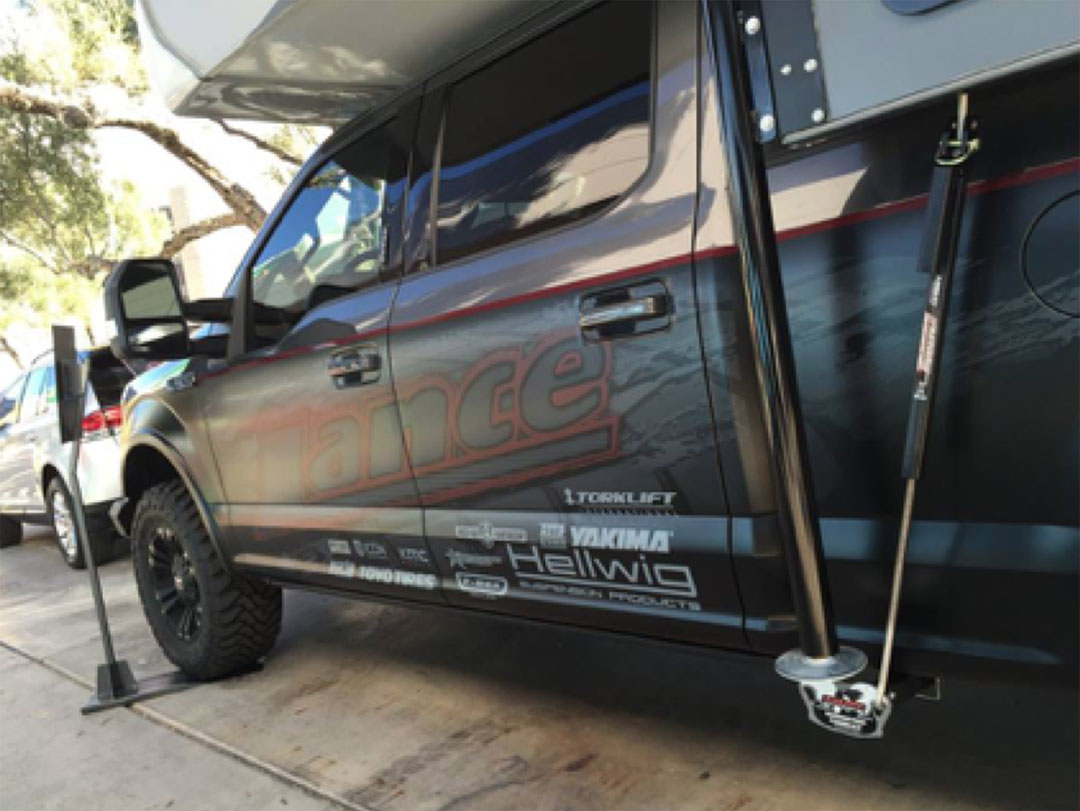 As the camper tie downs are attached to the truck frame and bolt-on installation, they are also very vehicle specific. To determine your fitment, click here.
Torklift FastGun Turnbuckles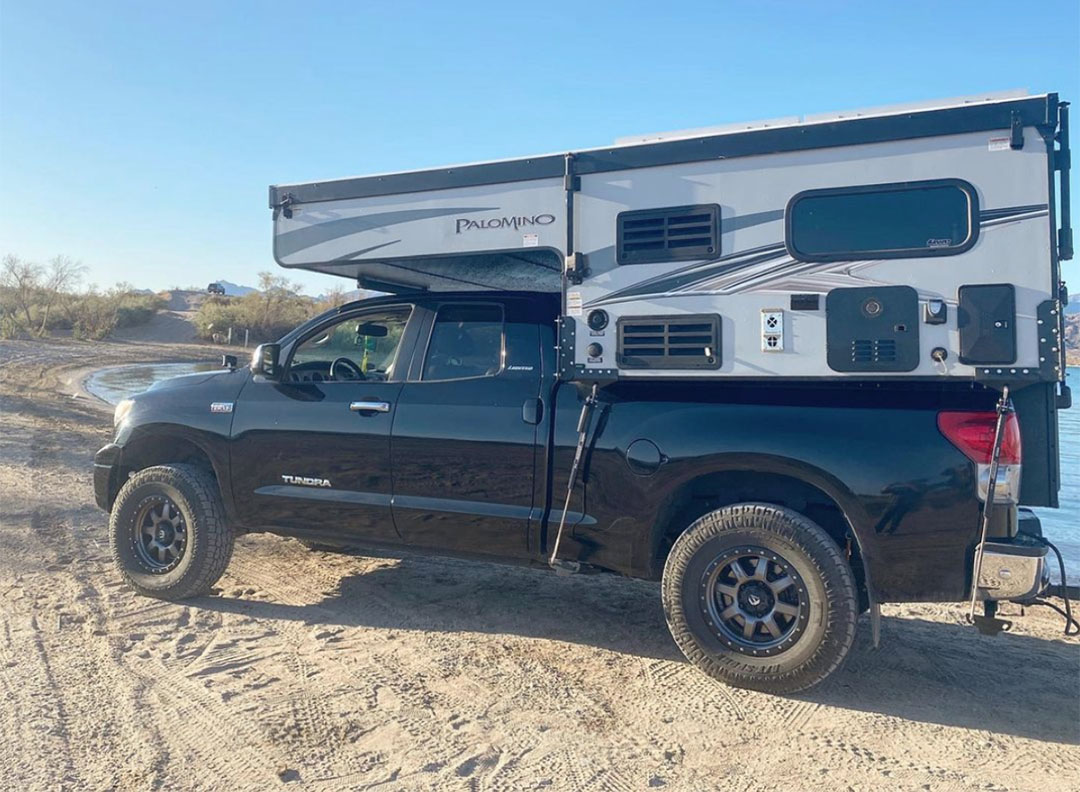 The Torklift Original FastGun is a quick-disconnect truck camper turnbuckle which allows ease of use when installing and removing. Each set-up also has tension indicators to determine the perfect tension of the system.
Not sure if you are interested in the FastGun turnbuckles quite yet? Torklift offers a basic springload kit and Springload XL. Learn more about the Good, Better, Best systems here.
StableLoad® Suspension Stabilizer

When someone starts truck camping for the first time, they may not be aware of what adding weight to the bed of a truck can do to the ride. It often makes the ride uneasy, unstable, and uncomfortable. By adding the StableLoad® suspension system to your truck, you are able to combat the many common truck camper suspension items like sway, body roll, porpoising, and more.
With the Quick-Disconnect lower StableLoad® suspension upgrades installed, you are able to disengage the product when you do not have a heavy load in the back of your truck. This is crucial in allowing your truck to ride comfortably when not carrying the truck camper. Alternative suspension upgrades do not have this feature and due to that, the alternative products give a stiff ride.
Super Hitch® and SuperTruss
If you are someone that will be towing behind your truck camper, you will need an extension in order to reach your hitch on the truck. We recommend the Torklift Super Hitch® and SuperTruss combo.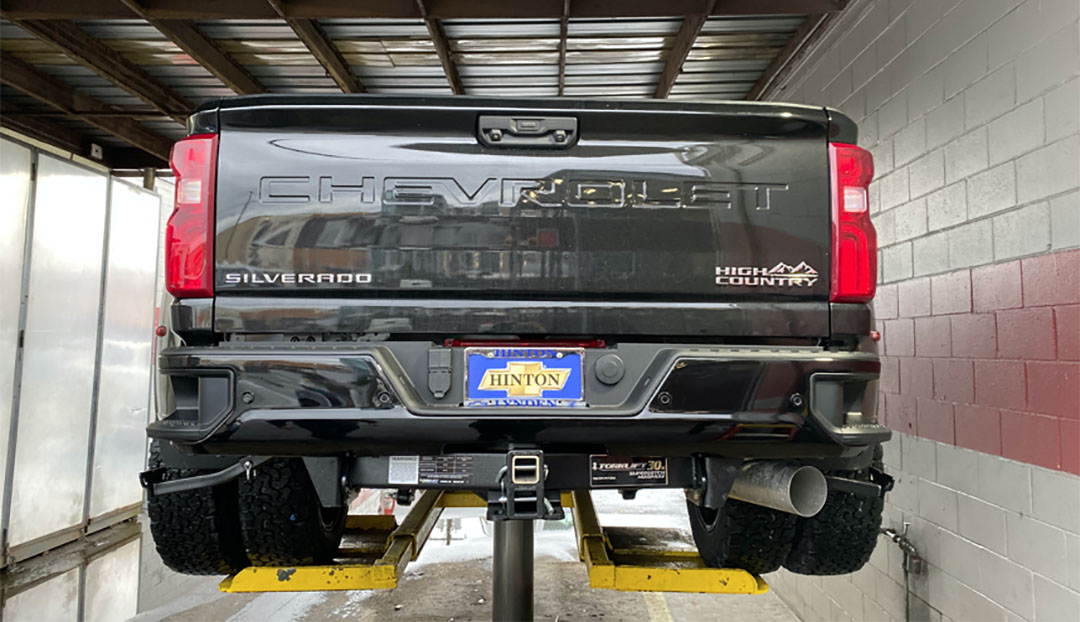 The Super Hitch® is offered in three different fitments:
Super Hitch® Hero 15K receiver – 15,000 lbs pull, 1,500 lbs tongue*
Super Hitch® Original 20K receiver – 20,000 lbs pull, 2,000 lbs tongue*
Super Hitch® Magnum 30K receiver – 30,000 lbs pull, 3,000 lbs tongue*
*When used with weight distribution.
The Super Hitch® Magnum 30K receiver is the biggest and best when it comes to the Torklift Super Hitch® line.
SUPER HITCH® Magnum 30k Features
SUPER HITCH® 30K frame mounted receiver rated up to 30,000 lbs pull and 3,000 lbs tongue weight with weight distribution (20,000 lbs pull and 2,500 lbs tongue weight carrying) in either the upper or lower receivers (When used without SuperTruss extension). Extension towing capacity up to 12,000 lbs. with 48" SUPER HITCH® SuperTruss receiver extension†
SuperTruss Extensions available in 8 different lengths from 21" to 48" (Extensions available to 60") (Sold Separately)
Both the SUPER HITCH® Magnum 30K frame mount receiver and the SuperTruss receiver extensions use Industry standard 2" x 2" ballmounts
Eliminates the need for two ballmounts ††
Specific Torklift tie down fits are available for the SUPER HITCH® Outlaw Series
Legendary Lifetime Warranty
Proudly made in the USA
The SuperTruss is to be used in conjunction with the Super Hitch®. This is a product that is unable to be used on a different hitch system due to the dual receiver design for added security and stability.
Have further Questions?
If you have further questions on truck camper tie downs and turnbuckles maintenance, our team is ready to take your call or answer your email. We are open Monday – Friday 8:30 am PST to 5 pm PST, excluding holidays. You can contact our team by calling 800-246-8132 or emailing support@torklift.com.
Looking for Torklift camper tie downs for sale? Find a dealer in your area or online!