Blog
Over 40 Years of Innovation, Quality, Safety
The easiest way to prevent stolen turnbuckles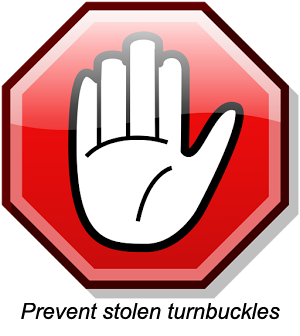 With stories about stolen turnbuckles and camper theft happening more often, locking turnbuckles are a necessity. Torklift International FastGun turnbuckles have a locking turnbuckle feature that allows you to protect your investment and enjoy a worry-free experience when on the road.
Do you need locking turnbuckles? Take a moment to consider if the following is important to you:
1) Deter and prevent turnbuckle theft
With locking turnbuckles, it greatly increases the effort put forth on behalf of a thief, decreasing the likelihood of theft from taking place.
When recalling stories about stolen FastGuns, Torklift General Manager Jay Taylor recalled an instance in which a thief tried to resell the stolen turnbuckles in the exact campsite in which he stole them.
"I couldn't believe that someone would walk up, nonchalantly take the turnbuckle off the camper and try to resell it to other campers at the same campsite," said Taylor. "Luckily the original owner approached the person and was able to get the stolen FastGuns back. Luck was surely on his side."

2) Leave the truck camper at the campsite, worry-free
As avid travelers, many of us who camp often like to explore. It's these adventures while out on the road that make experiencing the outdoors so enjoyable. With locking turnbuckles, leave your equipment at the campsite and go enjoy a scenic hike, fish along the shoreline of a mountain lake or take a bike ride with your family. You won't need to give any thought to leaving your gear. Traveling should be leisurely and worry-free, right?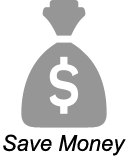 3) Avoid turnbuckle replacement costs
FastGuns are the best turnbuckles your money can buy. As the most convenient and fastest installing turnbuckle available, protect your investment with FastGun Locks. High quality turnbuckles from Torklift International will last a lifetime and are covered by Torklift's legendary lifetime warranty.
4) Secure turnbuckles while on the road
The FastGun Locks act as a locking snapper pin that latches into place once the FastGun lever-action handle is secured down. Other models of truck camper turnbuckles have a small pin that can be easily pulled for simple removal. If they fall out or are lost for any reason, the turnbuckle is not completely secured.

FastGun Lock on truck camper turnbuckle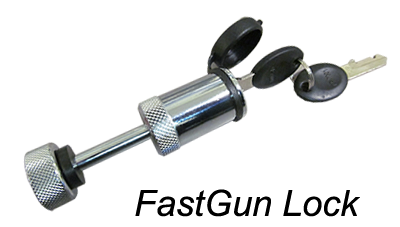 As a theft deterrent and solution to secure turnbuckles, the Torklift FastGun Locks are worth investing in. Locks for FastGun turnbuckles also have the following features:
- Keyed alike for convenience
- Quick removal – only takes seconds to unlock
- Sleek stainless steel and unobtrusive design
- Prevent dust and road grime with the weather resistant caps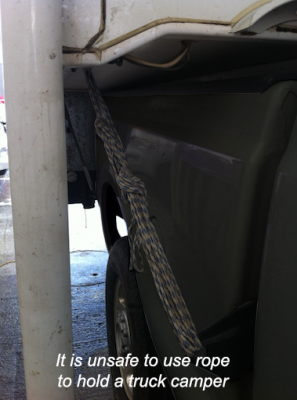 Have you ever thought of what you might do if you are left without turnbuckles out on the road? It is not safe to use strap tie downs or rope to secure a truck camper. Avoid this situation with locking turnbuckles.
Browse additional Torklift International security products:
Lock and Load cargo tray
Fortress GasLock propane tank lock

Fortress PowerLock to protect shore power cord
FastGun Wobble Stopper to avoid camper theft
Soon Torklift plans to unveil a new lock that further ensures your Torklift gear is secured while on the road. Get ready… the countdown begins. Can you take a guess?
Related Posts
Comments
No comments made yet. Be the first to submit a comment