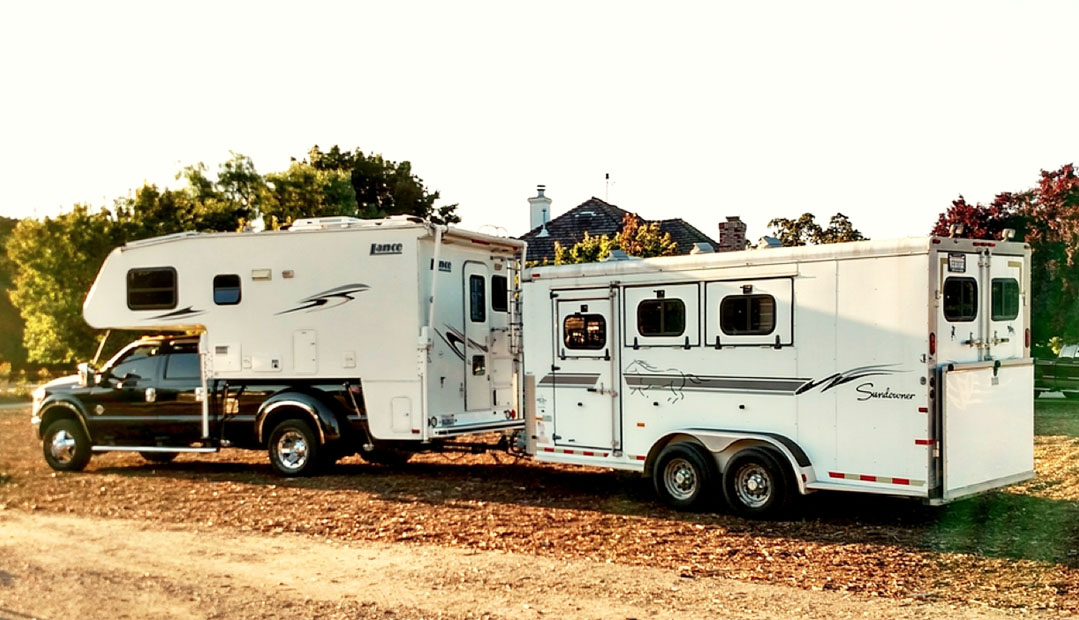 There are generally two reasons someone gets a truck bed camper.
1.) So they can go horse camping or boat camping which means towing your horse trailer or boat trailer behind your camper
OR
2.) Wanting the ability to go off grid into anywhere – because there are just places you can't go with a fifth wheel or other large towables
Where do you start?
Before you start looking into what products you need, you have a few things to consider. The main thing that needs to be looked at before you begin is what you are wanting to tow and the weight associated as well as what your truck is rated to tow and haul.
Can I increase the towing capacity on my truck?
No aftermarket products you purchase will be able to increase your truck's towing ratings. Let us repeat: No aftermarket products will increase your towing capacity beyond what your truck's original rating from the manufacturer is. Products that make that claim are hogwash. If possible, we recommend determining what you would like to tow before you purchase your truck and then purchase a truck capable of those towing needs OR learn what your truck can tow and match yourself with a trailer within those limits.
How do I figure out how much I can tow?
It is critical to know your GVWR or Gross Vehicle Weight Rating to be able to tow safely and within legal limits. This term describes the total weight carrying capacity of your truck. A common mistake is using the dry weight of your truck camper instead of the wet weight. The wet weight includes the weight of your truck camper once fully loaded (cargo, water, etc). These things can really add up so it is important to factor them in. There are many additional factors to determining what set-up you can use. Check out this great article by Truck Camper Magazine and Torklift that goes over factors that you need to consider before embarking on your truck camper or trailer adventure.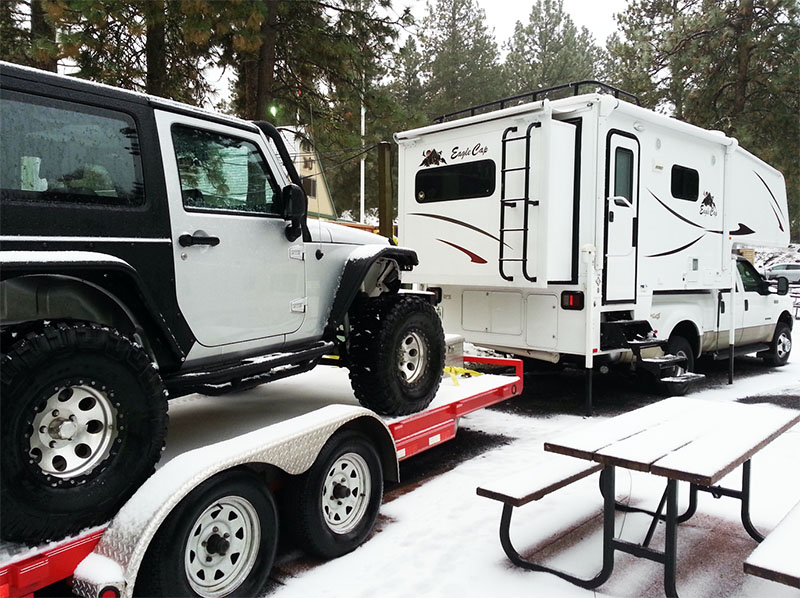 Truck Camper Tie Downs and Turnbuckles selection
The first items you will need to ensure you have would be truck camper tie downs and turnbuckles to hold your truck camper to your truck. We recommend our TRUE Frame Mounted Tie Downs for any sized truck camper. This will ensure that you are connecting your camper to the strongest portion of your truck (the frame) rather than the bed or bumper which is a thin sheet of aluminum.
Next up is a good truck camper turnbuckle system. The camper tie down turnbuckles are the portion of your set-up that connect the truck camper anchor points to the tie downs. There are several different truck camper tie down turnbuckle systems that we offer which include Torklift Original FastGun Turnbuckles, Springload XL Turnbuckles, and Basic Springload Turnbuckles. Not sure which turnbuckle system would be best for you? Click here to learn more about the Good, Better, and Best turnbuckle systems and which is best for you.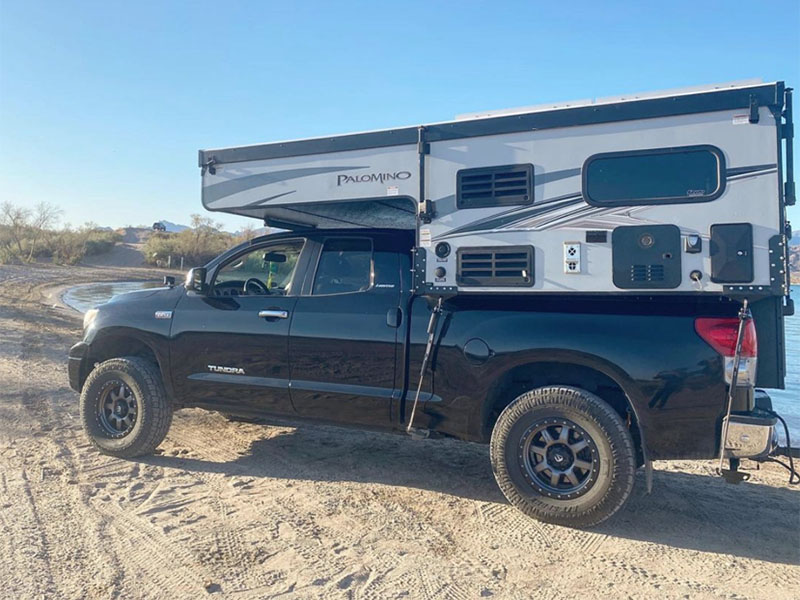 As you can see from this photo, the customer is using Torklift TRUE Frame Mounted Tie Downs and Torklift Original FastGun turnbuckles.
Truck camper trailer hitch
Now that you have your truck camper tie downs and turnbuckles selected, the next item that you will need is a truck camper hitch and a truck camper hitch extension that will safely tow the trailer that you are looking to tow.
Torklift offers the SuperHitch Outlaw Series which offers three different hitches with ranging capacities of 15,000 lbs to 30,000 lbs pull when coupled with weight distribution. These high weight capacities are critical in ensuring that you are safely towing your load. But what if we told you that a high weight rating that at least matches the tow capacity of your truck so that you are not limited by the hitch is only the second most important factor with towing capacities? The first most important factor is making sure your truck camper hitch has an appropriate tongue weight rating.
What is tongue weight?
Tongue weight is the pressure of items and weight seated at the front of what you are towing and often times – this area tends to get over loaded. When using the Torklift SuperHitch Magnum combined with weight distribution, 3,000 pounds tongue weight can be achieved. Again – never tow or haul beyond the limits rated by your truck manufacturer. Not using a truck camper trailer hitch with the correct tongue weight is the most common cause of hitch failure. You don't want to go there – it is incredibly dangerous. Torklift hitches feature the highest tongue weights available when used with weight distribution.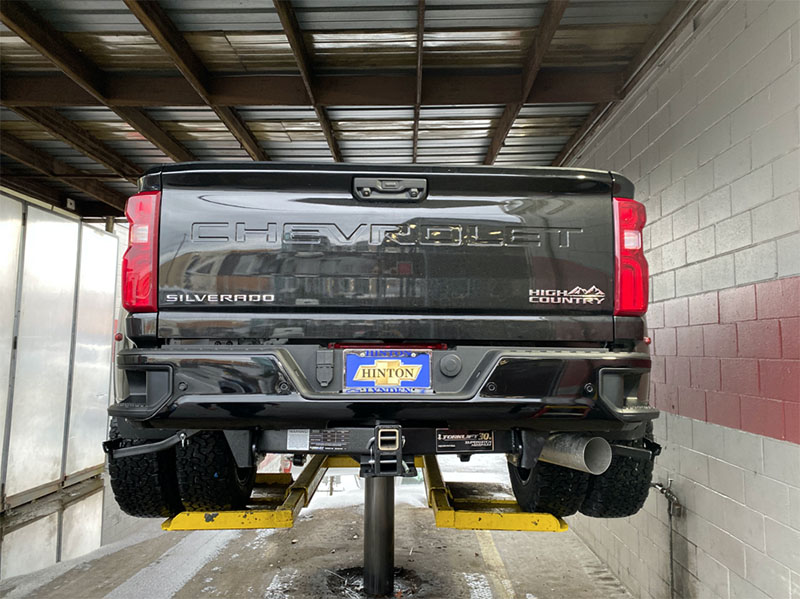 Truck camper hitch extension
The SuperTruss Extension is a dual receiver extension and comes in eight lengths from 21" to 60". It only works with the SuperHitch Towing Series trailer hitches featured on the truck above. As you can see, there are two stacked receivers. The purpose for this design is to allow for the SuperTruss Extension to fit into each receiver at the same time. The SuperTruss Extension is a dual truss system – the only dual truss system available – designed for safety. Single truss extensions have a tendency to flex, bow and break under pressure. You will want a truck camper hitch extension when your truck camper hangs over the rear of your truck bed because you will need to have a way to bridge the truck camper hitch to your trailer tongue and the extension is that bridge.
SuperTruss Features
Spring-loaded design ensures a safe ride for your family and your truck camper
Protect your truck frame and camper anchor points from damage
Adjusts in minutes, built in spring tension indicators
High strength forged steel
Special oil tempered chrome silicon springs for maximum longevity
Legendary Lifetime Warranty
Proudly made in the USA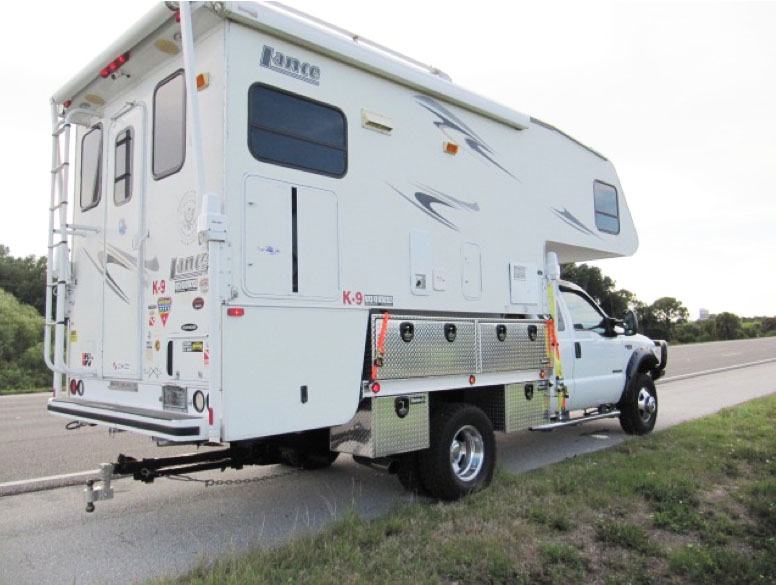 Have further Questions?
If you have further questions on truck camper tie downs and turnbuckles maintenance, our team is ready to take your call or answer your email. We are open Monday – Friday 8:30 am PST to 5 pm PST, excluding holidays. You can contact our team by calling 800-246-8132 or emailing support@torklift.com.
Looking for Torklift camper tie downs for sale? Find a dealer in your area or online!