Blog
Over 40 Years of Innovation, Quality, Safety
Skip the carnival ride when towing or hauling – StableLoad Challenge proves StableLoads work wonders
Torklift arrived in Everett excited to introduce the StableLoad Challenge to Torklift dealers attending a dealer training session for Torklift products.
What's the StableLoad Challenge?
Two identical Ford F-150 trucks



2,800 pounds loaded in each Ford truck bed





One truck has StableLoads suspension stabilizer




One truck has just the factory suspension




Drivers took a test-drive with both Ford trucks




Could they tell the difference?
Take a look at what these folks had to say about their experience:
Skip the Carnival Ride
"I can feel it leaning back and forth as I go around the corner. Kind of feels like the back of the truck is in charge," said the driver taking the StableLoad Challenge. Behind him, the rear of the truck swayed, drawing the momentum and gravity dragging toward the back of the vehicle. Indeed, the Ford F-150 truck was in charge.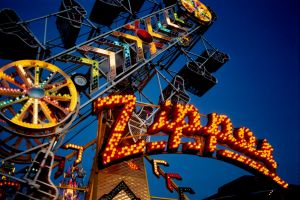 Driving your truck shouldn't be a carnival ride
"I have problems with vertigo so I am very motion sensitive. It's a very uncomfortable feeling for me. This is about as close to a carnival ride as I wanna get."
The StableLoad Challenge asks drivers an important question: Can you feel the difference with StableLoads? With firsthand experience, those who took the StableLoad Challenge could feel an incredibly noticeable difference.
Four Points of Stability
Whether you're using your vehicle to move debris, haul a truck camper or tow their much heavier travel trailer or 5th wheel cousins, a very important part of transporting heavy loads is stability. What makes leaf spring suspension ideal is its four points of contact, two on each side of the vehicle.

StableLoads have a design that maintains these points of contact that are crucial in providing stability. With other aftermarket suspension products, points of contact are reduced to only two, resulting in less stability and lack of support from the leaf spring suspension. The leaf spring pack and overloads are meant to be engaged and StableLoads take advantage of this expertly engineered design that vehicle manufacturers have invested millions in developing. By keeping the leaf springs engaged, the strength built within the truck's suspension shines.
As one person noted when taking the StableLoad Challenge, without the StableLoads the "truck was in charge." With the StableLoad Suspension Stabilizer you're now the one in control – the way it should be.
The lower StableLoad can connect and disconnect in secondsChoose the Mode for your Load
With lower quick-disconnect version of StableLoads, switch on and engage to be in tow/haul mode. Switch off to enjoy factory suspension. The lower StableLoads allow you the luxury of choosing what mode you want. With a turn of a ratchet, engage the lower quick-disconnect StableLoads for the extra support your vehicle needs. Simply disengage and enjoy your smooth factory ride when you no longer need that extra oomph.
Installation is easy with the StableLoads universal design. Fitting vehicles with factory installed upper and lower overloads, StableLoads have fast, no-drill applications available. Click here to find your application. Each kit includes four Torklift StableLoads for either upper or lower overload springs depending on the model you select, outfitting one complete vehicle. StableLoads come with Torklift's Legendary Lifetime Warranty and even extends coverage to the vehicle's factory leaf springs. Call 800.246.8131 for warranty details.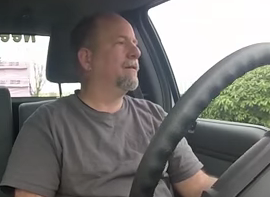 See how much more relaxed he looks with his hands no longer gripping the wheel tightly?
The verdict's in
As one test-driver analyzed how the StableLoads performed, he relaxed comfortably in his seat. He noticed the smooth movement and gained confidence while feeling more and more in control.
We asked, "Can you feel the difference?"
The difference, according to each person who took the challenge, was noticeable.
"Yeah, totally different!" said our test driver.
Science agrees
We've heard thousands of success stories from those who've turned to StableLoads instead of other suspension products. Even backed by real-life feedback from those who took the StableLoad Challenge, we wanted to provide tested data based on actual side-by-side comparisons of every aftermarket suspension option. By using an inclinometer to measure movement, we've uncovered information that strongly supports the glowing testimonials from our satisfied customers. Click here to see the science behind the StableLoads and you'll be shocked at our results.
Learn more about the StableLoad Suspension Stabilizer or find a dealer near you.
Related Posts
Comments
No comments made yet. Be the first to submit a comment