Blog
Over 40 Years of Innovation, Quality, Safety
StableLoad -- The Weight Off Your Shoulders
Did you hear? The StableLoad Challenge is back!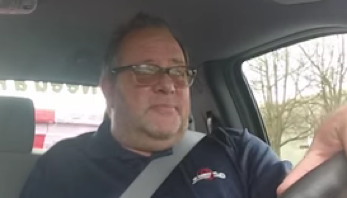 See how stressed he looks driving the heavy load without StableLoads?"I definitely notice there's a lot of body roll," said a challenger, cautious in his words as he gripped the steering wheel tighter. A look of discomfort struck his face and he frowned as he pressed harder on the pedal. As the driver pushed down on the gas that propelled the vehicle further, his concerned expression worsened.
Thankfully, this scene was not transpiring in the hustle and bustle of a chaotic highway, nor was it taking place in the rough backwoods. It was in fact taking place on an open and controlled route for Torklift's StableLoad Challenge in Everett, WA.
Participants at Torklift's StableLoad Challenge were invited to take part in a simple test to see if the StableLoad was everything they hoped it would be. They soon learned that, when it came to producing reliable suspension products and upgrades, Torklift delivered.
The StableLoad Challenge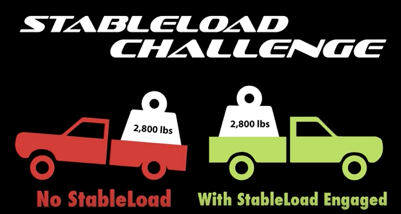 When it comes to hauling cargo or towing a trailer, nothing is more important than stability. Whether transporting truck campers, trailers or just plain old junk for the garbage dump in your Ford truck, a stable suspension is critical for the protection of your vehicle. Thankfully, Torklift has got your back with the StableLoad suspension stabilizer.
The StableLoad suspension stabilizer suspension upgrade dramatically improves vehicle handling characteristics by "pre-activating" the stabilizing effect designed for rear overload leaf springs. This is accomplished by keeping your rear leaf springs actively under load, the way your vehicle factory suspension engineers intended them to operate.
By "pre-loading" the factory overload springs, the StableLoad vastly improves the handling characteristics of your loaded vehicle, no matter the weight. Both safety and handling are improved. In addition, sway, body roll and porpoising are dramatically reduced.

Wondering about how your suspension works? The StableLoad's quad contact design complements the vehicle manufacturers four point suspension. This is opposed to reducing it to two points of contact, which is the case with all other rear suspension products. In other words, the weight of heavier loads is redistributed evenly across all four points, rather than being reduced to two contact points causing lack of stability and support. As our guests learned in the StableLoad Challenge, this design choice was the difference maker.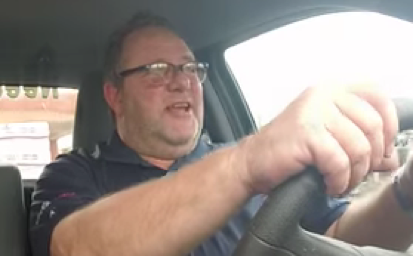 Now that he's driving with the StableLoads look at how happy and much more comfortable he looks"I'm actually very, very surprised with how stable it is. It's kind of cliché but it feels like there's no weight back there," said the participant, his eyes widened with surprise. He breathed a deep sigh of relief. As he exhaled, he relaxed, letting his shoulders curve against the padded seat. His memories of the poor suspension from before were now replaced with better ones as he reached out to thank a friendly hand from Torklift with a firm handshake.
This performance was apparent when those taking the StableLoad Challenge began to take note of the smooth ride, the solid weight distribution and the overall comfort StableLoads provided. Compared to the sluggish, fish-tail movement brought on by heavy loads and hauls, the StableLoads really shined. The StableLoads are universal, fitting all vehicles with factory installed upper and lower overload springs and the lower quick-disconnect StableLoads have no-drill installations available. Click here to find your application.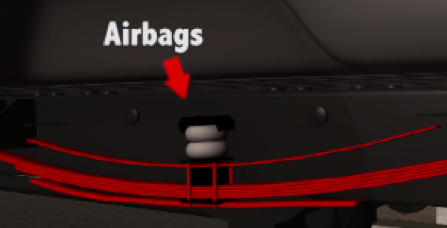 Airbags have the potential to burst if under too much pressureWondering about how airbags might affect your suspension? The StableLoads even enhance airbag performance by lowering your airbag's air pressure, ensuring maximum safety on even the most perilous of hauls. Those who were running around 90 PSI before installing StableLoads are now reporting that they run their airbags at 20 or 30 PSI, significantly reducing the risk of their airbags self destructing or causing damage to their trucks.

StableLoads work with your suspension to give you the best ride possible
The kit includes four Torklift StableLoads, outfitting one complete vehicle and comes with Torklift's Legendary Lifetime Warranty. Torklift's warranty includes coverage for the vehicles factory leaf springs.
As the participants returned home, any doubts in their minds on the performance of the StableLoad were replaced with thoughts of confidence and excitement. At long last, the lack of vehicle handling brought on by agonizing weight has been lifted from the shoulders (and suspension) of truck owners everywhere.
Read more about the StableLoad Challenge or click here for additional product information. Find a dealer near you or give us a call at 800.246.8132 with inquiries.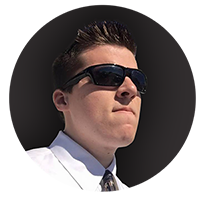 Written by Andrew Wales:
Andrew is a recent graduate from the University of Washington, where he earned his B.A. in Arts, Media and Culture. In his free time, he channels his passion for writing into numerous projects, including the development of a series of full-length science fiction thriller novels. He seeks to put his devotion to writing to good use in the professional field as a technical writer.
Related Posts
Comments
No comments made yet. Be the first to submit a comment