Blog
Over 40 Years of Innovation, Quality, Safety
The need for speed...by Torklift Jen
If you find yourself cruising in the fast lane, you might want to check your mirrors and move on over because Holly Clarke is on her way to SEMA.

Torklift International is proud to be a new sponsor of the drag racing phenom and recently named her our "Miss Torklift." This award is in recognition of her outstanding community service, racing accomplishments, and her positive example to other young racers.

Clarke caught the racing bug at an early age.

"My first race, I was 8 years old," she said. "I was up at about four or five in the morning in my parents room trying to wake my dad because I couldn't control my excitement. I was the slowest car and I was out first round but I hardly cared. I had waited for what felt like forever I was just thrilled to go down the track."

Twelve years later, the British Columbia native has several championships under her belt including six annual championships in a row.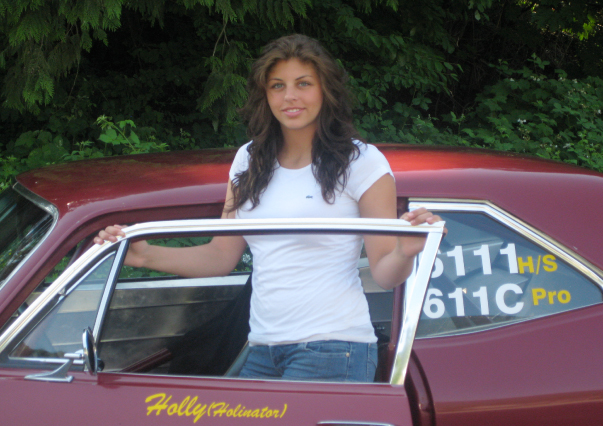 Clarke races a 1968 Chevy Nova with a 468 big block engine. Her fastest undocumented time in the dragster is certified at 8.5 seconds for a quarter mile.

She took a brief break in 2011 to earn her automotive service technician certificate and now she is back on the drag.

"The rush of racing and especially winning is very addicting," Clarke said. "It is a feeling that you really crave. I think a regular adrenaline rush is very healthy. Even as a kid I loved anything that gave me that drop feeling in my stomach, I like to feel a little frightened and push myself. Racing gives me that, especially during competition."

She looks forward to building a career out of racing.


"The race track has always been home for me and I believe you should take what you love and make a career out of it," Clarke said. "It's awesome because away from the track I'm a real girly girl who loves heels and chick flicks, so it's awesome to be able to embrace my inner tom-boy!"

After doing a little studying on the sport, I had a chance to ask Holly some questions that I was still curious about racing.

TL Jen: I've heard of funny cars dragsters. What is so funny about them?

Holly: They are just a type of drag racing vehicle and class. On the early cars, the rear wheels were moved forward on the chassis and oversized compared to stock. This improved weight transfer under acceleration and increasing traction on the rear tires. Looking at the cars, they didn't quite look stock, so that's where the name "funny" came from. There are a lot of other rules and specs for this class, too.

TL Jen: If we were head to head at a red light and I revved my engine of the truck camper and F-350. Would you?:

A) Laugh

B) Wave me on with a 5 second head start

C) Or, put me in my place

Holly: No, comment!

TL Jen: You've been driving since you were 8-years-old. When you took your official driving test did you?:

A) Got 100%, no problem!


B) Impressed the official with 110 + mph on the straight-aways.

C) Had some problems with the turns

Holly: #A, of course.

You can meet Holly Nov. 5-7 at the 2013 SEMA show Torklift International booth # 36124. She will be signing autographs and answering questions about her drag racing career from 1 p.m. to 4 p.m.
Related Posts