Continued from Part 1…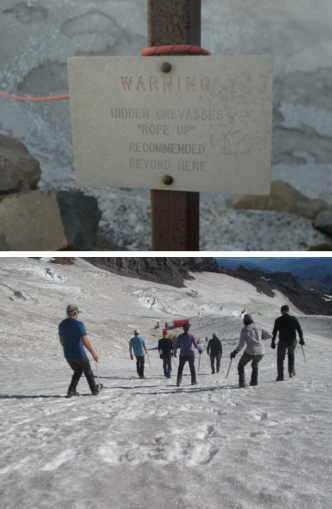 Learning mountaineering maneuversThe first leg of the trip to Camp Muir flew by with ease. Other than mild foot blistering and a substantial physical exertion, this section of the trip was familiar to me. I wouldn't say comfortable, but it was still within my comfort zone. The second day before departing to camp two at Ingraham Flats, our guides took time to teach us basic mountaineering maneuvers. We learned different ways to walk with crampons, a metal plate with large 1" spikes fixed to our boots that help us to tread on ice and rocks. We also learned self/team-arrest, which is the process of anchoring your body into the mountain in effort to stop the fall of a fellow climber in which you are roped to. After rolling down a steep ice hill both feet and head first, getting familiar with using an ice axe, we finally roped up and headed toward camp two. Our group broke into separate climbing teams of 2-3 people, including a guide for each.
It was at this point we left behind our hiking poles and only used the ice axe for support. With fifty-plus pounds strapped to my back, maneuvering an exceptionally steep trail of loose rock sans pole support was a new challenge I had to face. I seriously struggled and I could tell the guides were analyzing my performance. When we arrived at Ingraham Flats, I retreated to my tent that was already set up on the glacier with newfound frustration. It was that evening when we all grouped together for our meal and that our Lead Guide briefed us on what was about to happen next.
| | |
| --- | --- |
| Nearing the top of Cathedral Gap | Camp two at Ingraham Flats |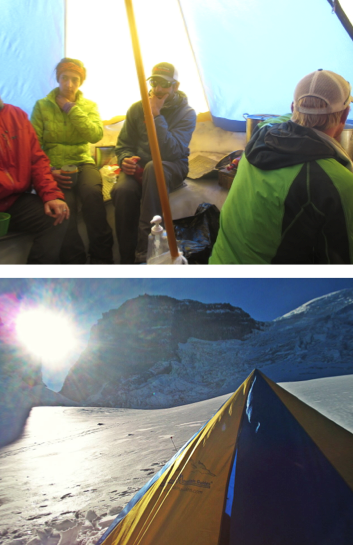 Guide tent on Ingraham Glacier, camp twoFlash of doubt
As we sat in the guide tent and listened to directions from the Lead Guide, he made it very incredibly clear the amount of difficulty we were about to endure. We were also under a time crunch and pace requirement. If our climbing teams were unable to reach a certain point on the mountain by a specific time, your rope team would have to turn back and give up on the chance to achieve summiting. This put an immense amount of pressure on performing well, as the opportunity for others to summit depended on the level of your endurance. By the end of the pow-wow, I was highly doubtful that I would be able to complete this climb. They indicated that this portion of the climb was undoubtedly the most difficult and I had already struggled leading up to this point. It didn't help that inclement weather prior to our climb had left the mountain in poor condition for summiting; forcing the route to be the longest it's been in at least the last 10 years. The large sections of crevasses forced climbing teams to re-route a zigzag pattern and a far more challenging path to the summit.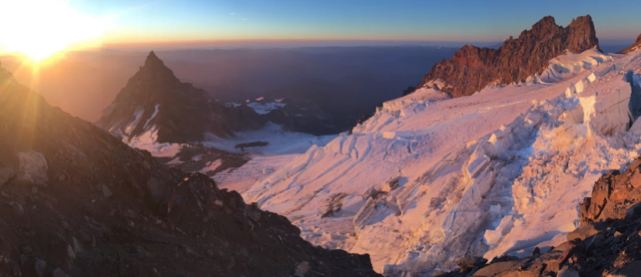 View over Ingraham Glacier and Little Tahoma
I lay down in my tent and closed my eyes. Light-headed and struggling with deep breaths, I realized the lack of oxygen at high altitude was causing me to cough uncontrollably. I focused on breathing while my mind shifted into its own thoughts. How the heck was I going to pull this off? There was absolutely no way, I convinced myself.
As my mind drowned in fear, worry and insecurity, my thoughts shifted toward my team of Torklift employees and how much they believed that if anyone could do this with Jack, it was going to be me. It was in that moment that I realized I needed to turn this around. I needed to psyche myself out and change my mindset in order to accomplish this challenge successfully.
Even though I had the support of my fellow co-workers, there were also several people that expressed doubt that I could summit this mountain. How amazing would it feel to prove them wrong? How could I allow others to tell me what I could and couldn't accomplish? Only I was in control of reaching my goal, and right there, lying on the icy floor of my freezing tent, I made my decision. Summiting this mountain wasn't an option. I was going to give every ounce of effort within my soul to make this momentous achievement a reality. If I believe it, I can achieve it, I thought to myself repeatedly.
As nightfall set in I made a serious effort to get some much-needed rest, but the anticipation of the last and crucial segment of the climb was weighing on me. I was amped up. Not even the violent flapping of my tent from gusting winds was going to intimidate me. At 1:30am our guides gave us the wake up call. I quickly mended my blistering feet and strapped the back of my heels with a generous amount of duct tape. I forced a breakfast of watered-down instant oatmeal and went to gear up. My climbing harness is tightly secured, my ice axe in-hand and my headlamp is on. It's go time.
Read what happens next by following torklift.com/blog.
- Torklift Sheryl
---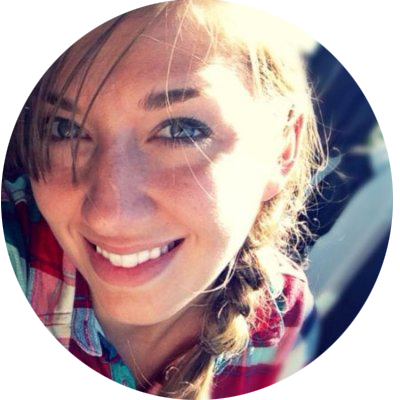 Written by Sheryl Bushaw:
As a graduate from Arizona State University with a B.A. in Journalism and emphasis in Public Relations, Sheryl is a passionate writing professional with focus in areas of copy writing, social media and creative design. She is a travel enthusiast and explorer-extraordinaire with a zest for life.