Congratulations on your new truck camper! Now, what are the next steps to further prepare for your camper?
STEP 1 – Tie Downs
To start with the basics, you need to add a tie down system to your truck in order to safely secure the truck camper to the vehicle. Tie downs that mount directly to the frame of the truck are the best way to secure the camper. The frame-mounted design fits to specific vehicle makes/models allowing strongest possible attachment to the truck. Eliminate any chances of bed and bumper damage by using a frame-mounted design.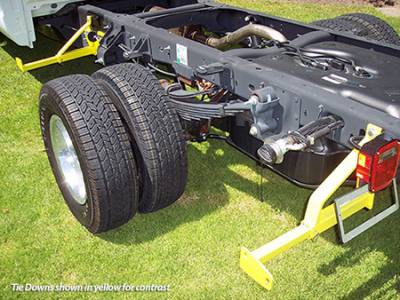 Torklift International's frame-mounted tie down system incorporates four independent tie down points for dramatically improved stability. The tie downs bolt directly onto the truck frame and most applications don't require drilling. There is no loss of ground clearance and they are tucked up tight to the truck to minimize their visibility when the tie down inserts are removed. Torklift International tie downs are the only tie downs that truly attach to the strongest part of your truck: the truck frame. All others are bed-mounted.
As an industry first, Torklift recently unveiled the precision crafted aluminum Talon Tie Downs. They are made from 100% lightweight military grade aluminum alloy making them up to 50% lighter than steel applications. The Talons come with rust free corrosion protection.
Torklift Tie Downs have a lifetime warranty. When Torklift Tie Downs are used with our spring-loaded turnbuckles, we extend the lifetimewarranty to the truck frame and camper anchor points for the extent of its manufacturer's warranty.
STEP 2 - Turnbuckles
That will bring us to the next step in selecting important hardware for your truck camper. The equipment used to connect the truck and tie down system to your new camper are called turnbuckles.
There are several designs of turnbuckles. For frame-mounted applications, you'll want to choose from the Basic SpringLoad Kit, SpringLoad XL, and the most popular truck camper turnbuckle in the world, the original FastGun turnbuckle.
The original FastGun spring-loaded turnbuckles are the top selling turnbuckle for a few reasons:
- The quick-disconnect handle makes adjustment fast and convenient
- The design features patented spring tension indicators to assure proper installation
- Lockable
- Tool-Free
Spring-loaded turnbuckles are important because it allows for some give when your vehicle encounters bumps on the road. Torklift strongly recommends using spring-loaded turnbuckles on all four points of the camper. The spring design acts as a shock absorber protecting the anchor points on your new camper as well as the tie down system.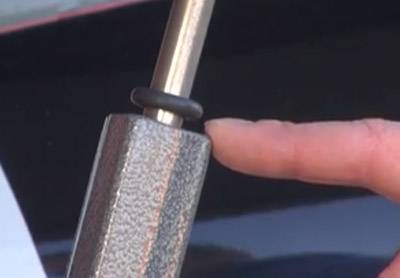 When putting on your turnbuckles, how do you know how tight to adjust them?
This is where the Torklift patented spring tension indicators make life easier. Camper manufacturers suggest that 300 lbs of tension be applied to secure the camper properly.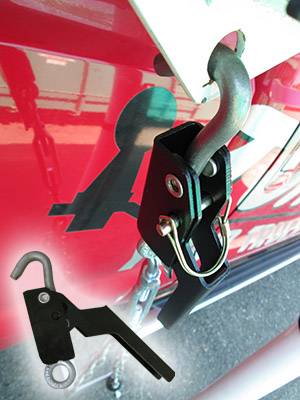 By setting the O-ring of your tension indicator flush with the body of the turnbuckle, once tightened the internal spring compresses and you should see a quarter inch space between the O-ring and body of the turnbuckle.
Did you know that you could turn a standard turnbuckle into a FastGun?
By adding a derringer handle to any basic hardware turnbuckle, you can achieve the quick-disconnect capability and convenience of a FastGun turnbuckle.
AnchorGuard turnbuckles are appropriate if you choose a bed-mounted tie down system.
STEP 3 – Rubber Bed Mats
We strongly suggest adding a rubber bed mat in your truck bed to prevent the camper from sliding in the bed of the truck. Not only are bed mats cost-effective, they also protect your truck bed surface from scratches, dings and dents.
Do not install your truck camper on top of a plastic bed liner or hard surface spray-in bed liners. The drop in plastic bed liners can slide on top of the truck bed surface and the camper can slide on top of the slick surface of the bed liner. The liner can also act as a spring causing a trampoline effect increasing vertical truck camper movement, possibly resulting in truck bed damage and/or camper damage.
STEP 4 - Suspension
A truck camper adds a large amount of weight to your truck with a high center of gravity, causing significant side-to-side sway and body roll. The weight of the camper in the bed will also cause your truck to sag having negative effects on how your truck handles while driving.
How can you battle these effects?
By installing the StableLoad suspension stabilizer, the handling of your truck with the camper loaded will drastically improve. By pre-activating the stabilizing effects of your factory suspension, some of the benefits of the StableLoads include sway reduction, leveling the vehicle, decrease in stopping distance, reduced tire wear and overall improved ride quality.
To learn more about how the StableLoads work on your suspension, see more information on the Torklift blog here.
STEP 5 - Steps

Once you select your camper and have safely tied down your investment for your road trip adventures, you'll want to determine the most convenient, safe way to enter and exit your RV. Be sure to browse the GlowStep Series to find solutions that are the safest, durable and most importantly fits the needs of your application.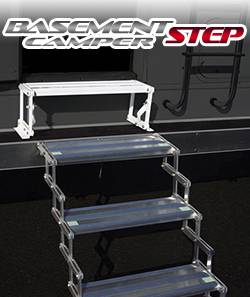 The GlowStep is a lockable scissor step made from aircraft grade aluminum and stainless steel. It has built in step tread. It is the only step available that uses no rivets and is fully bushing bolted making it the most rigid, stable and most versatile step system on the market. The glowing capability offers additional safe, stable entry and exit to your camper. You can easily add or remove steps with ranges from two to six steps. For increased stability, look into adding a GlowGuide handrail.
If your camper has a large vertical gap from the entry door to the bumper, a Basement Camper Step will allow for easy entry.
STEP 6 – Storage (long term and short term)
Now that you have the camper of your dreams, be sure to protect it! We have a few suggestions:
With the FastGun Wobble Stopper camper stabilizer, your camper is protected against jack and frame stress when it is unloaded. It also makes a significant difference with increased stability by eliminating annoying camper wobble during your time in your RV while it's off of the truck. The newly designed FastGun Wobble Stopper now has a convenient quick-disconnect application and is lockable, so nobody can load your camper onto another truck and drive away with it when the Wobble Stopper is locked. Don't let camper theft happen to you!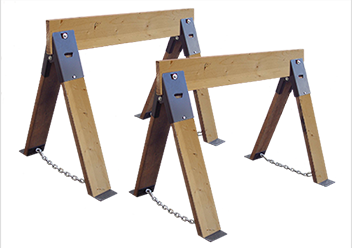 As an affordable way to store your camper during the offseason, turn to the Camper Packer storage stands. With pre-treated lumber in the kit, the sawhorse style camper storage solution has a capacity of 6,000 lbs per pair, is easy to store and very simple to assemble.
If you have any questions in regards to your new truck camper and what equipment you might need, contact our Technical Support Team at support@torklift.com or 800-246-8132. Their expertise will come in handy when navigating the world of truck camping!