When you go camping in the great outdoors, it can be messy and unfortunately sometimes it can be stinky.
When you think back to memories of camping vacations you want to remember the smell of the barbecue, burnt marshmallows, crisp mountain air, fresh scent of the waterfront and sometimes fondly, your wet dog. You probably don't want to have all those nostalgic scents masked with a common campsite odor: exhaust fumes.
Generator exhaust fumes remind us of crinkled up noses, squinting eyes and hacking up a lung. Bleh, no thanks.
Where do you store your generator?
On the popular online forum RV.net, user RoyB stores his generator in the truck bed like this:

RV.Net forum user stores generator in truck bed
Ever found yourself in that situation?
Most often we hear about people storing a generator in the cab of their truck, trailer or truck bed. Although it works for some, these methods are surely inconvenient. The generator is messy and does that exhaust odor ever really go away once your belongings have absorbed it?
Torklift International developed a way to store your generator outside while at the same time keeping it safe from theft. Bonus: you can even use it while it's locked up.
The Lock and Load generator tray series offers a variety of cargo carrier sizes and options. If you are among campers who store their generator inside your truck cab, trailer or truck bed you will want to know about the Lock and Load SideKick generator tray.
The Lock and Load SideKick accommodates three of the most popular generators:
Yamaha EF2400iSHC
Yamaha EF2000is
Honda Eu2000ai




These generators cost somewhere in the range of $1,000 and are easy to walk off with. Rather than having your expensive generator magically grow legs, it's a worthwhile investment to secure those generators and avoid any possibility of theft.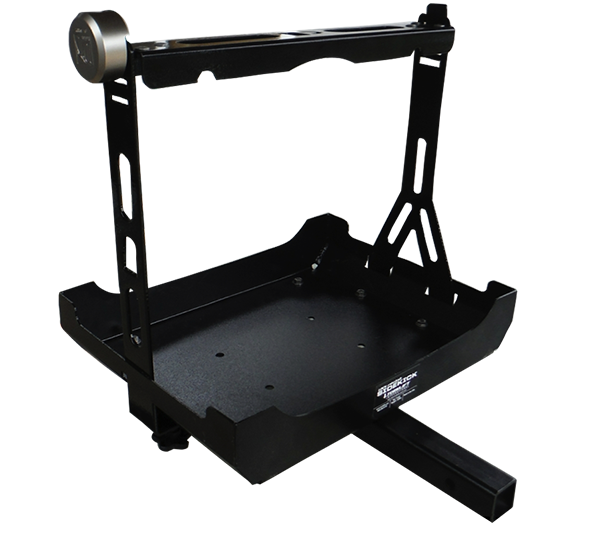 Lock and Load SideKick
Lock and Load SideKick is an aircraft grade aluminum tray featuring a sturdy, adjustable strapping mechanism that secures over the generator handle, securing it from theft. The cargo tray design and the security strap do not interfere with use of the generator, however it cannot be removed when you lock it up with the heavy-duty, tamper-proof puck lock that comes with it.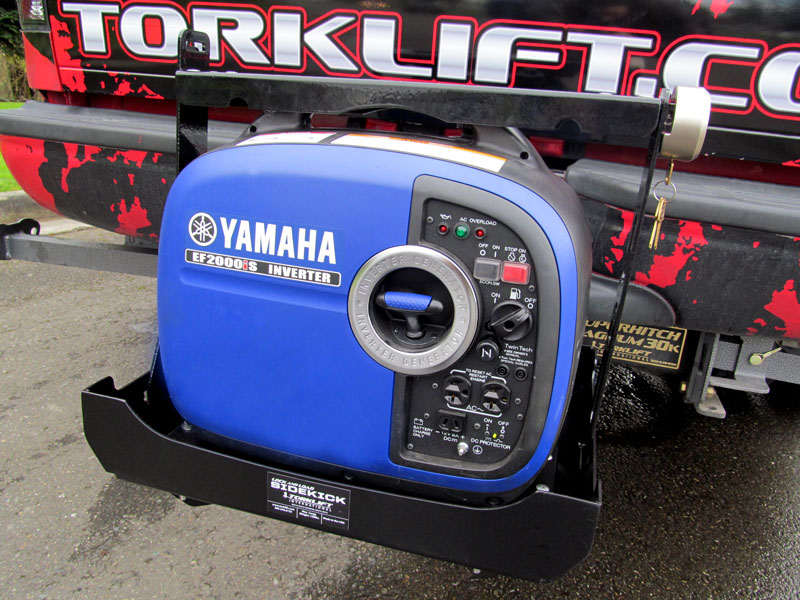 Yamaha generator on Lock and Load SideKickMounting the generator tray requires any standard 2-inch by 2-inch receiver or any standard 2-inch by 2-inch receiver trailer hitch (front hitch or rear hitch).
By storing your generator with the Lock and Load SideKick you can:
Save your truck and RV interior from stinky generator odors and potential messes
Enjoy extra space in the truck camper, trailer, truck bed and truck cab by mounting the generator outside
Avoid lifting or moving the generator for use
Ease of using it and storing it at the same time
Avoid generator theft and replacement costs
Torklift International offers other sizes of the Lock and Load security tray to accommodate large-sized generators too. Click here to learn about a larger size tray, the original Lock and Load.
Enjoy the convenience of storing, locking and running a generator simultaneously with the Lock and Load SideKick.
Source: http://www.rv.net/forums/index.cfm/fuseaction/thread/tid/26766108.cfm