The answer to this question is maybe, but whether it's perfectly safe to use is a different answer. You want your truck camper to have maximum support, safety and stability. So where do DIY truck camper storage stands not quite make the cut?
DIY Sawhorses
Safety is something you never want to compromise when it comes to your truck camper investment. Whether you're on the road or traveling to different campground locations, your truck camper has to be prepared for any weather conditions, as well as the typical shakiness and instability that can occur with usage like walking from the bedroom to the bathroom. The last thing you want to do is to rely on set of DIY sawhorses that haven't been tested and might not be able to stand up to long-term storage.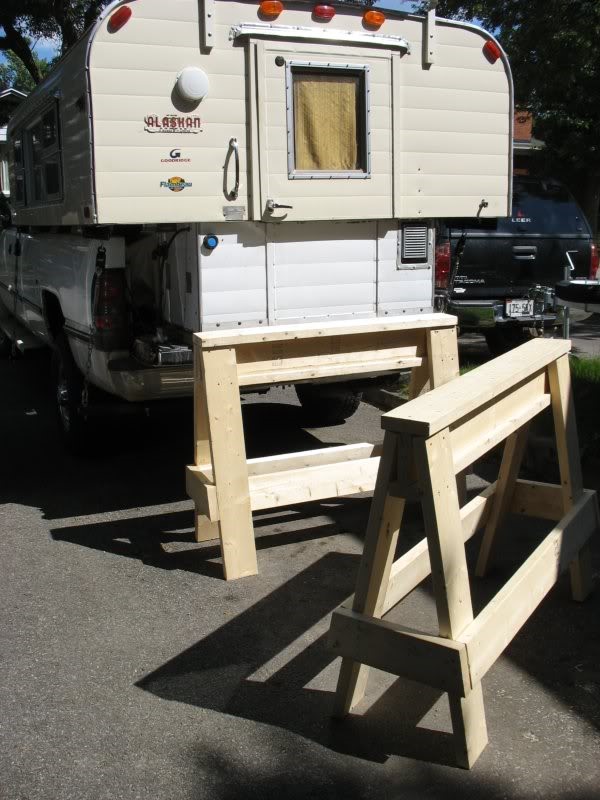 The potential issues of DIY sawhorses:
When doing an at home project, you aren't able to test the weight capacity which means how much weight it can handle is unknown
If the stands are not collapsible, you have to dedicate additional of storage space when your truck camper is in use
Using materials that aren't treated means they can be easily damaged by weather and compromise stability even more
Without proper support, you risk sustaining jack or frame damage to your truck camper by having your camper tip over completely, jeopardizing your safety as well.
What is the best way to support my truck camper?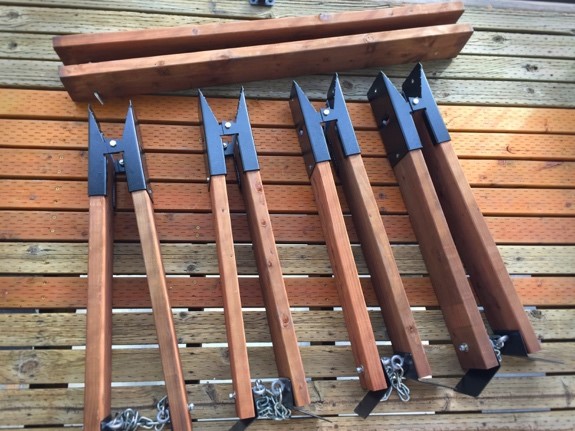 At Torklift, we believe your safety is of the upmost importance. We've designed a truck camper support called the Camper Packer. It is the industry's only structural truck camper support base and solution for maintaining camper structure during storage.
The Camper Packer is 50 inches from side-to-side featuring special treated lumber to endure harsh weather and folds up for compact storage. It's the best option for long-term storage since it can handle 12 times the weight capacity of the typical hardware store sawhorse. Having a stable support, especially when it's properly installed will help avoid jack twisting and frame damage – saving you money in the long run. Distributing the weight amongst the structure minimizes sway, evenly distributes weight off the four corners which reduces the amount of stress on the frame and extends the life of your truck camper jacks.
Camper Packer Features Include:
• The only engineered structural support base for truck campers that protects the frame and jacks during storage
• Prevents camper frame damage by redistributing the stress off the four corners of the camper frame and onto the Camper Packer
• Extends the life of your jacks by dramatically reducing wear and stress
• Safe short and long-term storage solution
• Rated up to 12 times the weight capacity than your typical saw horse at 6,000 lb. capacity per pair
• Measures 50" from side-to-side when completely assembled
• Special treated lumber
• Easy assembly and 100% tool free operation
• Designed to fold up for compact storage when not in use
• 5-year warranty
• Proudly made in the USA
What is the difference between my DIY sawhorses and the Camper Packer?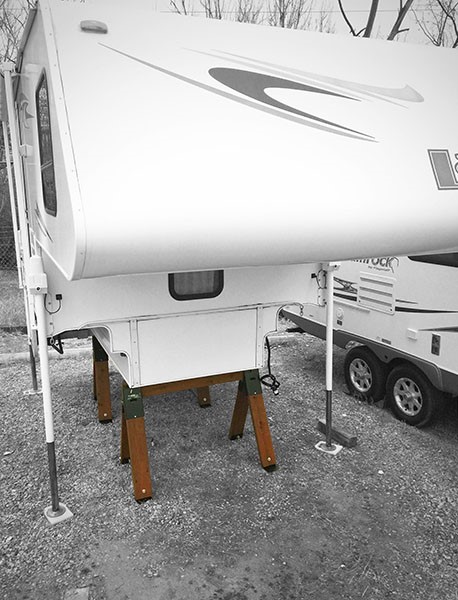 The Camper Packer is rated at 6,000 pounds per pair with special treated lumber that withstands all types of weather. As we said before with most DIY sawhorses, you aren't able to know how much weight they can handle – until it's possibly too late and your camper has crashed to the ground.
The Camper is designed for quick disassembly and storage, so it conveniently stores away when not in use, as shown in the photo above. Most DIY storage solutions are either multiple pieces that take up a lot of room such as eight boards that crisscross or many cinder blocks that are heavy and not easy to move.
The brackets of the Camper Packer are high impact powder coated which adds even more durability to these storage stands, also making it so they have a sleek, clean looking design. Unlike the DIY, the Camper Packer is easy to assemble, has 100% tool free operation, and is backed by a five-year warranty. Not only that, if you already have pre-treated lumber that you'd like to use for storage, the Camper Packer can be purchased with brackets only, so you can use your own wood.
For questions regarding the Camper Packer contact us 800.246.8132 or visit our truck camper storage stands page to learn more about the best and safest way to store a truck camper this winter.
Written by Shyann Guerra:
Being in an environment in which I can problem solve is where I flourish. Every answer to a problem leads me to a new concept to understand or a lesson to learn. When I'm not solving problems I enjoy camping and going to festivals with my family - from the local city center festivals to the mountains of Wenatchee at the Winter Grass, blue grass music festival. Experiencing culture is where my heart is content.