The
GlowStep Revolution®
are the only RV step upgrade that are custom designed for RV towables. Let me tell you why!
Infinite Adjustability
The GlowStep Revolution® step system is the only aftermarket RV step that offer you infinite adjustability.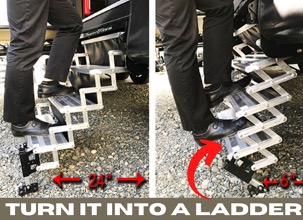 This RV step upgrade is an accordion designed step that lets you extend the steps fully at 48". But what happens when you are parked in a confined area like a storage unit or a tight camping site? You don't have to worry with the GlowStep Revolution. An accordion design means you can extend them in as little as 6" with a ladder deployment – no more getting stuck outside of your trailer when you are in a tight spot!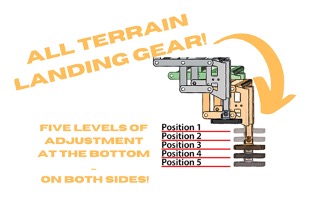 The Torklift GlowStep Revolution is also equipped with our
All-Terrain Landing Gear
. This easy-to-use, adjustable foot mechanism allows you to adjust each foot independently of one another, so that your steps remain solid and level on any surface.
Unlike any other RV step on the market, the GlowStep Revolution step system has three points of adjustment at the top step. Utilize any of the three top step positions to ensure that your steps remain level despite angled or sloped terrain.
Unparalleled Stability
This RV step system features SureGrip step tread that eliminates jagged holes that are commonly found on factory steps making the steps extremely stable for you but also ensuring safety and comfort for your dogs!
Similar to the steps in your home, these RV steps also have a 7.5" riser height – perfect for kiddos or those with limited mobility!
Only to be improved with accessories
We offer a variety of accessories to add to the usability of the GlowStep Revolution!
The GlowGuide handrail is easily installed for an added layer of safety.
The SafeStep panels close of the vertical gaps between the steps to help kids and dogs walk up and down the steps safely.
The DirtDestroyer lets you dust off dirt and grime from your shoes before entering your RV to keep it nice and clean.
Thank you Matt K.!
Check out the GlowStep Revolution in action in these photos from our product evaluator!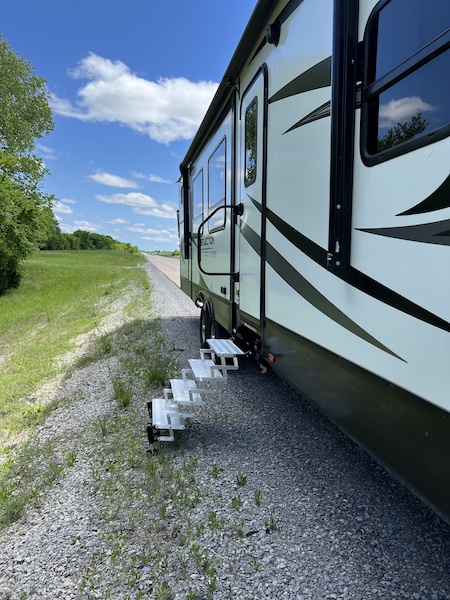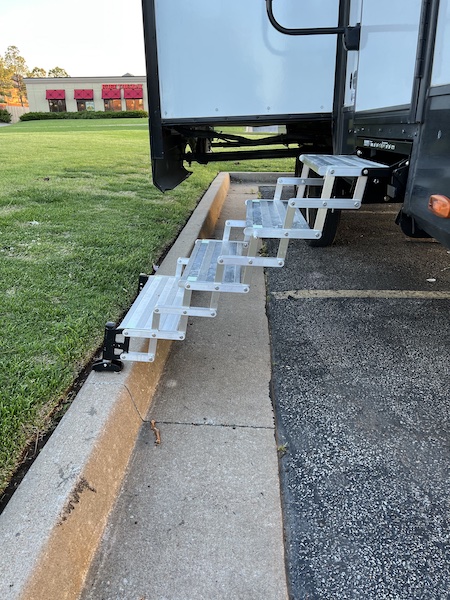 Have questions?
If you have further questions about your perfect GlowStep Revolution fitment or how to install, please contact us by phone at 800-246-8132 or by email at
support@torklift.com.
Our customer service team is available Monday – Friday from 8:30 am to 5 pm PST.