Blog
Over 40 Years of Innovation, Quality, Safety
3 easy steps to eliminating the bounce and sway from airbags
When loading up a truck with something heavy like a truck camper, our first instinct is to level the vehicle. The weight on the rear axle causes the truck to sag and tilts the nose of the vehicle up. Driving a truck in this position can be dangerous because it takes control away from the driver.
Even though there is a leveling benefit from airbags, this suspension modification can have some negative side effects. Instead of activating the factory suspension like the StableLoad suspension stabilizer, airbags change the entire dynamic of your suspension by lifting the weight off of your overload springs.
The side effects you feel from airbags include an increase in side-to-side sway and amplified bounce motion when hitting a bump in the road. This is happening because airbags take the weight of your payload and balance them on an area roughly the size of two footballs. The power of the truck's factory spring suspension is completely taken out of use.
If you've already installed airbags on your truck and experience these side effects, we have a solution for you.
1) DEFLATE YOUR AIRBAGS
It is typical to run about 70-80 pounds of air pressure or more in the airbags to support a load like a truck camper. This amount of pressure is needed to level the vehicle, but causes an uncomfortable and rough ride. On your unloaded truck, go ahead and deflate your airbags. Many have found that 30 pounds of air pressure will cause a loaded truck to remain level, yet still incorporate the use of the vehicle's factory springs.
2) INSTALL YOUR STABLELOADS
Install quick-disconnect StableLoad suspension stabilizers on your lower overloads. By engaging the StableLoads, the space between the lower overload and main spring pack on your truck's suspension is filled, putting the factory springs to use as they were intended.
At this point, load up the vehicle and take a drive with the StableLoads. You will find:
- StableLoads help eliminate sag and level your vehicle
- Side-to-side sway, body roll and porpoising is dramatically reduced
- Ride quality and handling is improved, creating a safer driving experience
3) LEVEL YOUR RIDE
If needed, eliminate any remaining sag by adding additional air back into the airbags. Many have found that they can reduce the air pressure from 70-80 pounds, to only about 30 pounds. This will allow the loaded truck to remain level, yet still incorporate the use of the vehicle's factory springs.
*IMPORTANT*
If you are still deciding on the best suspension upgrade for your vehicle, we recommend starting with StableLoads. The combination of upper and lower StableLoads will resolve 100 percent of your suspension issues.
Many customers who installed the StableLoad suspension stabilizer found they did not have to move forward with installing airbags on their truck.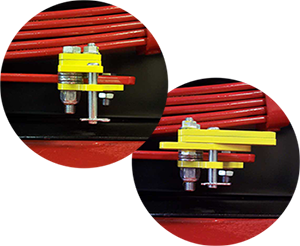 We also discussed the use of airbags with StableLoads at a recent rally where rally-goers took the StableLoad Challenge.
For the StableLoad Challenge, folks had the opportunity to test-drive the same Ford F-150 truck with and without the StableLoads. We placed 2,800 pounds of gravel in the bed to simulate a significant load similar to a truck camper.
Test driver Lisa Gord mentions the horrible bounce that airbags cause on her personal truck, causing her husband to lose his stomach every time they hit a bump!
Take a look at her experience by watching this short video:
Click here for more information on Torklift International StableLoads and learn more about how they work in conjunction with airbags.
Related Posts
Comments
No comments made yet. Be the first to submit a comment