Blog
Over 40 Years of Innovation, Quality, Safety
GlowStep Revolution gets Ready for a Glowing Debut with RVIA
Our one-of-a-kind leveling step system, the GlowStep Revolution, will soon be featured in a national television commercial sponsored by the Recreational Vehicle Industry Association (RVIA). RVIA is highly esteemed in the RV industry for its safety and compliance monitoring of RVs and RV accessories and it's also a leading source of RV news and product information.
Torklift International could not be more thrilled to have RVIA endorse the GlowStep Revolution RV step system in its upcoming television commercial.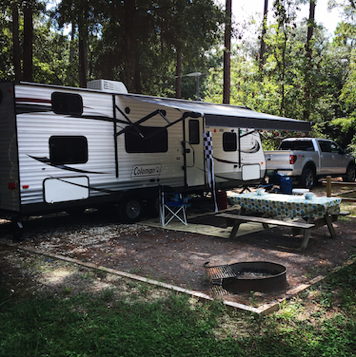 Eric's famed RV featuring the GlowStep RevolutionAn Impressive Performance
We owe our thanks to Eric Martinez—a sales associate at Lazy Dayz RV in Tampa, Florida. The GlowStep Revolution captivated Eric while he was attending a Torklift Dealer training with Torklift's National Sales Manager Randy Fisher. "When I saw the presentation that your sales manager put on, I was impressed with it," Eric said. "It was an impressive performance."
Little did Randy know, Eric had recently been contacted by the RVIA media campaign after he had shared photos of his RV online. RVIA offered Eric the opportunity to participate in their upcoming commercial, and after seeing Randy's demonstration, Eric wanted to install the GlowStep Revolution on his trailer so that it would be included in the commercial as well. "It seems like a great product," he said, "that's why I asked."
Say "Hello" to the Star of Sensible Support
Designed for towables, the GlowStep Revolution is a complete step system that has the ability to adapt to any type of terrain using the included All Terrain Landing Gear. It is the only RV step system with 7 inches of precision vertical step elevation adjustment. The All Terrain Landing Gear acts as leveling feet for RV steps, ensuring the steps safely touch the ground. This provides unparalleled stability—say goodbye to the unstable springboard effect that occurs so often with factory RV steps.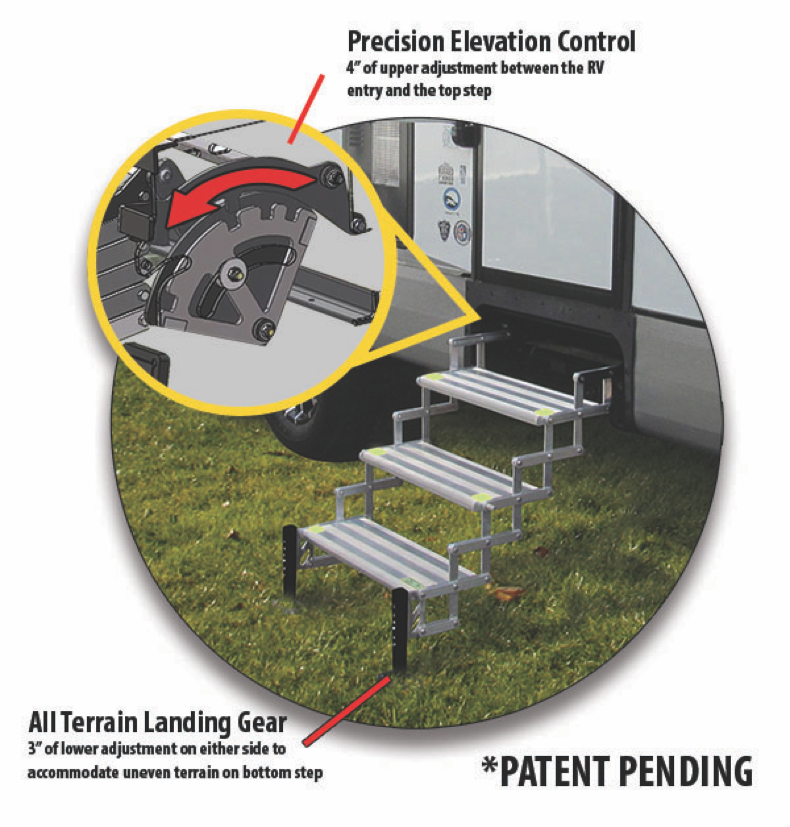 GlowStep Revolution in action
The Glowstep Revolution is proudly made in the USA and is backed by Torklift International's legendary lifetime warranty. It's made from durable, lightweight aircraft grade aluminum that stays corrosion free. Unique bushing bearings are used on each hinge-point to provide additional stability and longevity, plus there's a locking mechanism that secures the RV steps into place.
The GlowStep Revolution RV step features GlowStep technology—self-illuminating strips adhered to each step that glow-in-the-dark for up to 10 hours after only five minutes of light exposure. It pairs perfectly with our other step system accessories, such as the GlowGuide Handrail, the DirtDestroyer shoe cleaning attachment and the SafeStep pet safety barrier.
The Leading Lady of Leveling Steps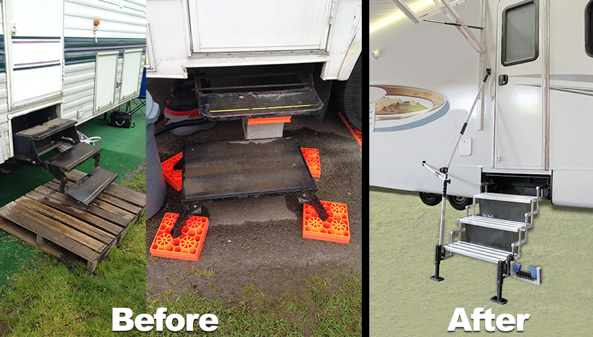 Factory trailer steps compared to the GlowStep RevolutionFactory RV steps just can't compare with the GlowStep Revolution. Often, depending on how uneven the ground is where the RV is parked, factory trailer steps are to low to the ground to even deploy or are so high off of the ground that they require an unsafe booster step—a safety hazard, especially if you are entering or exiting your trailer at night. Not only does the GlowStep Revolution illuminate your path, it completely eliminates the ground-to-step gap by connecting your RV steps directly to the earth. You'll never have to use or lug around an unsafe booster step again. The patent pending design also dramatically increases the longevity of your step system because the ground now supports the steps.
Instead of fixing RV steps, replacing recalled steps or repairing broken RV steps, why not take Eric's advice and invest in the ultimate set of leveling RV steps: the GlowStep Revolution.
Costars of Additional Security
Not only will RVIA's commercial feature the GlowStep Revolution, but it will also highlight the PowerArmor Solar and the Fortress GasLock—two additional Torklift International products that Eric has also installed on his trailer.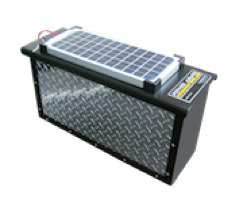 PowerArmor SolarThe PowerArmor Solar is a durable locking battery box that provides extra storage when not used for batteries. Its unique solar panel maintains battery charge thereby increasing the longevity of batteries by up to 400%. It's a great way to ensure that your batteries stay safe while also maintaining their charge.
The Fortress GasLock is a locking mechanism for mounted propane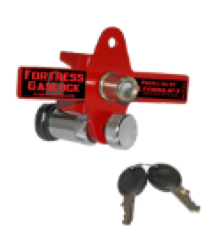 Fortress GasLocktanks. Propane tank theft is a growing concern, but there's no need to worry with the addition of the Fortress GasLock. It's a simple accessory that can save you hundreds in damages related to LP tank theft.
Both the PowerArmor Solar and the Fortress GasLock will be featured alongside the GlowStep Revolution in RVIA's upcoming commercial.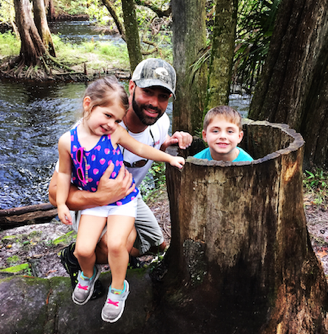 Eric Martinez with his kids
Share Your Story With Us
Here at Torklift, we are passionate about our products because we're passionate about RVing. We llove the freedom and flexibility of a life on the go. Our goal in developing the GlowStep Revolution RV steps for towables, as with all of our products, is to ensure consumer safety while enhancing their RV experience.
If you're an avid RVer with a story to share, we would love to hear from you. Share your triumphs and trials with us on social media using the hashtag #GoRV.
Stay Tuned for More Information
You won't want to miss our big debut—RVIA's national television commercial featuring Torklift International's GlowStep Revolution will be airing in 2016. In the meantime, we wouldn't want you to miss out on your own GlowStep Revolution complete with All Terrain Landing Gear.
To get the GlowStep Revolution on your RV, visit the Where To Buy section on our website, or find more details about the RV step here.
---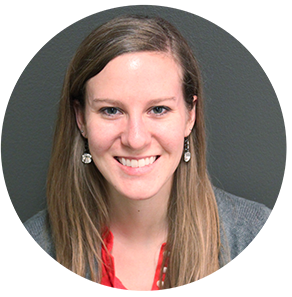 Written by Jenica Donahue:
Jenica holds a B.F.A. in Creative Writing from the University of North Carolina Wilmington. She is a freelance writer interested in blogging, copy writing and editing. She enjoys exploring new places and hiking in the Pacific Northwest.
Related Posts
Comments
No comments made yet. Be the first to submit a comment