Blog
Over 40 Years of Innovation, Quality, Safety
It's time for a Revolution: Mystery Product Revealed!
Introducing the GlowStep Revolution.
Watch now: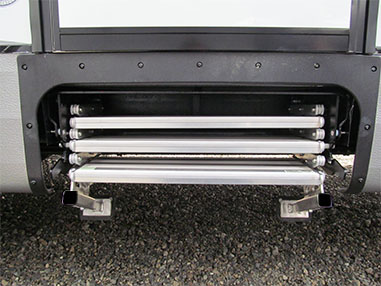 GlowStep Revolution
stores in placeTo complete the Torklift International GlowStep Series, we're proud to announce the newest innovation from our talented engineers, the GlowStep Revolution. In an effort to revolutionize RV step assemblies, the GlowStep Revolution is the first and only step system designed to be versatile and flexible to adapt to any type of terrain.
Designed for towables and fifth wheels, the GlowStep Revolution fits into the factory step compartment and features a quick release lever. In most cases it provides significant improvement in ground clearance.
Earth-to-RV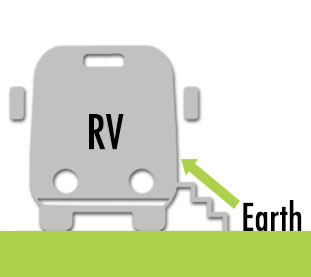 Many factory steps on towables simply swing out and float above ground. This step assembly feels unstable and shaky, sending you into a diving board motion. When someone enters or exits the trailer, the entire RV wobbles due to lack of stability. This style of step assembly often requires an additional booster step for the bottom, as the clearance from the first step to the ground is a doozy.
The GlowStep Revolution connects the ground to the RV creating perfect stabilization of both steps and RV. No more diving board motion and wobbling of the trailer. Available in ranges from two to six steps, the GlowStep Revolution provides a safe path all the way to the ground without any large gaps.
FLEX-ability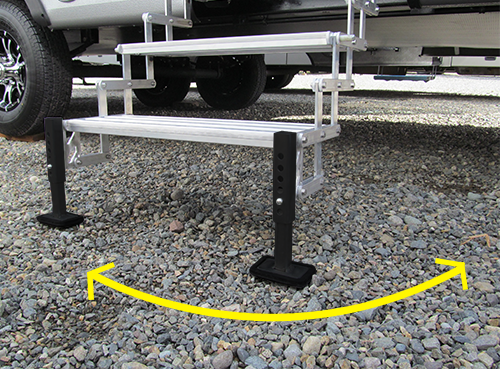 GlowStep Revolution adjusts horizontallySometimes uneven terrain makes leveling your step system a challenge. The nature of the scissor step design not only allows for easy maneuvering vertically, but also for slight adjustment horizontally or side-to-side, much like an accordion. With the GlowStep Revolution, angle the steps appropriately to accommodate any type of terrain. Simply compress one side and extend the other to curve your step assembly the way you want.
With GlowSteps, bushing bearings are used at each hinge point for smooth action while still providing sufficient level of rigidity and strength for the steps.
Step Features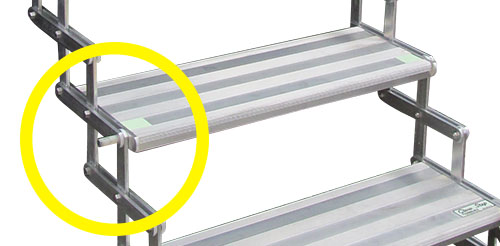 GlowSteps are double hinged
for added strengthThe GlowStep Revolution step system uses the proven design of the original Torklift International GlowSteps. Unlike most camper scissor steps, Torklift International GlowSteps are double-hinged making them the strongest RV step available.
With the self-illuminating feature, the GlowSteps need just five minutes of sunlight exposure to deliver a lasting glow up to ten hours. Each step is manufactured with anti-slip SureGripTM step tread allowing more control when using the steps. These features create the safest entry/exit path to your RV.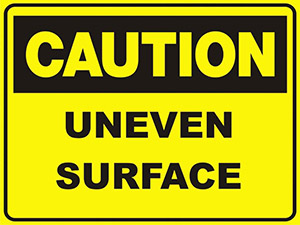 All Terrain Landing Gear
This feature is a game changer. All Terrain Landing Gear are the adjustable feet that make accommodating difficult terrain extremely easy. If the ground happens to be uneven, simply push a button to adjust in seconds and achieve a level and stable step system.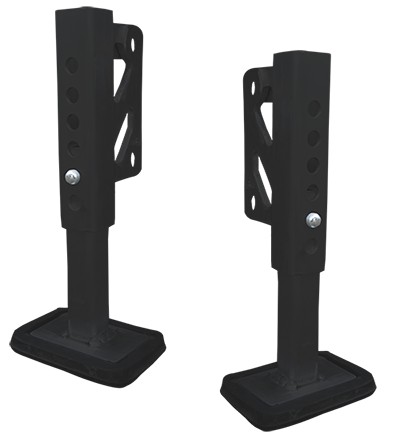 All Terrain Landing Gear
The All Terrain Landing Gear comes with the GlowStep Revolution system, however it's available to purchase separately and installs on any GlowStep scissor step application.
The Revolution
The advantage of the GlowStep Revolution scissor step system is its ability to be modified based on your personal preference. It's compatible with the entire GlowStep Series so you can select and build your own step assembly. Outfit your GlowStep Revolution with the following accessories:
GlowGuide Handrail: Lightweight camper step handrail that glows in the dark for increased stability. Made from aircraft grade aluminum and when paired with GlowSteps, increases step capacities by 25 pounds. The GlowGuide Handrail also converts into a wash brush RV cleaning accessory.
DirtDestroyer: Keep your RV clean with a bristle brush shoe cleaning attachment.
SafeStep: Panels that create a vertical barrier between steps, closing the gaps and providing safe entry for pets and small children.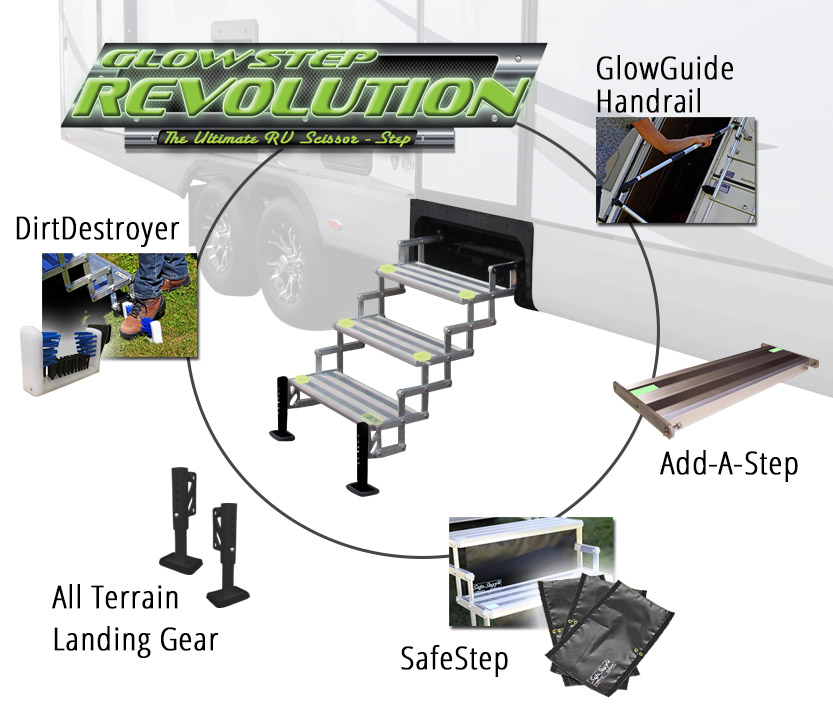 GlowStep Revolution:
- Made from 100 percent stainless steel and aircraft grade aluminum
- Universal RV factory step replacement: GlowStep Revolution fits most towable
and fifth wheel step assemblies
- Ability to add and remove steps with Add-A-Step (2-6 steps)
- Up to 375 pounds weight capacity (when used with GlowGuide Handrail)
- Up to 50 percent lighter than factory steps
- All Terrain Landing Gear included
Click here to learn more about the GlowStep Revolution. Now available for pre-sale!
Related Posts
Comments
No comments made yet. Be the first to submit a comment