Blog
Over 40 Years of Innovation, Quality, Safety
How to set up a truck camper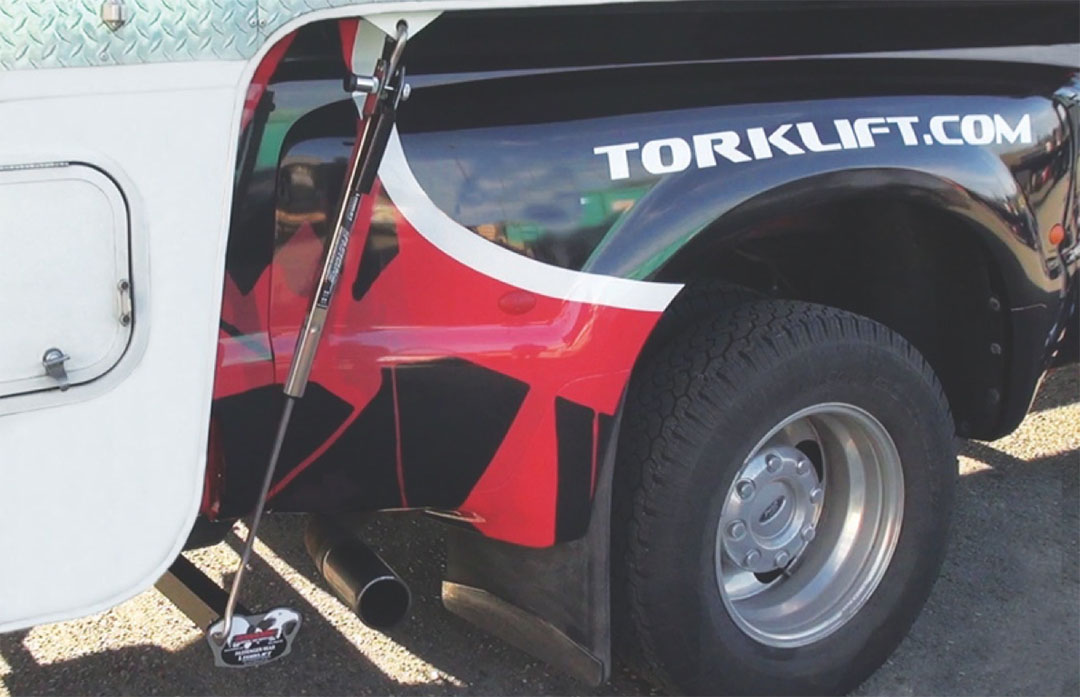 Are you looking for a new camping adventure? Truck camping is the perfect way to get off the grid and get to places you'd never be able to make it to in a travel trailer. As a new truck camper, you may be wondering where to start. First thing is first, you will need to know how to set up a truck camper.
Make sure you have the right equipment
The most important thing to think about when tying down your camper trailer is the equipment you will need. The essentials that you will need are camper tie downs and spring-loaded turnbuckles.
Truck Camper Tie Downs
Your camper tie down is going to be the anchor for your turnbuckles to attach to and secure your truck camper. The Torklift TRUE frame-mounted™ camper tie down system bolts directly to the strongest point of your truck: the frame. Frame-mounted tie downs dramatically improve vehicle stability and are the safest way to haul a truck camper due to the reduction in sway and excess camper movement. Plus, the Torklift camper tie downs are specific to the year, make, and model of the truck – ensuring for customized fit. To find your personalized truck camper tie down fitment, visit our Find Your Fit page.
FastGun Truck Camper Turnbuckles
Your other essential piece of equipment to ensure the safe hauling of your truck camper is your spring-loaded turnbuckle. Turnbuckles serve as the bridge between your truck camper tie down and your camper anchor point. Why does spring-loaded matter? Being set up with spring-loaded turnbuckles ensures the safety of your passengers as well as the integrity of your truck and camper. The internal spring mechanism of the turnbuckle acts as a shock absorber and protects your truck camper anchor points. Each style of Torklift turnbuckles is equipped with this spring-loaded mechanism to provide you with maximum security while hauling your truck camper.
Camper Anchor Repair and Relocation Kit
Okay so you didn't take our advice on getting springloaded turnbuckles the first time you tried truck camper turnbuckles – if that was you, read on. This kit is designed for folks who accidentally ripped out their camper anchor point by not using a spring-loaded truck camper turnbuckle. This kit allows you to repair the anchor point (which is required for holding down your truck camper). It can also be used to re-locate a truck camper anchor point in case it is in the wrong spot. How could a truck camper anchor point be in the wrong spot? Here is an example – you bought a dually truck and the fenders stick out which lead to your fender coming into contact with your turnbuckle. Moving the anchor point allows you to situate the camper anchor point in an area to avoid that interference.
Put together your products
Once you have established the proper camper tie down fitment for your vehicle, all you have to do is install! The good news about the Torklift TRUE frame-mounted™ camper tie downs is they are 100% no-drill designs for all trucks after 2001, making them as DIY friendly as possible. Got a truck older than 2001? No problem, we've got an application for that but some modification could be needed. Every part number comes with detailed instructions to assist you every step of the way through install. If you need additional assistance on how to install truck camper tie downs, our tech support team is available Monday – Friday, 8:30 am – 5 pm PST by phone, email, or Facetime.
Depending on which Torklift turnbuckle kit you choose to go with, assembly may vary. Not to worry, each turnbuckle kit also comes with detailed instructions and we have Youtube videos for reference available for each kit! (see below)
Once you have your truck camper tie downs installed and your spring-loaded turnbuckles assembled and tensioned to 300 ft/lbs, you are ready to get your truck camper on the road!
Aftercare
Getting your Torklift camper tie downs and spring-loaded turnbuckles assembled and installed is the majority of the work. You are going to want to invest some time into the maintenance of your products to be sure they last as long as possible. Here are 3 tips to maintaining your camper tie downs:
Clean them regularly. To avoid any excess debris or surface rust, we recommend cleaning up your truck camper tie downs and turnbuckles any time you'd wash your vehicle.
Use a rust inhibitor. To further combat surface rust, use a rust inhibitor after washing. A commonly used one is Rust-O-Leum.
Use the Tie Down Finishing Kit. When tie downs are not in use, remove inserts and use our capping kit to protect tie downs from additional environmental damage.
If you have any further questions about how to tie down your truck camper, please give our customer service team a phone call at 800-246-8132 or by emailing us at support@torklift.com. If you would like to locate a dealer in your area, please visit our dealer portal.
Stay Informed
When you subscribe to the blog, we will send you an e-mail when there are new updates on the site so you wouldn't miss them.