Blog
Over 40 Years of Innovation, Quality, Safety
Your RV step too high off the ground? Eliminate the need for a booster step
It is often that steps on towables from the factory have a swing or fold out design that hovers over the ground. When you step down from the unit onto the steps, the steps feel flimsy, furthermore you feel them shake and shimmy. That same little dance motion ripples throughout the entire trailer. This earthquake movement serves as a warning sign that someone is entering or exiting the camper. Silver lining perhaps? For most, not likely.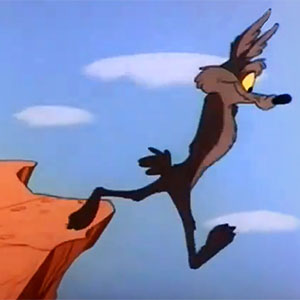 Don't fall from the bottom trailer step
Not only does the hovering design cause extra and unnecessary movement, the bottom step is often a doozy. The gap from the last step to the ground is commonly much larger than the typical rise in RV steps. For those that have difficulty with mobility, the step configuration becomes a significant challenge.
To fix this issue, some folks take matters into their own hands. Often people purchase collapsing stool steps or improvise with a jury-rigged platform to put underneath to shorten the gap in step rise. Unfortunately, a configuration like this requires storing the extra pieces somewhere. When extra weight is a concern and storage is a rare commodity, this approach quickly becomes inconvenient.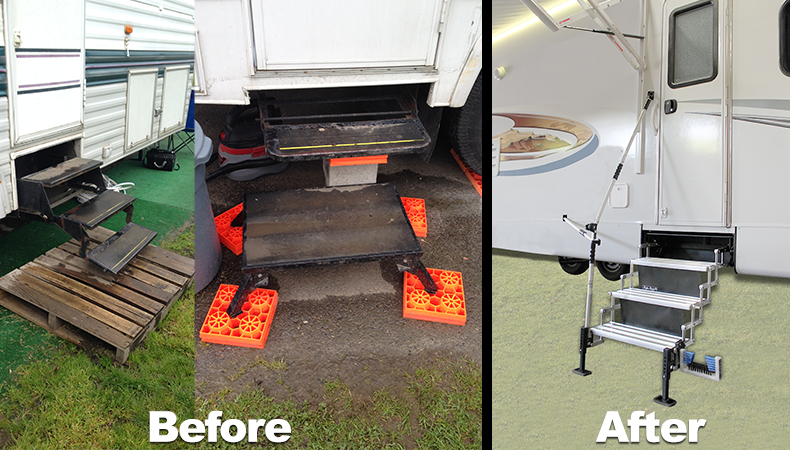 (Left) Trailers using alternative methods for steps (Right) GlowStep Revolution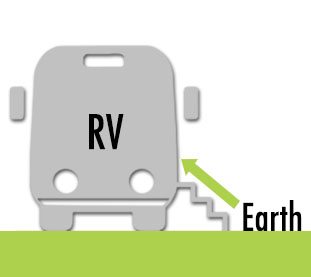 We wanted to address the issues with hovering steps by using the concept of Earth-to-RV. This is only one of the many benefits of the Torklift International GlowStep Revolution RV step system. Click here to learn about each useful feature of Torklift's new leveling RV step.
By connecting the trailer all the way to the ground, the step has a tremendous increase in support and provides an easy entry and exit for anyone. It provides an equal rise between steps so you don't have to struggle trying to pull yourself up from the ground.
Mary Ellen Chambers compared the factory step of a travel trailer to the GlowStep Revolution. Take a look at what she had to say:
When Chambers tested the OEM factory trailer step, she disliked the amount of movement when going up and down the steps.
"This first step is too high for me," said Chambers. "I need a booster step."
She also mentioned that the jiggling motion of the step and RV were uncomfortable.
When Chambers tried the GlowStep Revolution, she couldn't believe how much sturdier and stable the steps were in comparison to the factory step. As someone with mobility challenges, she preferred to use the GlowStep Revolution.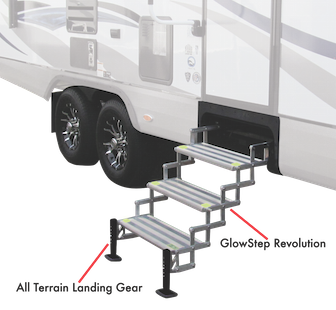 GlowStep Revolution features All Terrain Landing Gear
(also available to purchase separately)
Torklift International 
GlowStep Revolution:
Unparalleled stability eliminating the unsafe diving board effect
Earth to RV: Brings step to ground level (No more unsafe booster step)
All Terrain Landing Gear levels on uneven terrain
Step system accessories: Handrail, pet safety barriers and shoe cleaning attachment
Made from lightweight aircraft grade aluminum (rust free)
Works on side entry truck campers and towables
Bushing bearing bolted for maximum stability and longevity
Glows in the dark for up to ten hours with only five minutes of light exposure
Legendary Lifetime Warranty
Proudly made in the USA

Through August 15th, 2015, purchase the GlowStep Revolution or original GlowStep and receive $20 off the GlowGuide Handrail and your choice of a free SafeStep or DirtDestroyer while supplies last!
Click here for offer details.
The GlowStep Revolution is now available for pre-order. For additional questions, reach us at 800-246-8132 or send an email to support@torklift.com.
Click here to learn more about the GlowStep Revolution RV step system.
---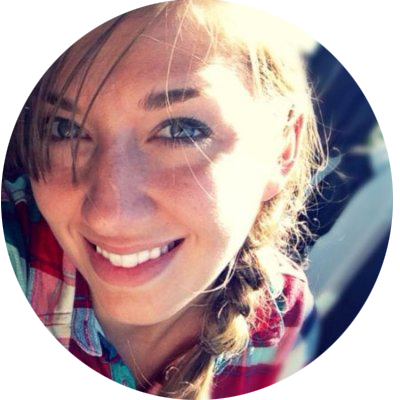 Written by Sheryl Bushaw:
As a graduate from Arizona State University with a B.A. in Journalism and emphasis in Public Relations, Sheryl is a passionate writing professional with focus in areas of copy writing, social media and creative design. She is a travel enthusiast and explorer-extraordinaire with a zest for life.
Related Posts
Comments
No comments made yet. Be the first to submit a comment