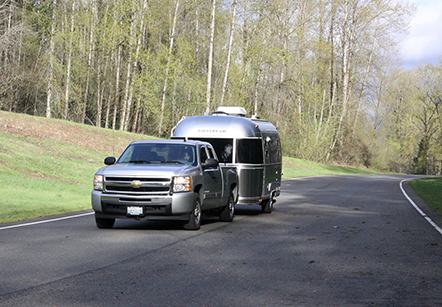 Safe trailer towingHeading out on the road this travel season with your boat trailer, fifth wheel, travel trailer or horse trailer? Once you've hooked up the trailer to your tow vehicle, there are certain things you should look for to ensure a safe towing experience.
Before you go find your adventure, ask yourself the following questions: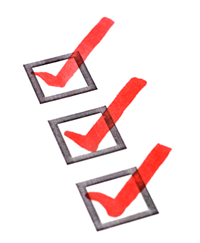 - Am I towing within my vehicles tow ratings?
- Is my trailer weight within my hitch ratings?
- Do I have proper tongue weight?
- Do I need a weight distribution system?
- Are my trailer lights working properly?
- Is there rear end sag on my vehicle?
This simplified list only features a few crucial items you should consider. For more information on how to safely tow a trailer, take a look at our article where we debunk the top 7 towing myths.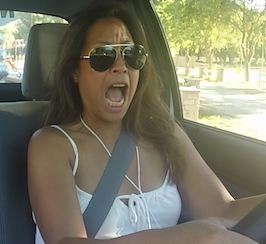 StableLoad Challenge test-driver Daphne Risso experiences poor handling from heavy payloadIf your truck or vehicle is showing signs of rear sag, the vehicle's ability to handle safely is severely compromised. Rear end sag (where the nose of the vehicle tilts upward and the rear is pressed downward) is an indication that heavy payload is lacking the support it needs. This causes unresponsive steering, increased stopping distance, increased tire wear and a laundry list of other issues that are unsafe and damaging to the vehicle.
To avoid this poor handling nightmare, install the StableLoad suspension stabilizer. The StableLoads help your vehicle's factory suspension to support heavy payload like a trailer or truck camper.
StableLoads are applicable with both towing and hauling on several vehicle applications like trucks, vans, SUVs and light commercial vehicles. As long as the vehicle comes equipped with factory overload leaf springs (which most are), the StableLoads work their magic once installed.
What's this magic? We won't keep it a secret. The lower StableLoad application attaches to the overload leaf springs just below the leaf spring pack.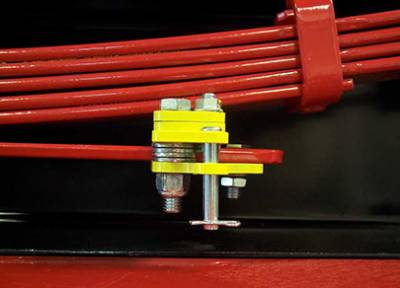 StableLoad suspension stabilizer turned on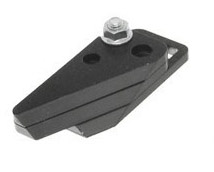 Precision-crafted wedges
By using specially designed wedges that take up the space between the overload leaf spring and the leaf spring pack, the vehicle now uses the strength and support that the factory overload leaf springs were built to provide.
When turned on, the benefits of the StableLoad suspension stabilizer include a leveled vehicle and significant reduction in poor handling characteristics like side-to-side sway, body roll, bounce and porpoising. Some people mention it's difficult to distinguish when the trailer is hooked up because the StableLoads provide such a smooth ride.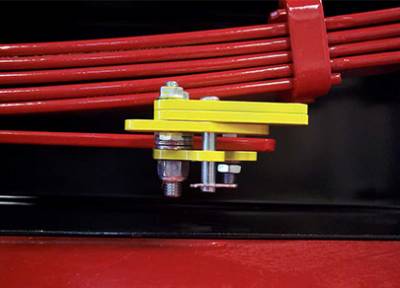 StableLoad Suspension Stabilizer
turned to the off positionA special feature of the StableLoads is the ability to switch them on and off. Since they engage and disengage with the simple twist of a 3/8-inch ratchet, your vehicle won't lose its smooth factory ride when you aren't towing.
The problem with other aftermarket suspension products is the inability for adjustment leaving you stuck with stiffened suspension when you don't need it.
Since most people have vehicles for multiple uses, the adjustable feature of the StableLoads provides outstanding level of convenience and allows you to enjoy optimal ride quality in any circumstance.
To gain real-world feedback on the StableLoad suspension stabilizer, we gave rally-goers who tow trailers or haul campers the opportunity to drive a Ford F150 truck with the suspension upgrade turned both on and off. With a 2,800-pound payload in the bed of each identical Ford F-150 truck, the StableLoad Challenge kicked off one incredible experiment.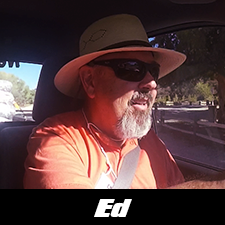 Those who took the StableLoad Challenge were in disbelief at the effectiveness of the StableLoads. We posed one question to test-driver Ed Shaw once he completed the StableLoad Challenge with the StableLoads suspension stabilizer turned on.
Torklift:
Do you feel the difference?
Ed Shaw:
"Oh yea, a lot! This drives very smooth now. Very impressive."
To see how the StableLoads made a huge impression on other rally-goers, watch this video:
With a lifetime warranty, most StableLoad applications are no-drill and involve a simple, DIY installation. For few applications that may require drilling, Torklift recently unveiled the StableLoad Drill Tool that allows you to drill through a leaf spring in an impressive 37 seconds. See how it works here.
Click here to find your application and learn more about the StableLoad suspension Stabilizer.