Blog
Over 40 Years of Innovation, Quality, Safety
Three Ways Torklift StableLoads Give you a Safer Ride
Your safety is key when it comes to the design of Torklift products. We aim to get you from point A to point B as safely and securely as possible, all while allowing you to bring along a toy hauler, boat trailer or truck camper. So, with safety as an important piece in our mission, what makes the Torklift StableLoad Suspension Stabilizer so much safer than airbag suspension or factory suspension?
A newcomer in the towing and hauling game may have never experienced sway, sag or cornering could think it wouldn't be a necessary addition to their hauler…
"Thanks Torklift for making this NEWBIE Truck camper a believer in Torklift products. I sure feel safer going down the road!"
– John
Any seasoned camping veteran will stress the importance and effectiveness of a StableLoad. This small yet prominent piece of equipment helps ensure the safety of the items being hauled or towed, and more importantly, the passengers in the vehicle.
If you're hauling a truck camper, dirt bikes or any significant heavy items in the truck bed, that extra weight can take a toll on your truck's suspension. Torklift developed the StableLoad as an answer to this problem. A one stop shop to fix your poor handling, side-to-side sway and rear end sag, the StableLoad is the ultimate suspension upgrade. Below are the three known problems with hauling heavy loads, and how the StableLoad can fix them.

1) Sway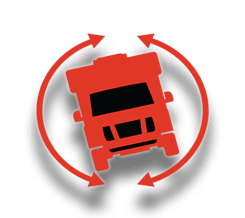 When it comes to hauling heavy items in the back of your vehicle, sway can be caused by a few different factors and leave the passengers and driver a little uneasy about continuing the trip. Large vehicles driving past you or large gusts of wind can send your truck rocking like a pendulum. Constant sway is hard on your truck and makes the ride uncomfortable and dangerous. So how does The Torklift StableLoad prevent this? The StableLoad pre-engages your suspension so that it is already activating the strength within the overload leaf springs. Al Maher states:
"After years of frustration with bad sway, I finally installed StableLoads. Problem instantly solved. Sway is gone. Truck is again a joy to drive... The StableLoads absolutely solved the problem."
- Al Maher

The StableLoad makes for a smoother and safer ride than alternative suspension products. It outperforms products that are specially designed to eliminate sway.
"The wife and I did a couple of weekend trips and were very disappointed in the sway we were getting especially on the city roads. This was after installing airbags so I did some research and found Torklift and thought I would give the StableLoads a shot. I have to tell you that the result was nothing short of (to me) astounding, the difference was night and day."
- John
The StableLoad proves itself repeatedly and leaves customers astounded and thrilled with the high quality of such an affordable product.

2) Sag
By pre-engaging the suspension with a StableLoad, the sag that would normally be caused with a heavy load in the back is gone. Poof! Sag can cause damage to your vehicle, especially when you drive over a speed bump or a pothole. On top of the damage potentially done to your vehicle, sag can make driving conditions unsafe. Sag can cause your steering alignment to be thrown off which will cause delayed responses in steering. This will make the vehicle unsafe and out of control. On top of that, the vehicle can lose braking ability in the front wheels which accounts for up to 70 percent of a vehicle's ability to brake. The StableLoad will make your truck feel like there is no sag at all.

"My truck now rides level and handles like the bed is empty. This is one of the most cost effective and efficient methods of shifting weight to the front axle and eliminating rear sag I have ever seen. Great Product[.]"
-Michael Davis
Along with the safety side of truck sag, it should also be noted that having sag in the back of your vehicle causes uneven wear and tear to your truck's tires. This can decrease your vehicle's fuel mileage and raise its carbon footprint. Keep safe when driving, "give yourself a brake" with the help of Torklift StableLoad.

3) Handling
The StableLoad will also alleviate your handling problems. If the heavy load on the back of your truck keeps your vehicle from handling the way that it should, then the StableLoad is going to make drastic differences. If the handling on your truck leaves you out of control, it makes it hazardous for not only you, but for other drivers and pedestrians around you. Going around tight corners with heavy loads has never been safer thanks to StableLoad.
"We've spent the last couple of days going in and out of Key West with narrow streets, heavy traffic and crowded with people and it really is surprising how well it handles in such tight quarters of that city."
- Ken Pastorious
StableLoads were designed to improve your overall towing or hauling experience. Not only do they improve your experience, but they also improve your safety on the road. Make sure you don't put yourself, the cargo, or others on the road in danger with delayed stopping, compromised handling, excessive sway or other problems that StableLoads can fix. Rather than spending thousands of dollars on a different solution to each problem, let the StableLoad handle this problem with one simple-to-install application.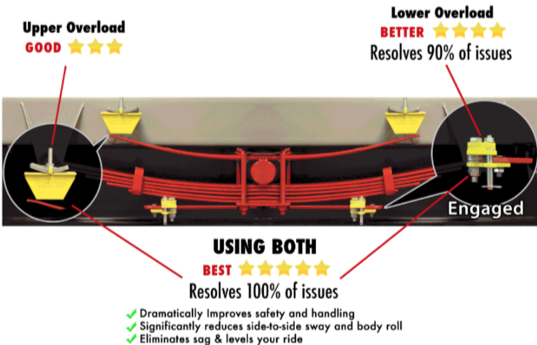 Upper and Lower Applications
The lower StableLoad also addresses these issues, but can turn on/off, returning your vehicle to smooth factory ride when not towing or hauling. With both upper and lower StableLoads combined it resolves all the issues that you would encounter when needing a suspension upgrade. The Torklift StableLoad comes in two application styles. The lower quick-disconnect StableLoad and the upper StableLoad. Alone, the upper overload does a good job fixing these issues.
Safety is a big part of the design that goes into each and every Torklift product. Avoid sway, sag and poor handling by installing Torklift StableLoads on your vehicle. Visit Torklift's where to buy page to find a local dealer near you. Not only will you be safer on the road, but you will feel safer.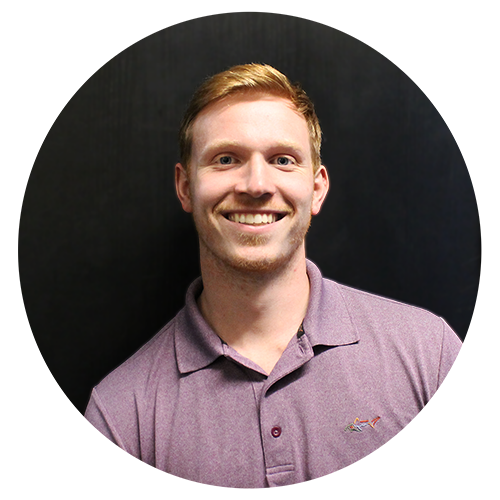 Written by Nathan Miller:
As a graduate from Eastern Washington University, Nathan received his degree in marketing. He enjoys people and partaking in anything outdoors. Nathan once had a staring contest with an owl and won. He is the most interesting writer in the Torklift Universe.
Related Posts
Comments
No comments made yet. Be the first to submit a comment