Blog
Over 40 Years of Innovation, Quality, Safety
Torklift Outlaw Series Debuts: Special offer on receiver hitches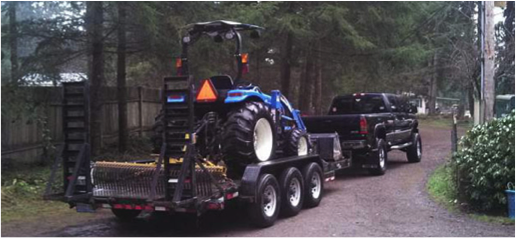 SuperHitch trailer hitch tows heavy capacitiesTorklift International is proud to manufacture the safest towing equipment that specializes in high capacities and durability. The engineering team at Torklift invests in rigorous testing and advanced technology to create professional grade towing equipment that you can trust.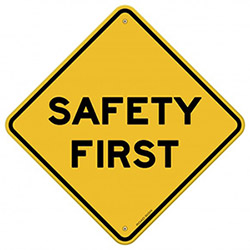 When it comes to towing a trailer safely, it's important to know towing basics. Click here to read about common towing myths. One of the most important aspects of towing safely is becoming familiar with weight capacities and limits of your vehicle, towing equipment and trailer.

Exceeding trailer tongue weight is dangerous

The number one cause of trailer hitch failure and roadside trailer accidents is overloaded tongue weight. This is the weight from the front of your trailer pushing down on your tow vehicle with cargo, axle, tanks and more.

Overloaded tongue weight or "vertical load" causes trailer hitches to break and also has severe negative effects on the truck's ability to steer and maneuver safely due to off-balance weight. Click here to learn about the importance of tongue weight and weight distribution.
To address weight concerns Torklift International has taken the lead in the towing industry with the SuperHitch Outlaw Series. The Outlaw Series features the highest rated receiver hitches and towing accessories available.

SuperHitch Outlaw Series includes:
- Receiver hitches
- Receiver hitch extensions
- Weight distribution system
- Wiring harnesses for towing
- Pintle hook and ballmount adapters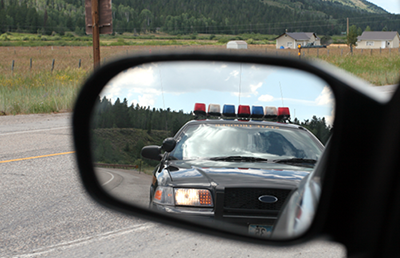 No need to worry with the
SuperHitch Outlaw SeriesIn most states it's against the law to exceed maximum tow weight rating of your vehicle. There is no question about elevated safety hazards and it also makes you liable in the unfortunate event of an accident. It is also likely to void any warranty or insurance coverage. We strongly suggest staying within the maximum weight capacities set by your vehicles' manufacturer.
When used with weight distribution, we offer receiver hitches that handle an incredible 3,000 pounds tongue weight capacity and 30,000 pounds towing capacity. It's best to have the SuperHitch Outlaw Series on your side.
There are a few reasons that set SuperHitch receiver hitches apart from other towing hitches.
#1) High capacity towing
When used with a weight distribution system, the SuperHitch exceeds high capacity towing needs with unique patented designs for half-ton through 1.5-ton trucks.
Designed for half-ton trucks including Ford, Dodge RAM, Chevrolet, Nissan and Toyota
Rated at 15,000 pounds towing capacity*
Rated at 1,500 pounds tongue weight*
Find applications here
Rated at 20,000 pounds towing capacity*
Rated at 2,000 pounds tongue weight*
Find applications here
Rated at 30,000 pounds towing capacity*
Rated at 3,000 pounds tongue weight*
Find applications here
*When used with weight distribution system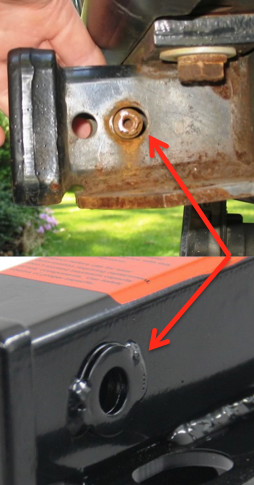 #2) Reinforced hitch pin locations
The hitch pin location is where a ballmount adapter would be attached and secured with a pin. From there, the trailer tongue is connected. It's common to experience wear and elongation known as 'egging' at the hitch pin location from excessive towing. The elongation causes jerking which leads to increased distortion and damage.
You won't find the effects of elongation on a SuperHitch. Every SuperHitch has reinforced hitch pin locations to prevent this from occurring.
(Left Image) Top: Evidence of elongation or egging on hitch pin location, Bottom: Reinforced hitch pin locations on SuperHitch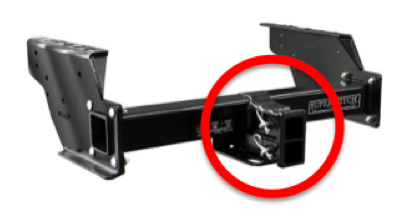 Dual 2-inch receiver hitch design#3) Dual Stacked Receiver
Not only does the dual stacked hitch receiver design allow for outstanding strength, but it also gives you the freedom to tow accessories in the upper receiver. This includes cargo trays, bike racks, or carriers for generators, motorbikes, kayaks, etc.

Towing a boat with
truck camper overhangIf you plan to tow while hauling with an overhang from a truck camper, the dual receiver fits perfectly with the dual-channeled SuperTruss towing extension. With models that reach from 21 to 60 inches, check towing extension capacities here.

The Torklift Advantage
Built in the Unites States, all receiver hitches featured in the SuperHitch Outlaw Series are covered with a lifetime warranty. Most applications do not require drilling and bolt directly to the truck frame. Compatibility is simple with industry standard 2-inch by 2-inch receivers on both top and bottom.
Torklift customer Jim Weber uses the SuperHitch and SuperTruss for towing a trailer while his truck camper is loaded on his truck.
He shares his experience here: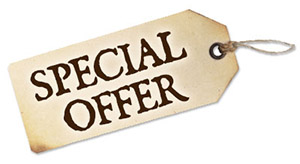 Deal on Torklift SuperHitch
To kick off a special offer this summer, buy a SuperHitch and get a $20 factory mail-in rebate on either a HiddenPower under vehicle battery mount or ExtendedPower mountable battery tray. Click here for details.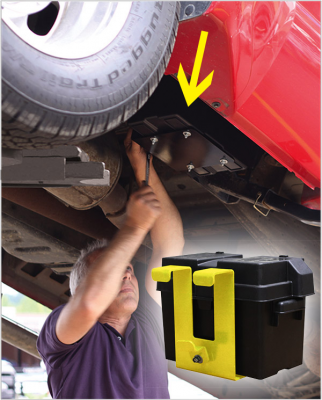 Under vehicle battery mount
(shown in yellow for contrast)HiddenPower
The under vehicle battery mount is a great source of extra battery power when you need it the most. The battery maintains full charge from your truck's charging system. Snug to the truck frame; configure wiring to feed power directly from your extra battery. With quick-disconnect feature, it takes seconds to simply drop out the battery for service or inspection. With versatile applications in camping, construction and hunting, batteries stay hidden from view preventing any possibility of theft.
Add additional batteries under the truck bed that are always charged up
No-drill frame mounted with quick-disconnect
Hidden when in use
No loss of ground clearance
Works with group 24 to 31 batteries
Click here to learn about the HiddenPower under vehicle battery mount.
ExtendedPower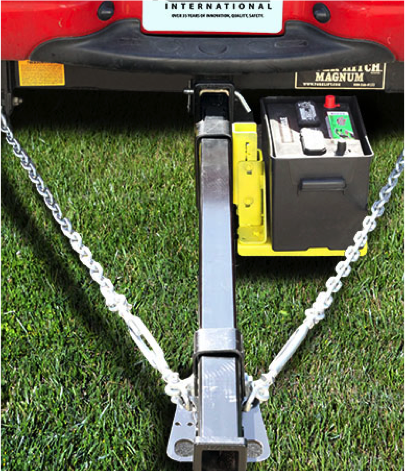 Mount for extra RV batteries
(shown in yellow for contrast)Designed to attach to your receiver extension, the ExtendedPower battery tray is a universal mount for extra batteries.
Height adjustable
Universal applications for all receiver extensions
Lockable
Works with group 24 batteries
Designed for all types of batteries: lead acid, AGM, sealed, gel cell, etc.
Click here to learn about the ExtendedPower battery tray.
Take advantage fast! The SuperHitch deal is available from June 16 - August 16, 2015. Intended for retail consumers only, proof of purchase must be provided to redeem the mail-in rebate through Torklift International.
For questions on this offer, call 800-246-8132 or click here to learn more about the SuperHitch Outlaw Series.
Comments
No comments made yet. Be the first to submit a comment