Blog
Over 40 Years of Innovation, Quality, Safety
Don't miss this deal! Now's the time to upgrade your rig
Attention truck camping enthusiasts! Looking to upgrade your rig? With a special offer to kick off camping season, now is a perfect time to invest in truck camping gear that will last a lifetime.
With this offer, outfit your truck with Talon Tie Downs and FastGun turnbuckles and you'll receive $15 off StableLoads and free FastGun Locks upon warranty registration.
Here's how to gear up for camping season: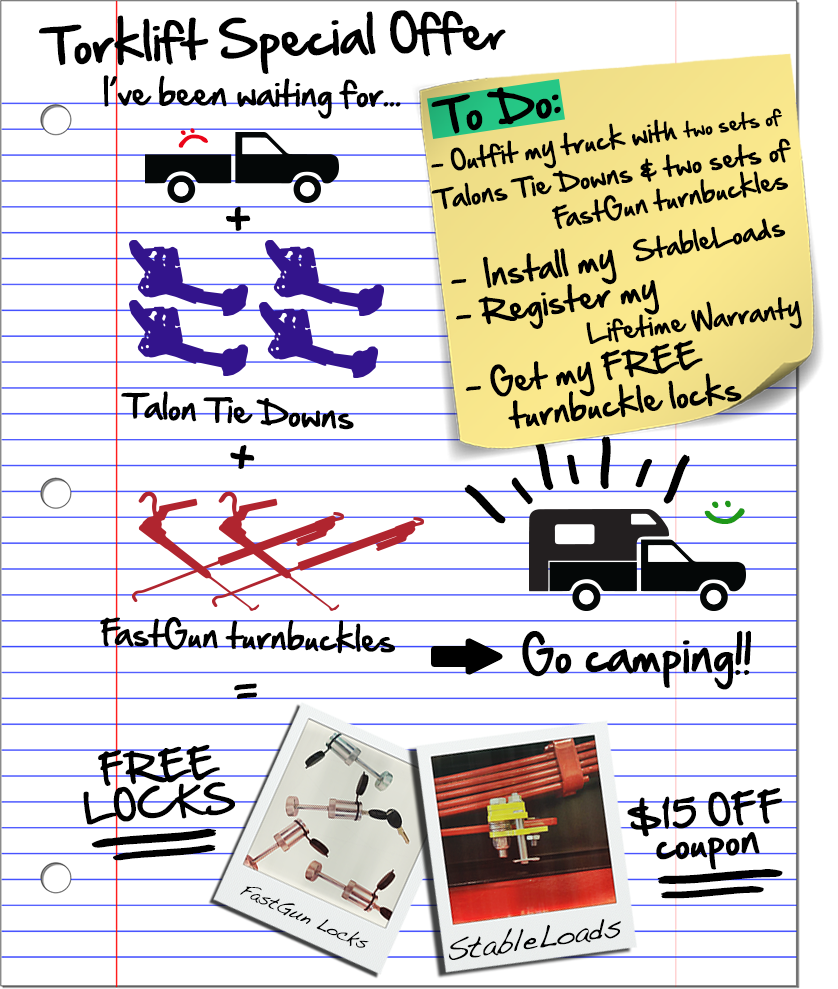 Frame-Mounted Talon Tie Downs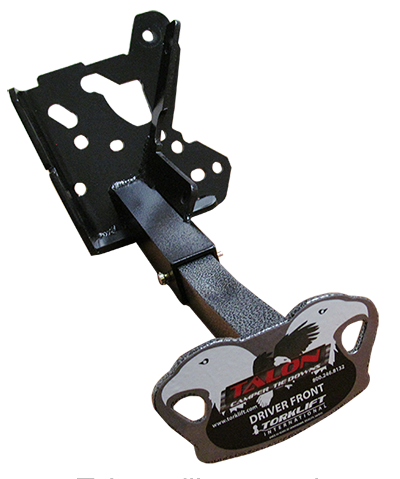 Talon military grade aluminum Tie Down
(actual design varies by application)
Engineered with precision and built to withstand even the toughest conditions, the Talons are 100 percent military grade aluminum alloy. Talon truck camper tie downs are up to 50 percent lighter than steel tie downs, are anti-corrosive and rust resistant. Stronger than steel, the Talons are backed by a lifetime warranty that covers rust-free, corrosion protection on its finish.
With the Talon's ultra lightweight military grade aluminum composition, weight is no longer a sensitive factor when it comes to truck camping. A Tie Down Finishing Kit is included with each set of tie downs to protect from debris when the tie downs are not in use.
FastGun Turnbuckles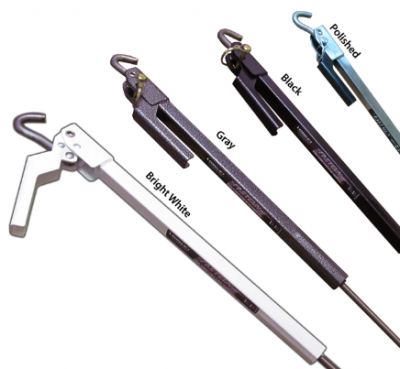 Torklift FastGun turnbuckles come in four finishes
Equipped with a set of front and rear Talon Tie Downs, the next step is upgrading your camper turnbuckles to the number one selling fastest and most convenient turnbuckle application available. The FastGun turnbuckles have a quick-disconnect lever action handle, are 100 percent tool free, 100 percent stainless steel and aluminum, spring-loaded with tension indicators and installs in less than 4 minutes.
With a frame-mounted tie down system, you need two sets of Long Range FastGun turnbuckles. The Long Range style reaches from 25 to 43 inches. To adjust the length, simply twist.
Choose from stainless steel polished or for less finish maintenance choose stainless steel high impact powder coated bright white, gray or black for your desired application. Click here to learn more about the FastGun turnbuckle.
Get free FastGun Locks to secure your new truck camper turnbuckles by registering your legendary lifetime warranty for all of your new truck camping gear.
Truck suspension for campers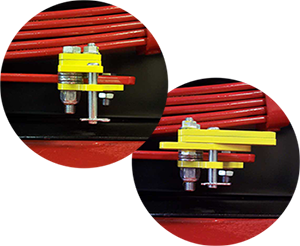 StableLoads engaged and disengaged
With Talons Tie Downs and FastGuns turnbuckles, your truck and camper are the pinnacle of strength and stability. With an outfitted vehicle, upgrade the truck suspension to improve handling when your camper is loaded.
Lower StableLoads are adjustable and can be quickly turned off and on by a simple engage/disengage. Your vehicle's smooth factory ride is not affected when your camper isn't loaded and the StableLoads are switched off. Activate the StableLoads before you load the camper and don't worry about white knuckle driving during your road trip.
Register your legendary lifetime warranty here and enjoy the benefits of this limited time offer. Remember when you use the FastGun turnbuckles with Torklift frame-mounted tie downs the lifetime warranty extends to the truck frame and camper anchor points for the extent of its manufacturer warranty. For warranty details, give us a call at 800.246.8132.
Truck camping newbie? Be sure to read our article on six steps you shouldn't skip when prepping for a truck camper. To learn more about redeeming this truck camping deal, visit www.torklift.com/freelocks.
Related Posts
Comments
No comments made yet. Be the first to submit a comment