Blog
Over 40 Years of Innovation, Quality, Safety
Protect RV LP tanks with Fortress GasLock
Keep your valuables protected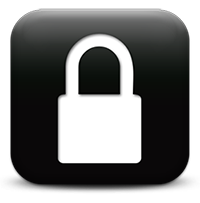 While traveling on vacation, we shouldn't have to worry about the security of our propane tanks. Propane tanks are an essential part of RVs; they heat our RVs, allow us to cook our food or keep food cool, and power many other amenities. To ensure that we are getting the most out of our road trip or camping getaway, we need to know that our propane tanks are secure and safe.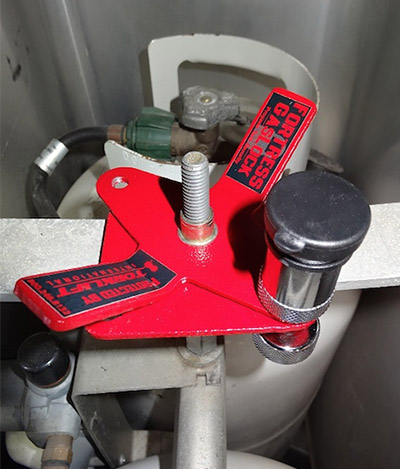 Forum user installed Fortress GasLock on Airstream trailer
Unfortunately, there are people out there who feel they can take what does not belong to them. When thieves steal or tamper with your propane, it not only costs money to replace the propane, they can also inflict damage to your equipment. It is both expensive and a hassle to repair any damages inflicted upon your tanks and trailer.
Put your mind at ease
Torklift International has the solution with the Fortress GasLock. This lock is a part of Torklift International's line of security products. It is constructed from military grade aluminum and is proudly made in the USA. This propane tank lock secures tanks when mounted to trailers, towables, and RVs. It is the only lock available for propane tanks in the industry and now works with all Airstream trailers. This product will allow you to enjoy your travels comfortably while assured of your propane tank's safety.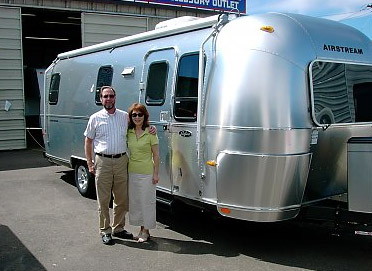 Forum user RobertSunRus uses the
LP tank lock to protect propane tanksOn popular Airstream forum AirForums.com, user 'RobertSunRus' installed the Fortress GasLock for Airstream on his travel trailer. Since the LP tanks and shiny tank container are very expensive to replace, the Fortress GasLock serves as an ideal theft deterrent.
"It's nice, well-made and looks good too," said user RobertSunRus.
Click here to learn more about his experience.
Not only is it effective, it's easy to install
For your convenience, Torklift International makes the installation of the Fortress GasLock quick and easy. The simple and effective design of the Fortress GasLock means that the install requires no tools or modifications to your tanks or trailers. The Fortress GasLock kit includes one GasLock assembly, one lock with two keys, and theft deterrent sticker.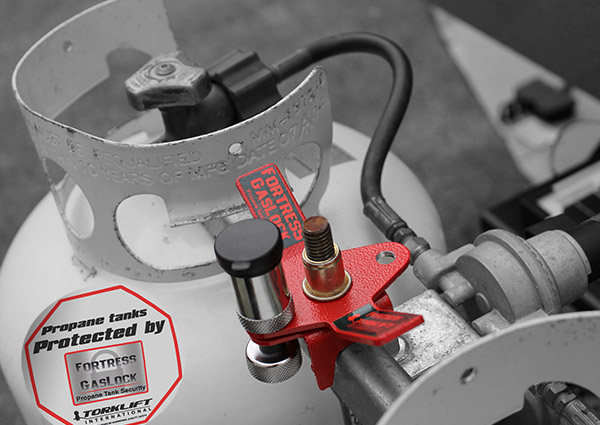 Fortress GasLock, LP tank lock
Fortress GasLock Features: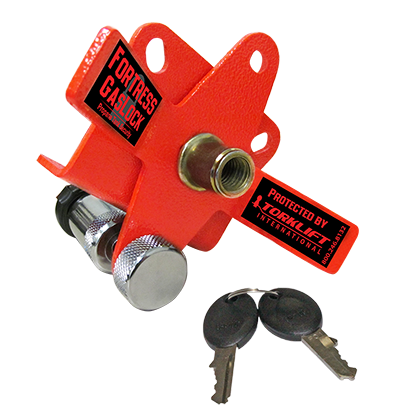 Lock for propane tanks
Allows tanks to be securely locked when mounted to trailers, towables and RVs
Only lock available for propane tanks in the industry
Now available for all Airstream trailers

No tools, no modifications, installs in seconds

Affordable investment
Fits 3/8" and 1/2" threaded rods
High impact military grade aluminum
Proudly made in the USA
To install simply follow these steps:
Remove handle from threaded rod between tanks

Place GasLock U-bracket over rod so tab with hole faces front of trailer

Install lock handle over threaded rod and tighten, then line up handle with locking hole in bracket

Insert pin lock through handle and U-bracket to secure
The Fortress GasLock is a great investment to make to prevent damage and expenses from theft and tampering. Satisfied customer Lauren Jensen says, "I feel a lot safer about my expensive camping equipment since using PowerArmor and Fortress GasLock. They give me peace of mind." Torklift International values its customers and has developed this line of security products all backed by our legendary lifetime warranty to help ensure the safety of your valued property.
Click here to learn more about the Fortress GasLock or browse other RV security products at www.torklift.com.
Written by Maddie Wood
Related Posts
Comments
No comments made yet. Be the first to submit a comment