Blog
Over 40 Years of Innovation, Quality, Safety
How do I prevent bed damage when hauling a truck camper?
One of the best aspects of truck camping is being able to camp and explore just about anywhere. To travel without limitations, prepare your truck and camper with the ability to safely maneuver a variety of elements. Tight turns, narrow roads and adverse weather conditions can become dangerous if your camper is not secured safely.

In order to achieve the safest set up and prevent camper movement, the truck and camper must become one unit. How can you attach the camper to your truck without causing any damage to the truck bed? Let's discover what options are currently available for securing truck campers.
While shopping for a tie down system, you'll find a few different methods of securing a camper to your vehicle. There are designs that attach to the truck bed or bumper, and there are Torklift Tie Downs that attach directly to the frame of the truck. Let's talk about the options.
1. Stake Pocket Tie Downs
Stake pocket camper mounts bolt in the truck bed stake pocket and use a wing-like plate that extends from the bed. This connects the turnbuckle to the camper eyebolts.

Stake Pocket Tie Down System
2. Bed-mounted Tie Downs
This style of bed-mounted tie downs advertised as "direct to frame" attaches by an anchor plate on the front side of the truck bed with rear anchors on the truck bumper. Although there are small metal parts with this type of tie down that come into contact with the trucks heavy-duty frame, the contact is incidental and lends negligible support as the primary strength. The support for this type of tie down is the truck bed and rear bumper and not the truck's frame.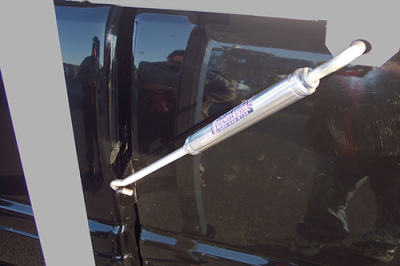 Bed-Mounted Tie Down
Negative side effects from bed-mounted designs are lack of support and potential for damage to your truck bed. Designs that attach to the truck bed may also require intentional drilling of the truck bed or bumper, causing permanent damage to your truck.
It is important to recognize that pickup trucks are now built from thinner metals and truck campers are increasing in size. A tie down system that attaches directly to the truck frame is now a necessity.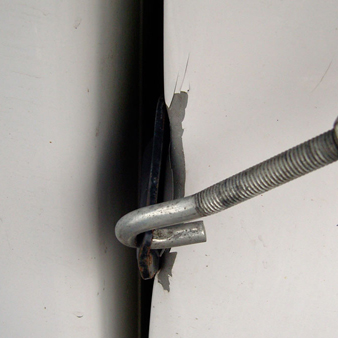 Truck bed damage from bed-mounted tie down system
Several years ago, nationally known RV enthusiast Brian Brawdy was sponsored by a company that recommended and installed these bed-mounted tie downs. Torklift International approached him to talk about our frame-mounted tie downs. Upon discussion we pointed out massive cracks that occurred underneath his truck bed on the bed frame, which was essentially causing the truck bed to come apart. Not only did we help repair thousands of dollars in damages to his truck, but also outfitted him with Torklift International products. Brian no longer has to worry about damage to his truck and has been satisfied with Torklift products ever since.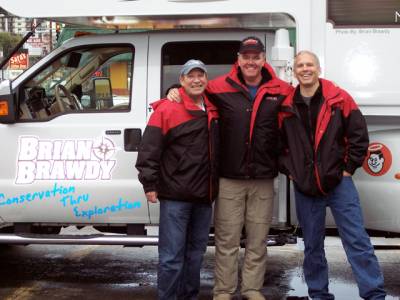 3. Frame-mounted Tie Downs
The safest and best way to secure your camper is with the Torklift International TRUE frame-mounted tie downs. The frame-mounted design fits to specific vehicle makes/models allowing strongest possible attachment to the trucks frame. The truck's heavy-duty frame acts like a foundation for a house providing all of the strength and stability for the entire truck. By using a tie down design that is 100% supported by the truck's frame it eliminates any chances of bed and bumper damage.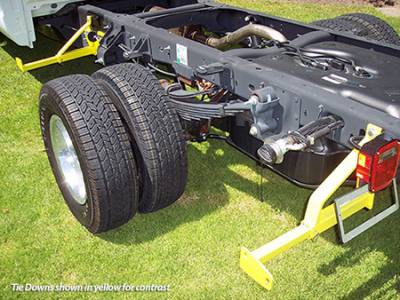 Torklift International's frame-mounted tie down system:
- Incorporates four independent tie down points for dramatically improved stability
- Bolts directly onto the truck frame (most applications don't require drilling)
- Provides zero loss of ground clearance
- Minimizes visibility of the system when the tie down inserts are removed
As an industry first, Torklift recently unveiled the precision crafted aluminum Talon Tie Downs. They are made from 100% lightweight military grade aluminum alloy making them up to 50% lighter than steel applications while designed to be stronger. The Talons come with rust free corrosion protection.
Torklift Tie Downs have a lifetime warranty. When Torklift Tie Downs are used with our spring-loaded turnbuckles, we extend the lifetime warranty to the truck frame and camper anchor points for the extent of its manufacturer's warranty. Call 800.246.8132 for warranty details.
Torklift International Tie Downs are the only tie downs that truly attach to the strongest part of your truck: the truck frame. All others are bed-mounted. There is no longer a need to sacrifice damaging your truck to enjoy a safe and worry-free vacation with your truck camper.
Stay Informed
When you subscribe to the blog, we will send you an e-mail when there are new updates on the site so you wouldn't miss them.