Blog
Over 40 Years of Innovation, Quality, Safety
Have an RV Step horror story? Win the GlowStep Revolution with #RVStepFail
There's a lot of creative people in the world and that leads to countless quick-fix solutions when problems are encountered. At its best, this inspires innovation and invention; at its worst, it leads to some pretty humorous attempts at problem-solving. As we ring in the New Year, we would love to celebrate both the innovation and the lack thereof. That's why we're introducing our RV Step Fail contest.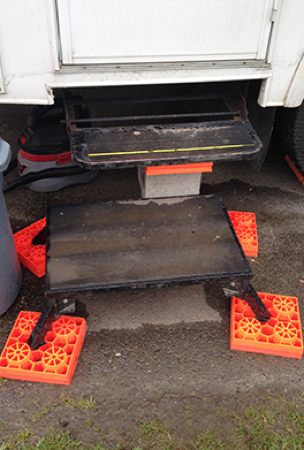 Failed RV StepsRV steps are notorious for needing modification: the steps are either too short or too shaky, they can't easily accommodate uneven ground and the surface area is always too small. Complaints about factory trailer steps are as numerous as the ways folks have tried to solve them—with stool legs, concrete blocks, wooden platforms, booster steps and makeshift handrails. You name it and someone has likely tried it.
If you or someone you see has ever been in this situation, we would love to hear about it! Send us photographs and stories of either your steps or steps you've spotted and you'll be entered into a drawing for the chance to win the GlowStep Revolution: the revolutionary, all-in-one RV step solution.
Here's how to enter:
• Post your photo on Facebook or Twitter using hashtag "#RVStepFail"
• Email us your photo
Find Torklift International on Facebook or Twitter, @Torklift and learn more about the drawing on torklift.com/RVStepFail. Drawing will take place on May 25th, 2016.
Make the GlowStep Revolution your New Year's Resolution
The GlowStep Revolution is the ultimate RV step system. It was specially engineered as a solution for the common problems that people face with factory RV steps, including step height, connection to the ground and long-lasting durability. Made from lightweight aircraft grade aluminum, the patent pending design of GlowStep Revolution is built to last. It is proudly made in the USA and backed by Torklift International's legendary lifetime warranty. Plus, it glows in the dark! Who doesn't love that?
Five Ways the GlowStep Revolution Outshines Traditional Modifications
1. Elevation Control
The GlowStep Revolution has 7 inches of vertical adjustability, allowing you to pinpoint the perfect level for your RV steps. Why is that important? Because this step is 100% booster step free.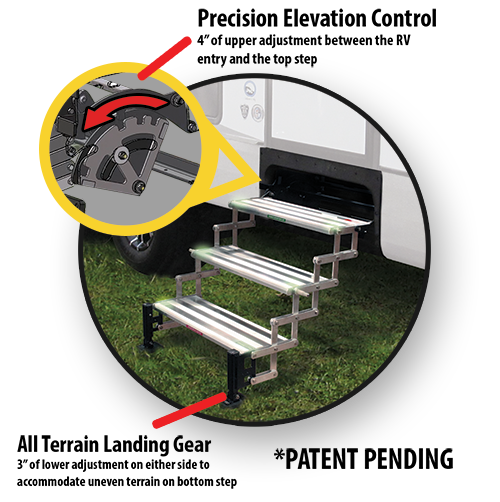 Determine the space between the top step and RV entry with different settings, allowing for a range of 4 inches. The adjustable feet of the All Terrain Landing Gear provide an additional 3 inches for determining the perfect level of steps. Since the feet on the All Terrain Landing Gear are individually adjustable, battling the woes of uneven ground is no longer a concern. Simply choose the setting that provides the most level and safe step configuration for you and your RV.
2. Safety and Stability
There are many reasons why we see trailer owners fixing RV steps, but the one we most often hear about is that the initial factory RV step is too high.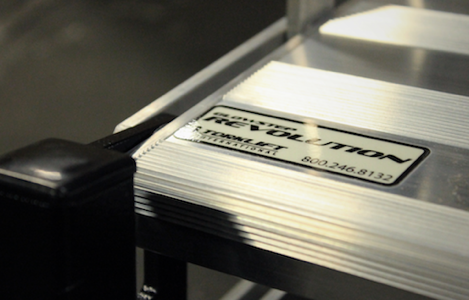 GlowStep Revolution glows for safe entry at nightPeople invent all sorts of solutions to connect their factory trailer steps to the ground but often run into issues with instability. No one wants to walk out at night on a shaky platform, risking ankle injuries as they "jump" from the bottom step. This is where the GlowStep Revolution really shines—it is equipped with All Terrain Landing Gear, adjustable feet that connect the step system to uneven ground, which safely eliminates that swaying diving-board sensation. You'll never need an RV booster step again.
Additionally, the GlowStep wasn't christened as glowing for naught—it literally glows in the dark for up to 10 hours after only five minutes of light exposure. Getting in and out of your RV at night has never been easier. Enter our contest, and you could be the lucky winner that gets to see how the GlowStep Revolution shines.
3. Adaptable Versatility
The third big factor that concerns RV owners is leveling RV steps on rough ground. Jumping off the bottom step onto uneven surfaces is an accident waiting to happen, but with the GlowStep Revolution's precision elevation control and the All Terrain Landing Gear you'll never again need to worry about uneven ground. The landing gear adapts to any type of terrain, providing unparalleled versatility in the most unpredictable environments.
Another issue that some RV owners face when parking on uneven surfaces or small hills is trouble deploying factory trailer steps. Have you ever needed to dig a hole to allow your bottom step to unfold? (If so, be sure to share it with us!) Accommodate even the trickiest of scenarios and achieve the perfect step height with GlowStep Revolution.
4. Long-lasting Durability
Too often we hear consumers complaining about broken RV steps—steps that just can't handle life on the road. Unlike traditional RV steps which are made from steel, the GlowStep Revolution was crafted from aircraft grade aluminum to keep rust at bay. Designed specifically for towables and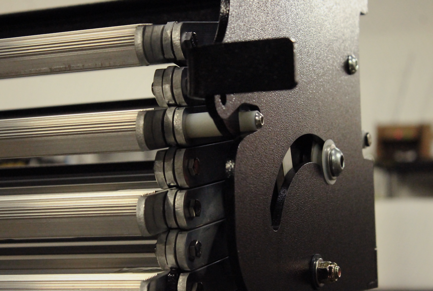 GlowStep Revolution in stowed positionside-entry truck campers, these aren't just any ordinary scissor steps. Torklift's design was engineered with bushing bearings bolted at each hinge point along the scissor design, which help prevent loosening of steps over time and improves weight-bearing ability. With its lifetime warranty, Torklift promises durability and longevity of the GlowStep system—which is more than we can say for those quick-fix systems.
5. Customize Your RV Steps
Just in case you want to dress up your GlowStep Revolution, there are several bright and shiny accessories that were engineered to pair nicely with its initial design. Attachments such as the GlowGuide Handrail, the SafeStep pet barrier panels and the DirtDestroyer shoe cleaning attachment provide a wealth of creative solutions to meet your additional RV step needs.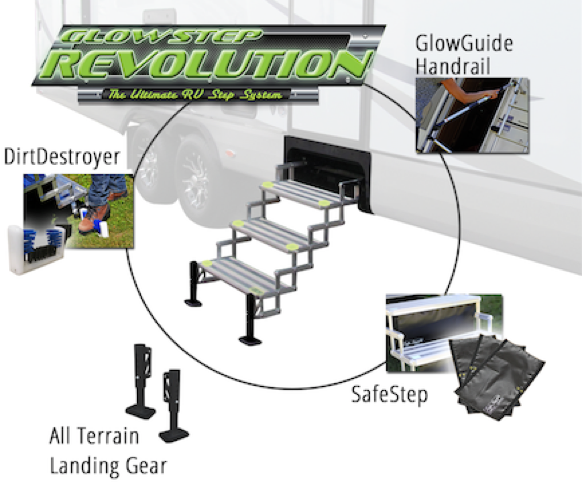 For more information on the GlowStep Revolution, be sure to check out Kevin Livingston's article "Step Right Up" featured in Trailer Life Magazine.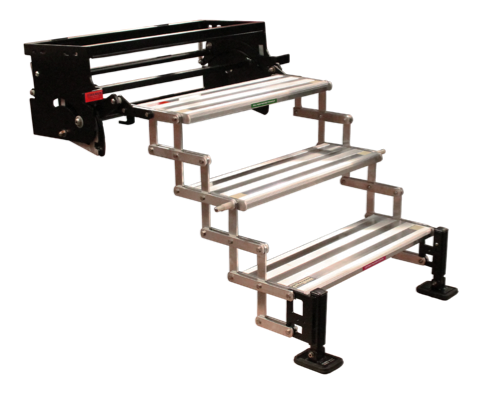 Win your own GlowStep Revolution today!
Don't forget to send us your stories and photographs. We want to see the breadth of ways you have come up with to fix those notorious factory RV steps. We'll laugh and cry with you -- maybe we'll even feature a few of our favorite RV Step Fails on the blog!
Submit your photo here or post on social media using hashtag "#RVStepFail" to be entered to win the GlowStep Revolution by Torklift International.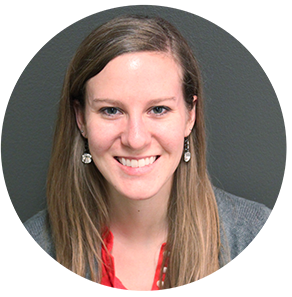 Written by Jenica Donahue:
Jenica holds a B.F.A. in Creative Writing from the University of North Carolina Wilmington. She is a freelance writer interested in blogging, copy writing and editing. She enjoys exploring new places and hiking in the Pacific Northwest.
Related Posts
Comments
No comments made yet. Be the first to submit a comment