Blog
Over 40 Years of Innovation, Quality, Safety
The StableLoad Challenge -- See what hauling 2,800 pounds will do to a 1/2 ton truck's suspension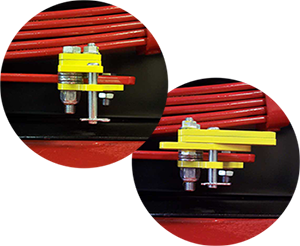 By the appearance, it may be easy to underestimate the performance effects of the StableLoad suspension stabilizer. However, the StableLoads are endorsed by many truck camper manufacturers including Northwood Manufacturing/Arctic Fox due to its ability to reduce sway and body roll, providing a much safer experience while hauling or towing.
To put this product to the test, Torklift International kicked off the StableLoad Challenge national event during Lance Owner's annual rally in Lancaster, California this past September.
Here's how it went down.
About the competitors:
Two identical Ford F150 trucks loaded with 2,800 pounds of gravel in the bed. The weight is intended to simulate the effects of hauling a heavy load such as a truck camper or towing a trailer.
What's the secret weapon?
One truck had factory suspension while the other had the StableLoad suspension stabilizer installed and engaged.
About the challengers:
All of the test drivers haul campers and tow trailers with their trucks. Many of these drivers have had experience with other suspension alternatives such as sway bars or airbags. Even when airbags and sway bars were installed, common complaints were side-to-side sway, bounce, and the inability to transition back to their factory ride when not hauling or towing with their rig. Lucky for them, they were about to experience first-hand how the StableLoads can solve these suspension problems.
The outcome:
It didn't take much for test drivers to see and feel the difference that StableLoads make on the Ford truck's suspension.
Just by looking at the loaded trucks side-by-side, it was easy to indicate which truck was without the StableLoad, as it had significantly more sag than the other vehicle.
When the challengers drove the truck with the StableLoads engaged, they felt a significant improvement and noted the following characteristics:
Improved overall handling of the truck
Increased stability -- Prevented sway, body-roll and porpoising effects
Significantly reduced braking distance



To see the results of the test-drive, watch the video here:

You may be asking, how does a suspension upgrade work on my truck?
The lower StableLoad application (which was used in the challenge) occupies the gap between the leaf spring pack and lower overload. The upper Stableload application is designed to replace the smaller, inefficient factory overload bump stop pads, putting the upper overload springs to work sooner. Both applications are designed to pre-activate the truck's factory suspension, putting the stabilizing effects to work. Most StableLoad applications do not require drilling and can be installed easily at home.
Stay tuned on the Torklift company blog as we take a closer look into the StableLoad Challenge and individual experiences of each of our challengers.
Related Posts
Comments
No comments made yet. Be the first to submit a comment