Blog
Over 40 Years of Innovation, Quality, Safety
What kind of aftermarket suspension upgrade should I get?
Towing a trailer, 5th wheel or toy hauler? Hauling a truck camper or other heavy payloads? You might be wondering, what are my options for suspension upgrades?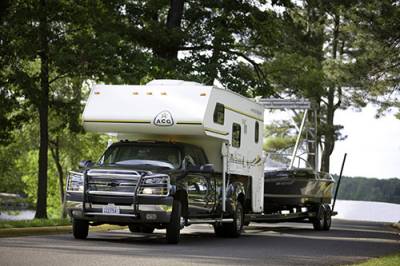 With a loaded vehicle, its suspension is under heavy stress. While maneuvering turns or hitting bumps in the road, the added weight can cause bouncing, bucking, severe side-to-side sway and body roll. This is not only an uncomfortable and potentially unsafe ride for the driver, but it can also cause strain and additional wear on the truck and its performance.
Options for aftermarket vehicle suspension upgrades include sway bars, add-on leaf springs, shocks, airbags and StableLoads. With several aftermarket suspension products on the market, making a decision becomes daunting. Let's take a closer look at the benefits and potential negative side effects of each suspension modification.
The purpose of sway bars is to make a connection between the truck frame and its axles with a spring steel bar, reducing sway and body roll.
Add-on leaf springs help to increase the spring rate of your factory springs to eliminate sag and sway.
Although both of these alternatives may be effective in eliminating sway, the side effects result in a much harsher ride due to the stiffened suspension.
Additional aftermarket suspension upgrade options include shocks and airbags.
Shocks act as a dampener by resisting movement between the body and axle to help eliminate body roll.
Airbags inflate with air pressure to lift the truck frame away from the axle and help level the truck. A side effect of shocks and airbags lies within the potential for leaks. Not only do both significantly stiffen your ride, airbags will often increase side-to-side sway of the vehicle because it takes the weight off of the factory suspension.
The StableLoads combine all of the benefits of all these products but without any negative side effects.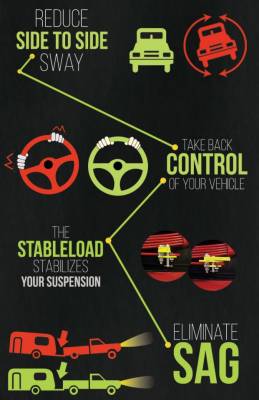 The purpose of the StableLoad is to treat the root problem by working with your factory leaf springs, rather then against them. The StableLoad suspension stabilizer puts the truck's full factory suspension into use and equally disperses the weight of the load. By engaging your overload springs sooner, you're vehicle can operate at its best potential.
After upgrading your suspension with the StableLoad, what happens when your vehicle is unloaded?
If you use your truck as a daily driver and aren't in need of a permanent modification, the lower StableLoad application is the perfect solution. With the ability to engage and disengage in seconds, enjoy the convenience of returning to your comfortable factory ride when you're not towing or hauling.
Click here to learn more about the benefits of Torklift International's StableLoad suspension stabilizer.
Related Posts
Comments
No comments made yet. Be the first to submit a comment